Dear Artist, Yesterday, Jill Bukovnik of Invermere, B.C., wrote, "I've had five solo shows at our local art centre with lots of sales. The curator has always given me a large room and comments how well my work goes. So I was very surprised when she called my paintings 'Disposable Art.' She compared them to amateur jewelry, 'you wear it for awhile then throw it away.' I just can't wrap my head around how she so casually said this. I don't think people choose art that way. I paint with bright colors, imagination, whimsicality and joy. People tell me to forget about what was said but I haven't been able to. What do you think? What is 'Disposable Art,' anyway?"
Fred Allen
) Esoterica: A very real problem exists when work is poorly made. Genuine criticisms can be made around this issue. Poor workmanship haunts all genres. To improve processes and quality you need the help of people who work at the same sort of thing — preferably ones who deal with quality issues in their own work. We live in an age of planned obsolescence. Markets are flooded with low quality tools, technology, clothing, etc. Obsolescence pays. One might ask why art might not be included in this economically sound system. Further, the more art aligns with fashion (including the whims of interior decorators) the more we see obsolescence in art. Market motivated haste is dangerous to the true value of art. I don't recommend it.
Jill Bukovnik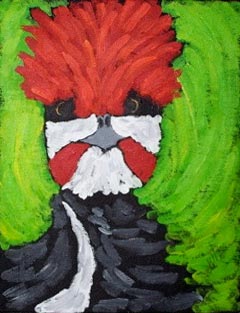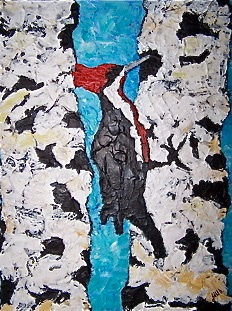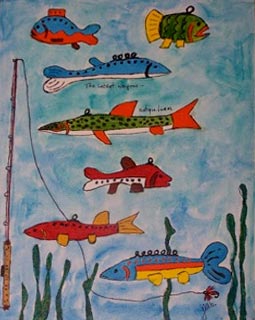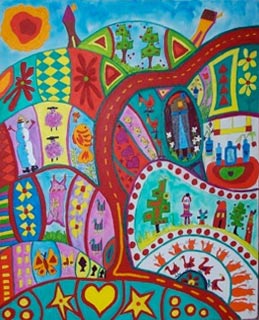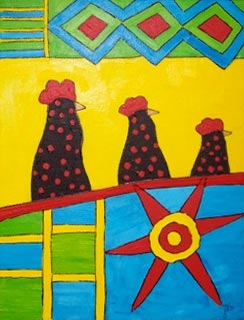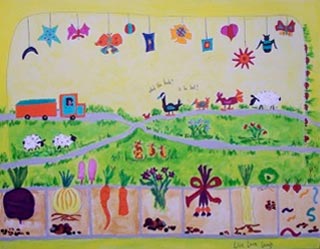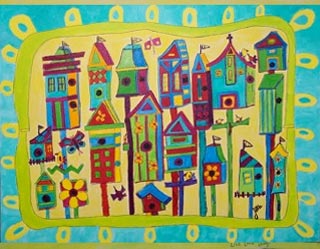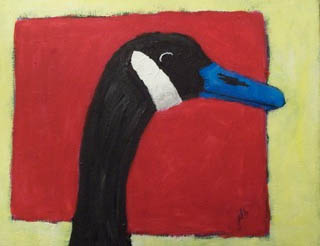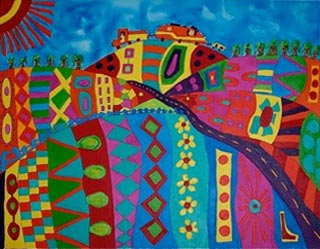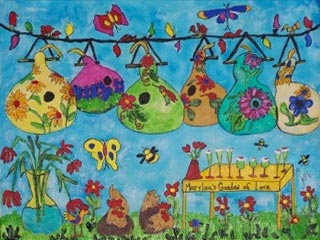 Working from the heart
by Alicia Merrett, UK I love Jill's work. It is original, colourful, imaginative and happy so I'm not surprised it sells well. I would buy one of her paintings if I happened to be at one of her exhibitions. It has the "WOW" factor that I search for in my own art work. I also have had comments on my textile art being too colourful, not 'serious' enough. I ignore those comments. I go on doing the work that comes from my heart and makes me happy. And it sells, too. I am inspired by artists like Paul Klee, Kandinsky, Miro, Hundertwasser, Howard Hodgkin, because of the colour, imaginativeness, and feel they followed their chosen path without letting adverse comments deviate from their purpose.
There are 2 comments for
Working from the heart
by Alicia Merrett
Whimsy can be serious
by Judith B Jones, Pleasant View, Utah, USA I think that Jill's work is delightful. I too, work in a whimsical style, using bright colors. My paintings sell and my shows are sell-outs. I believe that serious things can be said with whimsy. It is a serious and worthwhile thing if a painting brings pleasure and joy to the viewer.
Critics need to know artist's goal
by Tommy Barr, Banbridge, N Ireland The first big international show I did included a highly regarded international figure presenting a critique of my work. It was neither particularly good nor bad. He made some good points, but failed to see where I was trying to get to – so some of his thoughts were therefore ill founded. Since that day I now explain to critics what I am aiming for before they speak. They do much better and their thoughts are more likely to contain a little gem of wisdom when armed with that understanding. A very experienced artist speaking to me after said, "Tommy, you realize that critics are to artists what ornithologists are to birds." Harsh I thought, but like all legends, originating from truth.
There is 1 comment for
Critics need to know artist's goal
by Tommy Barr
Simplicity requires skill
by Liz Reday, South Pasadena, CA, USA "Disposable Art" is someone's jealous assessment of work that sells fast and often is never disposed at all, since it is treasured for its ability to instantly lift the spirits in a charming childlike way that is very hard to achieve, otherwise we'd all be making it and making folks happy AND selling like crazy in a time of recession and dismal sales. I like her work and know how hard it is to create work that "makes it look easy" when that very simplicity and effortlessness takes timing, practice, skill and soul. The art game is full of bitter people sniping and snarking to get ahead, but the truly successful artist is humble and treats all artists with respect. It's only the people at the bottom who exhibit this petty behavior, if that's any consolation! The whims of interior decorators are child's play next to the vituperous comments of those who organize shows or work for agencies, but whose art never quite makes the grade. It's better to be polite instead of issuing forth retaliating zingers, I know from experience, and don't get in as many shows because of those zingers.
There are 2 comments for
Simplicity requires skill
by Liz Reday
Disposable opinion
by Paul deMarrais, TN, USA I think what the artist heard was a classic example of "disposable opinion." Most opinions fall into this category. Artists need to have a large real and virtual trash can to dump a huge portion of the negativity they are bound to receive from both the artistically ignorant and the snooty curator types. In the end, art is for people. The fact that Jill's paintings are consistently sold in her area tells the real story. Her paintings connect with people who are willing to part with cold hard cash to acquire them. That is the ultimate compliment and endorsement to their value. I look at each sale of a painting as the equivalent to winning a first prize in a show. It's a real honor to have someone buy a painting to hang in their home or business. In my experience these original paintings are treasured… the exact opposite of the curator's opinion.
There is 1 comment for
Disposable opinion
by Paul deMarrais
Trash or treasure
by Gail Caduff-Nash, Mountain home, NC, USA In the summer home my wealthy clients they had a wide range of art they had bought but one piece that she prominently displayed in her kitchen was a very primitive picture of a chicken and things I couldn't identify. Someone else might have called it trash but she saw treasure. People seem to love bright even loud colorful and dramatic graphics for their walls. Jill's work reminds me of a friend's, who has also sold very well. I like doing quieter pieces and working out subtle combinations of color but I know they don't sell as well. If you live in a town like mine, where people are rather conservative, the quieter pieces are encouraged by other artists and dealers. But 30 miles away it's the bright ones that sell. P.S. Everything is transient, unlikely to last and destructible. Even Leonardo lost some of his work. The very tenuous nature of art makes it more valuable.
There is 1 comment for
Trash or treasure
by Gail Caduff-Nash
Compliment mistaken for criticism
by Ed Sauer, Costa Mesa, CA, USA I wanted to thank you for your response to Jill's concern and let Jill know that I loved her work. I can see why it sells so readily. It is bright and beautifully colorful and easy to see any piece of her work bringing life to a home. I recall many years ago when I was younger, during a rainy Muskoka Lake day, we all were in the cottage of a friend doing our own thing and I chose to draw something. My friend's mother walked by and commented on what a nice piece of "primitive art" it was. Being young I felt slighted, but only later found out that it was actually a compliment. That made much more sense because this woman, a patron of the arts, is just the most wonderful person and for some time I was confused as to why she would denigrate what I had drawn. In Jill's case it was different and I think you pegged what was going on there.
Consider the source
by Krista Hamilton, Sherwood Park, AB, Canada One of the first times I showed in public was at the non-juried Old Strathcona Art Walk in Edmonton. I had a very successful weekend and was pretty thrilled until a gentleman walked up and in very educated speech told me what a bad painter I was and all the reasons why. Being a first year artist, I knew exactly where I was in terms of my development as an artist and this was reflected in my pricing. There was no need for him to stop at all except that I think he wanted to belittle someone on that day. I'll never forget that feeling; he made me feel like I was a fraud. But here I am 10 years later, a semi professional artist making a bit of money starting to get some positive feedback from welcome places and all I can think is that man was a person with no vision. She's just one person Jill, focus on your vision and all those people who think your work is extraordinary enough to grace their walls.
There are 2 comments for
Consider the source
by Krista Hamilton
Museums and galleries have different art
by Diane Overmyer, Goshen, IN, USA I once asked an area art museum director why my paintings were seldom accepted into their annual competition. That man knew me well enough to know that I primarily sell my artwork through several galleries, including one that I owned at the time. Most of the work that had been rejected out of those competitions later sold to serious art collectors. The museum director told me there is a difference between art found in museums and that which is in galleries. I stopped entering the competition for a few years, but then decided to give it one more try this year. Once again I entered pieces that I thought were strong enough to get into the competition and once again both of my entries got rejected. So even though my work has never been called disposable (at least to my face) I know how discouraging it is not to be taken seriously!
There is 1 comment for
Museums and galleries have different art
by Diane Overmyer
Archived Comments
Enjoy the past comments below for Disposable art…
 Featured Workshop: Whidbey Island Fine Art Studio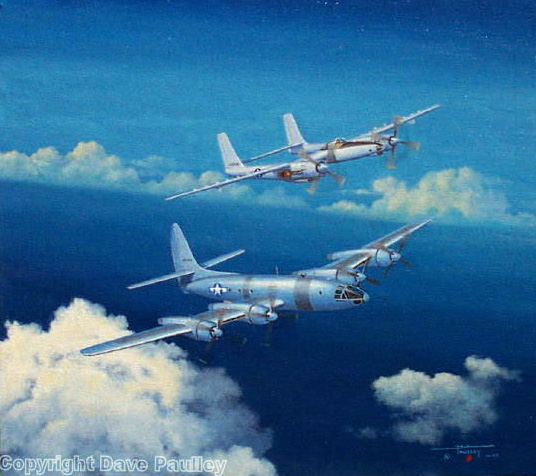 Two Photo Reconns
oil painting by Dave Paulley, Osage, WY, USA
You may be interested to know that artists from every state in the USA, every province in Canada, and at least 115 countries worldwide have visited these pages since January 1, 2013. That includes Joseph Jahn of Nibe, Denmark, who wrote, "Always make art that is so good it cannot be thrown away. It's your way to snub death and the unfathomable world of art promotion." And also John Fitzsimmons of Fayetteville, NY, USA, who wrote, "I think all art should have an expiration date stamped on it. After that you consume it at your own risk." And also Haim Mizrahi of East Hampton, NY, USA, who wrote, "To ask you about it after the fact suggests that Jill suffers from low self-regard and weakness. Stand your grounds for God's sake."
Thanks, Jill. Your curator may be having bouts of jealousy. "Wallet envy" is a popular hazard in the arts. On the other hand, she may be one who believes that art has to be serious. To these folks, often well-educated, lighthearted means lightweight. The problem is compounded when we realize that lightweight often finds homes faster than the heavy stuff. This fact makes for bitter curators, dealers, collectors, and artists. The important thing is to stick to your guns and paint what you want. Work in ways that suit your personality and world view, whether joyous or somber. Internal truth pays. Slings and arrows of critics be damned, live your bliss. Like playing the horses, trying to fathom art acceptance is a mugs game. Stay off the track. Another, related issue is "Generational Shift." Children of active art collectors tend not to collect the same art as their parents. Typically, the better educated children move toward the more obscure and daring. But not always. Some second and third generation collectors these days are mighty conservative compared to their folks. There is a parallel between the action-reaction generational shift that often takes place in musical tastes. I've noticed that people are reluctant to dispose of art. Consequently, "RRR" (Relegation to Rumpus Room) is a common procedure. Art that starts out in the living room gets moved downstairs. Most "black velvet" paintings, for example, have now been shifted down. The wait for them to come back up may be a long one, but you never know. Best regards, Robert vPS: "If criticism had any power to harm, the skunk would be extinct by now." (