Dear Artist, In
The Mind in the Cave: Consciousness and the Origins of Art
, David Lewis-Williams tells us that cave art may have had more to do with early religions and shamanism than objects of the hunt or demonstrations of creative prowess. He makes the case that caves were deeply spiritual places — dark entries into the earth that directly sustained the lives of these early people. Dimly lit by torchlight, the animals and other motifs emerged, ghostlike from the cave walls. He suggests these walls were like thin membranes between the fearful and gullible Cro-Magnons and the spirit world behind. He theorizes that Upper Paleolithic Man harnessed altered states of consciousness to fashion his society and used imagery as a means of establishing social relationships. Shamanic trances and vivid mental imagery, early manifestations of what we now call the religious state, made it important for them to paint these images on cave walls. He feels that there's a creative spillover between neural circuits in the brain induced in meditation, rhythmic stimulus, fasting etc. These conditions, in degree, are common to both art and religion. Thus his speculation that both religion and art may be hot-wired in the human brain. The book has enlightening ramifications for artists. A lot of us have noticed it's precisely when we get into the business of magic, mystery and metaphor that our art becomes interesting. This observation might also explain why some connoisseurs go bananas over otherwise questionable art and are willing to pay big bucks to possess it. Furthermore, there's the persistent idea that the making of art — and the consuming of it — is in itself a religion. If you're picking up what this author is putting down, you may be spinning out a few ideas. For starters, here are some possible considerations for a modern shaman: Make apparitions emerge, dissolve, arise. Make talismanic, totemic or iconic images. Make your passions visible and tangible. Go for material that exalts and inspires. Convey your spirit, your magic, your trance. Make meaningful motifs out of slim evidence. Find a reliable order in the midst of chaos. Pay special attention to birth, death, and rebirth. If all else fails, tell a tall story. Best regards, Robert PS: "Physical entry into the caves reflected the entry into the mental vortex that leads to the hallucinations of the deep trance state." (David Lewis-Williams) Esoterica: If ancient shamanic artists were in the business of coaxing animal images through from the spirit world into this world, might not today's easel painters be doing somewhat the same thing? The tendency seems highly evident in abstract art. Even in realistic art, there are unique forms and images that miraculously appear from the artist's hand. Is something else driving this hand? Or are we merely a brotherhood and sisterhood of calculating manipulators inflicting our magic on our followers? Are there deep-seated messianic tendencies over which some of us have little control? Is it worthwhile getting control of this tendency?
Icons of our beginnings
by Adam Cope, Lanquais, Dordogne, France I live not far away from the painted caves in the Dordogne. They are deeply moving 'sacred' places that have moved me to paint them over the years and ponder on their 'meaning.' You can see a selection here with some musings. I doubt if we will ever truly know what these images meant to the people that made them, despite the efforts of paleo-archaeologists. We are distant and remote from the realities and the world view of the artists that made these images. But on another level, many human life-spans later, they have a popular fascination and probably a deep misunderstanding as well. However, for us now today, they have become iconic. They are icons of our beginnings, both as a species as well as artists, as magicians, as dreamers. They have acquired 'mythos' and thus now belong as much in our imaginations as in the caves themselves.
There is 1 comment for
Icons of our beginnings
by Adam Cope
Dreaming in HD and colour
by Russ Henshall, Pulham Market, Norfolk, UK I connect the concept of 'seeing the spirits' with modern day dreams. It seems to me that when we dream, the subjects and ideas that come into our mind tend to be larger than life in many ways. I read a book some years ago called
Experiments in Dreams
by J.W. Dunn in which he tried to forecast future events from his dreamworld. Maybe we dream of art forms to come? I don't know about any other creative minded folk, but I dream often and in full HD and colour. The thing that puzzles me most is the ability to see so much of what we want to do. Even now I dream of flying free as the wind, living beneath the deep warm sea, being able to stand up in one of the famous halls in the world and play any musical instrument we wish to at wondrous performance level….. and make pictures and ideas exactly as I intend to. I can imagine an early caveman standing at the rock face and being able to transfer in great detail the figures that are in his sub-conscious (conscious?) mind. Who else dreams of the impossible and uses creativity influenced by dreams? Did Leonardo dream of all his concepts and art during sleep time?
Metaphor and meaning
by Suzanne Edminster, Santa Rosa, CA, USA For several years I have displayed the book
The Mind in the Cave
at my open studios, and people are fascinated with it. It's a great artist's resource: it details a shared human "inner landscape" of a universal underworld river or sea, the earth as a cell through which images and animals pass by osmosis. All artists should be as aware of our shared human visual hardwiring as they are of the laws of perspective. My series "Sanctuary" was painted on hearing of my father's terminal illness. You can see the underworld river, animal images passing through, and the sun as a gold point. The caves were cathedrals, and the herds of animals and abstract marks as significant as the rose window in Notre Dame's nave. I don't like the word "shamanic." All too often non-referential artists are trivialized as lazy opium dreamers (not like those hard-working figurative painters!). Your list could be addressed not to the "modern shaman" but as a way of "invoking metaphor, meaning, and magic" in art. All art, from realist to abstract, needs to be imbued with metaphor and meaning to be powerful.
There are 2 comments for
Metaphor and meaning
by Suzanne Edminster
Shamanism shocking to students
by Norman Ridenour, Prague, Czech Republic Teaching buttoned down business students and showing them Shamanism or to even bring the myths of the ancient world with their rich symbolism to the classroom is shocking for them. When they find out that their teacher has toted joints, dropped acid, meditated and pushed into altered states, I get strange reactions. Our modern world prepackages people as well as goods. When I did serious running I always carried a small notebook, about the 5-6km mark I would start to feel myself float and the ideas flooded in. My last sculpture series was a set of Shamanistic totems. If you have not seen it, there is a DVD from the BBC,
How Art Made the World
. (It is a zone 2 DVD so you will have to download an adapter to the North American code.) It has sections which deal with these same issues and wonderful photography in the caves. I actually believe that Dr. Lewis-Williams was a co-author in one section. What is a Gothic Cathedral but, 'a thin membrane between the fearful and gullible Medieval people and the spirit world behind.'
There are 3 comments for
Shamanism shocking to students
by Norman Ridenour
The dangers of shamanism
by Andrea Steffens, Hamilton, NY, USA Picasso spoke of images that appeared in his minds' eye and would not leave until he painted them — even though he was hell-bent on painting other images. If the spontaneous image was persistent, he surrendered. As a student of classic shamanism, I certainly believe that painting can be a shamanic experience. It depends on how willing the painter is to "allow" imagery and how "soft" they allow consciousness to be. A "hard-edged" consciousness — attempting control over the image, disallows spontaneous imagery. The more intellectually the painter approaches the canvas, the less likely images will come because the intellect is often a defense against what the unconscious is asking. The fact that the "person" in cave drawings is often rendered with an erection, speaks of an ecstatic state. Most of us are way too intellectually developed to experience this. You really have to have "soft" focus. Though I have to say, as one who taught psychology for years, the students who were most proficient at dealing with the dream-work phase of my class were the artists and poets — because they lived there. They were the ones who had the most difficult times in school because schools do not teach to their strengths. Additionally, education period — 12 years of it — is an induction into the linear mind — cultivated and reinforced. So the ability to enter a shamanic reality will only occur with a few. I believe this is why insanity is often a beginning phase of the shamanic process. If defenses are strong, nothing gets in and sometimes they must be shattered for that reality to become easily accessed — some people didn't make it through the initiation. The process through which one becomes a shaman is not without its dangers.
There is 1 comment for
The dangers of shamanism
by Andrea Steffens
The membrane
by Warren Criswell, Benton, AR, USA Here's an excerpt from a lecture I've been giving this year at the University of Arkansas at Little Rock, titled
The Membrane: Some Twisted Thoughts on Creativity
.  In
The Mind in the Cave
David Lewis-Williams suggests that "Upper Paleolithic art was implicated in various shamanistic rituals that took people into the subterranean spirit realm and through the 'membrane.'" He was thinking of the cave wall as a membrane. It seemed to me that the membrane which shamans penetrate could be thought of as the corpus collosum, the structure that divides the left and right hemispheres of the brain. Or you could think of the membrane as the wall between the conscious and unconscious minds. There are many conflicting theories about the art of this period. Some, like R. Dale Guthrie
The Nature of Paleolithic Art
, 2005, want to do away with all the rituals and life-quest nonsense. He'd rather see them as Alaskan big game hunters and naturalists like himself than as Bushmen in Africa. He makes a valid point that eyeball realism like this, obviously the result of intense observation in the field, has rarely been used as mythographs. Religious art is usually stylized or abstract, as in the Middle Ages, for instance. Renaissance art is a return to the more secular vision of the Greeks, and 20th Century abstraction was a turning away from the reality of war to a more spiritual realm. But personally, I suspect that both theories are correct, and that at the time of this Big Bang of great art 30,000 years ago specialization between the spiritual and natural had not yet taken place. And even if that's not the case, as an artist, I still think Lewis-William's metaphor of the cave wall as a membrane makes sense. My metaphor gets twisted into a Mobius strip, then into a Klein bottle, and it ends like this: The membrane gets twisted into Moby Dick and swallows us up like Jonah, and God only knows where we'll get spit up.
There is 1 comment for
The membrane
by Warren Criswell
Only the instrument
by Carol Beth Icard, Landrum, SC, USA One of my most recent paintings was a clear example of "making apparitions emerge." I had begun a 48 x 48 inch canvas by gessoing it black. I hadn't used black gesso in years, but just had the urge to begin this painting with a dark underpainting. Over the black I began laying on burnt sienna mixed with oil/alkyd medium, applying it with a wide plastic scraper. It was a strenuous and yet appealing exercise in "seeing what happens." Because it was such a large canvas I ran out of my mixture towards the bottom, and when I stepped back I was flabbergasted to see a cat and some kittens emerging out of the remaining black. I continued to work on this painting for many days but could never bring myself to paint out those creatures. They feel very spiritual to me, guiding me and reminding me to "let go" and "be audacious." On other occasions I've had "angels" appear, but these cats made me realize that I am but an instrument.
There are 2 comments for
Only the instrument
by Carol Beth Icard
'False Artists' in our midst
by Scott Kahn, NY, USA It's very interesting, Robert, that you mention "shamanistic" artists in our midst. I agree … they exist, and they oddly paint in a very similar style with lots of swirls and figures, symbols and animals … a whirlwind of imagery, imbued with light and painted with fairly good, even virtuosic, technical finesse. They all have a similar rhetoric, often describing themselves as a kind of "vessel." In my opinion, they are 'false' artists … more illustrators of a rhetoric which has an appeal to those who are convinced that what they are saying has some kind of validity or truth. Such 'art' is nothing further from the truth as it is manufactured and not felt. I haven't read the book you mentioned about the cave paintings. Who can truly know why they were painted. It's open to many interpretations. But isn't it interesting that these 'primitive' drawings still grab our attention and hold us captive in their mystery so many thousands of years after they were produced? Whatever primitive man was looking for and expressed in these drawings has great resonance and similarity to what we are searching for today in attempting to understand life and why we are here.
There are 2 comments for
'False Artists' in our midst
by Scott Kahn
Collective mind of art
by Ken Paul, Eugene, OR, USA From a broader anthropological perspective I've long been fascinated by the connection between creativity and the "mind" (which MUST be much more than just the physical brain and its electrochemical circuitry). Jung was perhaps the first notable person to point out that there's something collective going on with us at a subliminal level, and it finds external manifestation in what we call art. Our individual control over its insistent energies is apparently rather limited, suggesting that there's a powerful indefinable Force operating behind our creative efforts. Western culture teaches us to call it "self-expression." This is amusing. Like, who or what is this self-aware "self?" (A koan, if ever I heard one.) The insight that we are connected with each other (and everything else) on some primal level is a — pardon the expression — no-brainer. Art-making puts us in touch with stuff we have no other way of knowing/experiencing. I surmise that on more than one occasion, nearly all artists have found themselves watching the nascent image unfold and thinking "Woo, now where did THAT come from?" One's initial tendency might be to quickly expunge or dismiss any unplanned element that may creep into it, because of our learned notions about what art and artists are supposed to be. Lots of people even abandon creativity, dissuaded by their own self-talk around this dynamic. After all, they think, the artist is supposed to understand and control everything in his/her own work. Therefore, "since I'm not doing that very well, I should just bag the creativity and go sell insurance." Or run for public office, haha. One very interesting thing about cave art is the relative scarcity of depiction of humans. Nonetheless there's still a kind of self-awareness evidenced by those hand prints alongside the other Paleolithic imagery. Someone 'signing' their work? Or telling themselves something like "I manifest, therefore I am." ? Anyway, it seems that tens of thousands of years later, we as a species are still grappling with the same mystery that baffled cave people. We encounter it every time we engage in a creative act, it seems to me. How we interact with it is what shapes us as artists, and as people.
Circle of life
by Helena Tiainen, Berkeley, CA, USA Who knows what kind of spiritual and emotional implications traveling through the birth canal has on any of us. Even those born via cesarean still arrive from total deep space and deep ocean darkness to light and start breathing in water so thin, called air, that lungs can handle. This experience must be very influential in yet unknown ways. I strongly believe that in some very subconscious level going into a cave may remind us of times prior to being born into the world and provoke mystical sensations. The primitive man knew that their existence in the world depended on them consuming the life of another living being, whether animal or plant. To them this was sacred. They were connected to the circle of life more than most people are nowadays. There are children in cities who now think that their food comes from the supermarket. They are disconnected from the sacred circle of life through lack of education. To them food magically appears. The sacred cycle is broken in the mind of the child, yet exists in real life. I often wonder how many untrue stories we all live within this illusive world. I am certain we all hold true realities that would not stand further inspection. These illusions usually play protective roles for our frail egos and systems we have built in this world. None of us are totally free of illusions. However, there are many connections between ancient wisdom and what modern science is proving to be so. Maybe one day we can, like Captain Picard, talk to a machine that knows how to make "tea, Earl Grey hot" out of seemingly thin air. But until then, our sustenance is more grounded on other living beings. I actually think Quantum physics is very shamanic on a profound level. We are all manifestation of the one and not really separate even in physical levels. We all constantly exchange molecules with our environment. I think we truly do live in a magical and mystical world and will always be reminded of this by appreciating the sacred in all that we experience. Making art and other means of tuning into so called altered states of consciousness allow us at their best to quiet down the chatter of the mind and experience the vast ocean of peace and silence that exists beyond our normal day to day states of consciousness. Ideally eventually we will also learn to silence our minds when we desire to do so. The ability to do this will likely become more and more important in the information filled world we have created. Without selective listening one will be lost in the modern world and using wisdom is perhaps more important now than ever before.
Archived Comments
Enjoy the past comments below for Shamanic artists in our midst…
 Featured Workshop: Kim English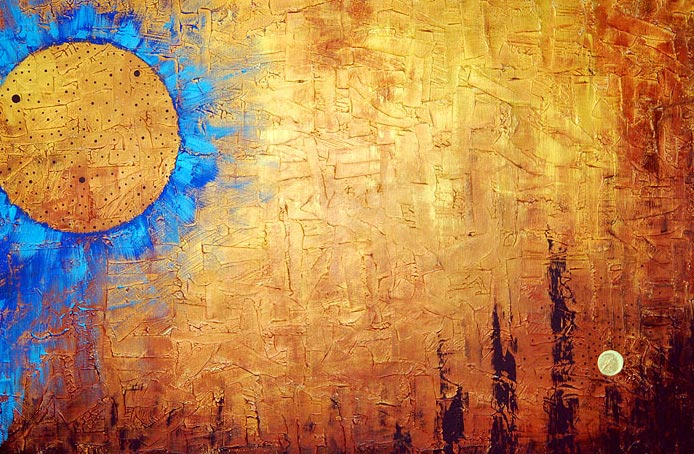 Sun Shadow
acrylic on canvas, 24 x 36 inches by Sharon Cummings, FL, USA
You may be interested to know that artists from every state in the USA, every province in Canada, and at least 115 countries worldwide have visited these pages since January 1, 2013. That includes Linda Saccoccio of Santa Barbara, CA, USA, who wrote, "This letter brings to life what may be hard for some to accept, but the artist who has engaged in the magic of surrender and visionary pull will no doubt feel this is the reality." And also Tatjana Mirkov-Popovicki of Coquitlam, BC, Canada, who wrote, "Art has been abused to manipulate people by totalitarian regimes and revolutionaries even in the recent history. Many of us manipulate the viewers with the objective to provide a positive experience — 'white magic' I guess." And also Maxx Maxted of Nimbin, New South Wales, Australia, who wrote, "Some of my best work has been done in that 'freedom' of nebulous blotches, the da Vinci device, that resolve somewhere into an internally identifiable image." And also Marney Ward of Victoria, BC, Canada, who wrote, "I think we are coming out of a period of deep spiritual alienation, and I think that artists of all kinds can lead the way. Our consciousness does inform our art, and our art carries our consciousness within it, transferring it to those who view our work. Our art can heal. It doesn't have to echo the dissonance of the world; it can echo the most profound harmony deep within our own souls."