Dear Artist, Yesterday, Marilyn Hartley wrote, "This year I realized that country music is darn good! I took my drawing pad to a Pennsylvania tavern, blended in with the crowd, and, asking first, began to draw the musicians. People came over to see what I was doing. Everyone loved my efforts. With further permission, I took photos. I now go there often. The drawing practice is great. I feel indebted to the musicians and have given them a couple of drawings. I'd like to make a portfolio of these sorts of drawings to market further. What would you and other artists do?" Thanks, Marilyn. The best thing is to give as you have. Take the rest home and develop the ideas further and sell them. The musicians will understand. They are artists like you. Tip: Identify the band on the drawings you sell. Working with passionate folks acting naturally can be a creative hootennanny. Respect is everything. Tip: Share your blessing. Greater problems arise when you draw children, native Indians and foreign subjects. I don't always believe in asking up front. The system of starting drawing first and leaving stuff around your feet goes a long way in alleviating fears and engendering curiosity. When you switch people from suspicion to curiosity, friendships are not far behind. Tip: The universe favors givers. Sketching in public can be more of a problem for males. Asking children and even mothers can send them scurrying. Women have often told me they do not have this problem. Tip for men: Take a female sketcher along with you. Regarding Native Indians, it seems like just a few years ago you could drive into a village or a pueblo with a case of Coke, give a bottle or two to the first kids you met, and in minutes have a crowd of happy, willing models. Sadly, nowadays this approach can brand you as a pervert. It's a good idea to visit the Band Office first and tell them what you are up to. Sometimes they require a fee up front. Tip: Stand flagrantly around with the chief for half an hour to telegraph his endorsement. Some villages are pretty tight. One chief told me the totem poles (and the kids playing around them), were copyright, and suggested that I "scoot." Tip: When in doubt, scoot. Too bad for them. Best regards, Robert PS: "Never force someone into a pose; it will never look natural." (
Ted Smuskiewicz
) Esoterica: Working from life in natural situations is a shared invasion of privacy. Relaxed and in their environment, you are in a position to see their flaws. They, on the other hand, can find a miracle in your efforts. Share yourself and your gift. Both will be treasured like no other. "People," said Bernard Poulin, "don't often get a chance to stare at each other. They begin to tell you about themselves. It's like a confessional. It's a privilege to share someone's life like that."
Marilyn Hartley
Sorties to Frenchmen Street
by Paul Fayard, Clinton, MS, USA I found it quite serendipitous that on the same day that you published Marilyn Hartley's query re drawing musicians, I received a request from the mother of one of the musicians that I have drawn as to whether the work that I did of her son is still available. I am a New Orleans native and frequently conduct sorties to Frenchmen Street to photograph musicians for my work. I never use a flash, always purchase the cd and always tip well. My titles are always specific as to the group, individual and or location. I am an art instructor at Mississippi Colllege in Clinton, MS and always make sure that my students check out your great site.
There is 1 comment for
Sorties to Frenchmen Street
by Paul Fayard
Send a digital image
by Curtis Long, Austin, TX, USA I've occasionally given the fruits of my labor to the bands I sketched as a thank you for allowing me to enjoy their performance and be inspired by it and they're always flattered. Naturally, I prefer to keep my sketches and paintings, so I will sometimes talk with the musicians after the show and get their contact info. They love it when I send them a digital image of the final work.
There is 1 comment for
Send a digital image
by Curtis Long
Hit on by closet exhibitionist
by Rita Cirillo, Denver, CO, USA What about the opposite problem. Recently, I was painting in Denver at the 16th Street Mall and a guy came up to me and said, "I want you to paint me… nude." While I don't like to turn down work, this is very off-putting. First it becomes a disturbance in the force, because it feels like being hit on — which at this point in my life, does rock my world. Secondly, it disrupted my painting zone. The worst part was that he wouldn't take 'no' for an answer and persisted. I finally told him if he really wanted to get naked in public to approach the Denver Art Students' League to work as a model. There are plenty of good artists there who would gladly paint him nude.
There are 3 comments for
Hit on by closet exhibitionist
by Rita Cirillo
Female artist welcomed
by Bernice Sutton, Duncan, BC, Canada While on vacation in Turkey, noting the drawings in my small sketchbook — people would stand or sit for me for 10 minutes or so — and I would offer them the sketch torn off my book. One man in turn offered me a small painting (I sketched his son). He was doing oil paintings in a public square, small jug that was from a potter, and a glass eye — blue with white dot and yellow to ward off evil! from a peddler of a variety of trinkets. They grinned broadly to see themselves in their pencil sketch — and the need for language never occurred to any of us! Yes, I guess it was easy being a female artist. My fellow travelers couldn't get over the reception that I was given to and for my sketches. Certainly artists are universal in this world.
Secret drawing class
by Gabe Shaughnessy I once taught a group of middle school kids a murder mystery drawing class. The object of the game was to discover the person who was trying to draw you. Their goal was to create a recognizable likeness of you without you noticing. The kids loved it and it taught them a few tricks for secretly drawing people in public.
There is 1 comment for
Secret drawing class
by Gabe Shaughnessy
Drawing in a concert hall
by Caroll Drazen, Philadelphia, PA, USA I really appreciated your advice about how to capture the welcome, as well as the images, when using live models. I often sketch at concerts, and am amazed at the variety of reactions from my neighboring concert-goers — from surreptitious sideways glances to frank comments during intermission. Drawing in a concert hall has a lot of advantages. Musicians repeat movements and gestures, so you can wait "until it comes around again" for even a quick drawing. Also, there is usually just enough light to see (as opposed to theater and dance, where there is rarely enough house light during the performance). One thing to mention, though — be careful about your drawing style and instrument. There is enough general noise in a bar or outdoor music event to mask your scratches, but I often have to stop even light pen or pencil marks during the very quiet slow movement of a classical music performance. My favorite instrument is a Rotring Art Pen, which uses only water-based cartridge ink. I can't easily add wash later.
There is 1 comment for
Drawing in a concert hall
by Caroll Drazen
Paying off your own kids
by Brigitte Nowak, Toronto, ON, Canada For years, when my children were young and knew no better, I used them as models for my paintings. This ranged from asking them to undertake a specific pose or activity (running, swimming), to capturing their natural movement, exuberance or pensiveness. I still go back to the occasional sketches or frequent reference photos from those days when seeking a particular essence or feeling. As far as payment, that was simple, though perhaps, slightly exploitative: I fed, clothed and sheltered them.
Sol Schwartz sketchbook
by Joan Polishook, New York City, New York I have been sketching musicians for many years in my journals (which I carry along with me most all of the time). At the Wildflower Music festivals every year, I have amassed a collection of drawings, many of which have been autographed by the performers; copies of several which have been sent to the musicians as requested. I hope to incorporate my sketches into book form in the near future. With that in mind, I would like to share with you a favorite book entitled
Drawing Music the Tanglewood Sketchbooks
, by Sol Schwartz first edition May 2001. Its pages are full of beautiful renderings.
Assigned to sketch in hotel
by Bill Skuce, Sooke, BC, Canada Veteran painter Carl Schaeffer, a staffer at the Ontario College of Art, called me into his office one day during the second month of year one at the Art College. "Are you related to Lou Skuce, the well known cartoonist who worked for the Toronto Telegram?" "Yes," I said, although I'd never met this second cousin of my father. "Well, you should be just right for this… a convention at the Royal York Hotel wants a student to go and do caricatures of participants. Schaeffer proceeded to tell me where to go and to whom I should make my introduction. "Take something to sketch with!" said Schaeffer. That weekend, I made numerous drawings of people standing chatting to one another in a crowded room at the hotel, handing each completed drawing to the subject as a gift from the company sponsoring the convention. I was a terrified kid at the outset, but one who gained a great deal of confidence in the process of completing the two-day assignment.
Patronizing attitude wrong
by Lee Mann, NM, USA In this recent mailing, I was stunned by the statements concerning Native Americans. Good manners mean ALWAYS "asking up front." Here in the Southwest, several tribes/pueblos have not only banned cameras, but also drawing materials. Why? ……..not because of "perverts" but rather because of the long experience of having their privacy invaded, their customs disrespected, their requests for respect and privacy violated (by tourists, anthropologists, archaeologists, artists, photographers, and others). Their sacred objects have been hauled off to museums, basements of universities, and private collections. Bodies of their ancestors have been dug up and hauled off for "study." Their celebrations and feast days have been invaded by disrespectful voyeurs who have no interest in learning the true meaning of what they are viewing. Respectful attendance includes no cameras, no drawing or painting, no binoculars, no talking, and other commonsense behavior. Several years ago while having a studio in a tiny quaint "ghost town," I was enjoying my morning coffee on the front porch swing when a bus load of Japanese tourists stopped in front of my gate and started leaning out of bus windows to photograph me. I felt like an animal confined in a zoo. Is curiosity and ignorance an excuse for violating privacy? For having no respect for a person's (or people's) life style? I found the statement patronizing about taking "a case of Coke" and handing out a can or two to "the first kids you met." Patronizing………as if we're better than they are…….It smacked of feeding treats to the dogs….. not to mention that their mothers might not wish to have Cokes handed to their kids…… what of the possibility of diabetes or other health issues?. (My own son has diabetes & I certainly would not want a stranger to hand him a Coke or candy.) This recent email from you reveals an insight that I find disturbing. Therefore, I will be unsubscribing to future mailings. Hopefully my reply can open some eyes and instill the beginnings of sensitivity to respect for others, their customs and beliefs, their life style and the privacy of their lives and living spaces. Ignorance can easily be overcome with education……. through the Internet, books, classes….. there is no excuse for patronizing attitudes or actions towards people who look or act differently from ourselves…. and for "using" them as models without their open permission.
There are 13 comments for
Patronizing attitude wrong
by Lee Mann
Rewarding the willing subjects
by Michael Fuerst, Urbana, IL, USA In the University community of Illinois where I live there are appropriate venues at least three times a week. I just show up and sketch performers or audience members at the various local musical venues or coffee shops. This is a hobby I have been doing this for a couple of years and I make little effort to sell my efforts. I usually do not tell people they are being sketched, but do often get caught in the act — more so now that I'm often recognized locally as the artist. Since I often work in dimly lit places and have a scribbly style and erase a lot, my favorite medium is a Derwent water soluble 4B pencil. If I am working in good light, watercolor or water soluble pencils might sneak in. Most people are flattered about being sketched. The curious sometimes often come over to look, and I answer any questions and offer to let them peruse my sketchbook. Often the curious are children — so drawings from local sessions with a paid unclothed model stay in a separate sketchbook. I jokingly tell the curious that if they watch too long they will end up in my sketch book. Adults usually chuckle and soon leave, but children sometimes volunteer to pose. I only sketch children in environments when the child's caregiver is nearby. The caregiver quickly notices what is happening, and often comes over, or is retrieved by the child to look. I never ask permission to sketch a child. I never take photos. The sketches take 20-60 minutes — but sometimes end early if a subject audience member decides to leave — although I just finish the sketch using my imagination. If a subject asks, I give them the sketch. If they don't ask for the sketch, but seem to like it, I offer to email them a scanned, then Photoshop enhanced version (limited to contrast and brightness, to compensate for my poor lighting, and occasional removal of stray marks). If I can find the email of a performer who is sketched, I often email them the sketch once corrected — especially if they did not know they were being sketched.
Archived Comments
Enjoy the past comments below for Tips on paying natural models…
Featured Workshop: Kris Parins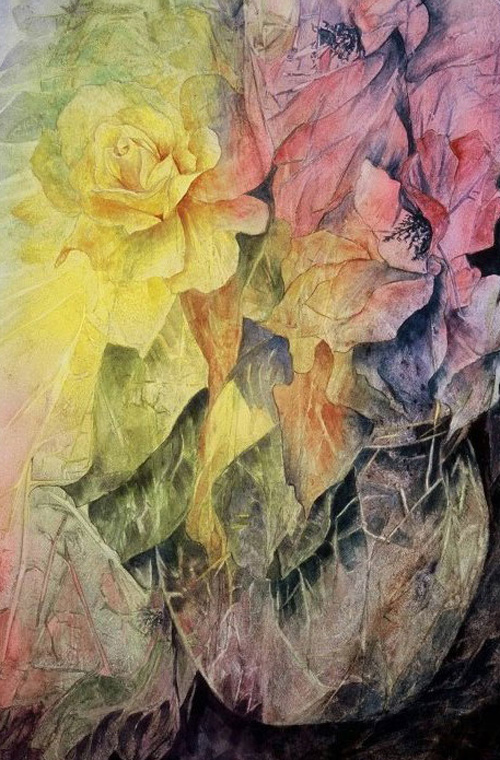 Rose Among Silks & Mosaics
watercolour painting by Jocye Popein, BC, Canada
You may be interested to know that artists from every state in the USA, every province in Canada, and at least 115 countries worldwide have visited these pages since January 1, 2013. That includes Rae Aeberli of Mt View, AR, USA, who wrote, "When my daughter was in the hospital for cancer surgery, I took my sketchbook with me. I drew portraits of all the nurses who wanted to pose and gave the drawings to the nurses. I am convinced that she had better care because of this." And also Jytte Frost who wrote, "I have been thinking of going out and shooting a lot of pictures of people and happenings, buildings, great doorways. As a society we have ruined it for ourselves by wanting to get paid for everything."