Dear Artist, Yesterday, Susan Delaney of Red Deer, Alberta, Canada wrote, "I'm in the process of following up a commission with an order from the original customer for up to 200 reproductions of a painting, to be sold as a fundraiser for a not-for-profit organization. I've had the piece professionally photographed and I'm fairly confident in the giclee process, technical and quality issues, costs and project budgeting. These reproductions will be described and documented accurately to potential buyers. I'd really value guidance on my own markup and pricing." Thanks, Susan. I bend the rules for repros for charity fundraisers. Sometimes I give reproduction rights for free after selling the original, other times I take a modest amount — often ten percent after the cost of the reproductions. The charity picks up all the printing costs. Tip: Keep your editions small. Big-volume runs cheapen your art. If the run is to be called a "limited edition," then you need to sign, name and number. Regarding pricing, I find it best to keep them low. For example, on a recent one where the original sold for $12,000, I suggested the prints be $400 including the frame. This ensured that the repro run of 150 sold out, made a few friends and did some modest good in the community. You must know that in most areas the bloom is off the rose for both giclees and photo-lithos. It takes a pretty gung ho and active charity to sell them these days. You need to make sure the charity has enough volunteers to make things happen. While no one can be as financially motivated as those gallerinas in a Thomas Kinkade franchise, unless your work is drop dead appealing — and the charity has spotless credentials (minimal costs of fundraising) — it generally takes real community effort. A couple of years ago I received a call from a friend who said there was a pile of my reproductions on a table in a "going out of business" furniture store. I drove around and found about fifty leftovers from a fundraiser that had somehow got in there. The charity had originally asked $1800 each for them, a price I queried at the time. I bought the works for ten bucks each. Further, the loophole for investing in big-run reproductions and getting them evaluated beyond the investor's costs has been closed in most jurisdictions. This was a rummy business to start with, and has cost a few taxpayers some anguish, as well as a loss of greenery. Best regards, Robert PS: "There's been million-seller books and million-seller CDs. But there hasn't been, until now, million-seller art." (
Thomas Kinkade
) Esoterica: A benefit from charitable repro runs is the entitlement to "Artist's proofs," generally an additional 10% of the run. These can be archived by the artist or used as gifts or donations to other charities. Having them as an asset can become a taxable event which, in most cases, is minimal. My best tip: Never do anything charitable for publicity, great financial gain, or for tax reasons. Give where your heart is.
Who owns copyright?
by Marlien van Heerden, Pretoria, South Africa If I want to use my sold paintings for reproductions of gift cards, am I responsible to inform the buyer, whom I often don't know, or do I own the right to reproduce my paintings? Your comment suggests that the buyer should pay you a percentage if they do reproductions, but is it the same the other way around? It just doesn't feel right to reproduce their paintings? Some might experience it as a compliment but others might feel their uniqueness is lost? (RG note) Thanks, Marlien. According to International Copyright Law, the artist continues to own reproduction rights for a work of art even after the original has been purchased and owned by another or subsequent owners. The exception is where work is specifically commissioned by a buyer. Artist ownership generally continues until fifty years after the artist's death, at which time the work goes into the Public Domain, unless the artist's heirs or assigns extend the copyright. Technically, this is with or without the © mark somewhere on the work. Sometimes owners fail to understand that copyright does not come with their paying for the work, unless they purchase it separately. If you think someday you may want to reproduce a work of art, I recommend, at the time of purchase, informing the owner that reproduction may be a possibility. It's worthwhile to have good quality photos taken of such a work before it leaves the studio. Later, if you have made an effort and yet cannot find the owner to inform him or her of what you're doing (a courtesy), you still have good legal grounds to proceed with the reproductions. Certain cultures, countries and individuals pay no attention to these civilized conventions.
There is 1 comment for
Who owns copyright?
by Marlien van Heerden
Printing for profit
by Bruce Lawes, Oakville, ON, Canada As a fellow artist who has done my share of corporate and charitable events, I found printers are only mildly interested in your cause or motivation for your project unless there is one of two things in it for them; profit, or good will that will lead to more profit. Eight years ago I started giclée printing for fellow artists after being quoted $14,000 to print 250 canvas prints for a corporate project. I ended up buying my first printer and since then I have helped other artists have a better opportunity to make some of the profit for a change. I do not advertise but my
website
 will outline some pricing. Tel: 905 847-9332.
Artist return clause
by Judith Anderson, Richmond VA, USA It seems to me that if you are going to allow prints of your work for charitable sales, it would be wise to have a clause in the agreement with the charitable organization that states as follows (or something similar): "If, at the conclusion of the sale, unsold prints remain, all such unsold prints shall be returned to the artist for disposal as he/she deems fit." Then what should happen is the artist should promptly destroy any remaining prints. This will increase the value of those sold at the benefit, and prevent your works from being devalued.
There is 1 comment for
Artist return clause
by Judith Anderson
Reproductions damaging when pushed as prints
by Sharri LaPierre, Vancouver, WA, USA Reproductions and "limited edition giclée prints" have done much more damage to the art market than they have ever done any good. I'm primarily a printmaker, so I hate to see all of these reproductions of paintings being pushed as "prints." I would think it would be much safer to donate an original painting to a charity and let them raffle or auction it off to raise money. Get several artists to donate original works and raise even more money. But, to sell a photo of a painting as "original" artwork, is in my mind, a disgrace. When these photos hit the market, that impinges on my territory and thoroughly confuses the general public as to what is an original print and what is not. Original prints are etchings, engravings, aquatints, messotints, screenprints, woodblocks, monotypes, monoprints, stone lithographs, etc.
There are 4 comments for
Reproductions damaging when pushed as prints
by Sharri LaPierre
Pricing guidelines for giclées
by Tom Shacklady, Calgary, AB, Canada I get asked the same question many times and it has been my experience that a high quality giclée will usually sell for 1/4 to 1/6 the price of the original (unframed). This generally works when the artist has a good cost per square inch formula for their originals. As far as edition size goes things have changed from the days when giclées were first taking over from photo lithos and artists were setting the limit at 350 – 500. Now we see them generally around 50, 90 or 130. I believe the "print on demand" nature of the giclée process has allowed for this because you don't have to pay to have the entire edition done all at one time.
Prints as originals
by Tina Blackburn I am pleased to see that you correctly call these giclées reproductions. As a printmaker, I am always upset to see artists label their copies 'prints' and then number them as an edition. A numbered edition, in my understanding, is a series of original identical prints, each pulled from a plate. They are not reproductions, but originals.
Distrust for prints
by Thomas Tobin, Kitchener, ON, Canada Many reproductions were sold as original limited runs a few years ago. In Ontario, Canada there is currently a lot of distrust of artists' prints of all sorts. I recently saw something called an "Aunts and Uncles" edition, valued higher than the limited edition or the limited edition.The artists' hands seldom touch these pieces.
Fifty-fifty split for charities
by Patricia Lawton, Vernon, BC, Canada While I mostly adhere to your advice regarding giving from the heart, I hosted an interesting event last fall. For three years, I painted almost non-stop with the plans to donate to the "North Okanagan's Hospice House." But as I also make my living from my art, I needed to recoup something from my three years of work. What I did was to donate exactly half of whatever I could make from the one evening event. The paintings were priced from $800 to $3700.00. It was a very lovely evening with high-end nibblies and a no host bar. I feel the event was successful in that I sold paintings and our Hospice House received a lot of much needed publicity. The title of the show was "Girlfriends." All were acrylics on canvas.
Personal nature of art
by Nina Allen Freeman, Tallahassee, FL, USA I am not an admirer of Thomas Kinkade's work but wonder if he has passed that million dollar mark with any of his pieces. They seem to be designed to appeal to the masses. Could the generally personal nature of art be the reason why art and art reproductions don't sell in the millions? We consider a good piece of art one that gives a very individual view on something. Presenting an idea in a way no else would have thought to put it, therefore appealing to a limited number of people. We all have lots of books and CDs even in the recession, but I don't see people as avidly buying prints and visual art. Are most people not visually motivated?
There is 1 comment for
Personal nature of art
by Nina Allen Freeman
Worthless reproductions
by Teresa Chow, Vancouver, BC, Canada My husband and I bought an expensive giclée painting from a reputable local artist because we cannot afford the original, thinking that it's still signed by the artist that the giclée painting is worth something. We were very surprised when we brought the case to a local auction house only to be told that giclée and limited editions and what not is just the price of ink, canvas and or paper, it's worthless!! The auctioneer recommends to always buy an original painting even if it's a smaller painting because this is true investment. Not a reproduction. I understand that artists need to pay bills and to eat as well. However, in my personal opinion, this is taking the "commercial run" too far. Personally, I disagree with this spin off from some artists who are trying to make more money selling reproductions. Just look around galleries and you can see lots of them even from reputable artists. It somehow cheapens the artwork and the name of the artist. Think about it, technology is so advanced these days, buy a good quality giclée and the buyer can print additional copies and sell it at half the price — now that's a business to consider!!!! If it is for a charity event — it's already a gift, somehow a donation from the artist so make it worthwhile, always take the higher road. (RG note) Thanks, Teresa. In my experience, people are interested in supporting charities, and if they get a reproduction of something they admire form a reputable artist in exchange for their donation, then they are satisfied. Charity reproductions should not be advertised as investments.
There are 2 comments for
Worthless reproductions
by Teresa Chow
Archived Comments
Enjoy the past comments below for Pricing a reproduction run…
 Featured Workshop: Whidbey Island Fine Art Studio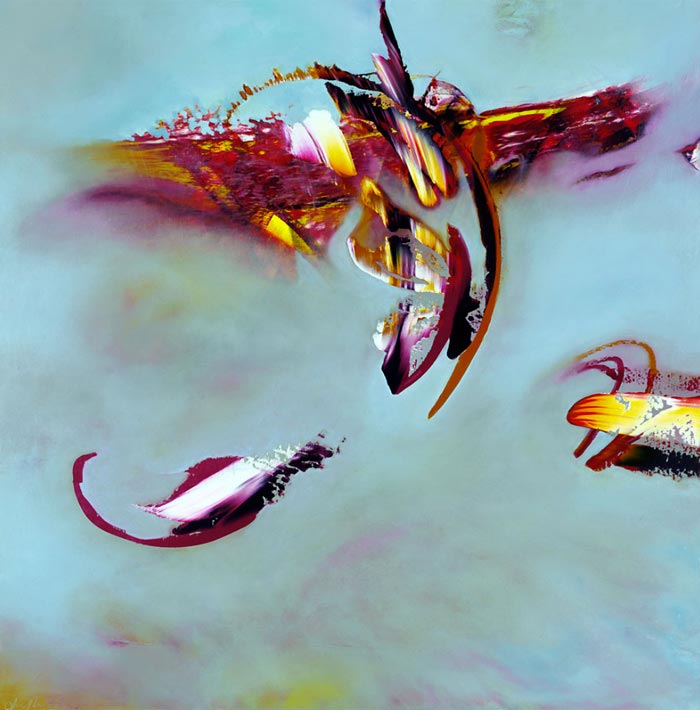 1 more 2 make 3
oil painting by Suzanne Partridge
You may be interested to know that artists from every state in the USA, every province in Canada, and at least 115 countries worldwide have visited these pages since January 1, 2013. That includes Peter Worsley of Santa Barbara, CA, USA, who wrote, "With Print On Demand so easy, the price so low, and the quality of the best companies so good (I use Imagekind and Fine Art America for my paintings), why would anyone today bother with a print run?" And also Andrea Holbrook who wrote, "Why or what has made giclées passe'? When I've gone to local shows, people seem more willing to buy them as opposed to spending the big bucks for the originals. I live north of Boston." And also Dennis Patterson who wrote, "Where I live people buy pictures of wolves. They need them inexpensive. They don't care if they're originals or not."