Dear Artist, "Choking" is when you know how to do something, do it often, and then, inexplicably and royally, you screw up. A golfer, for example, going for a three-foot putt, overshoots by seventeen feet, or, worse, gives the ball a dumb little three incher. Anyone can choke, but the more mature you are, the more often it can happen. Thinking is bad. The more time you have to think, the more likely you are to choke. Quick, intuitive thinkers don't choke as often. Sian Beilock, a University of Chicago psychologist, says it has to do with roadblocks in the brain. She's written a book to help people open up their roads. Mostly for sporty types and businesspeople, some of her findings apply to us. Singing helps. Apparently singing distracts the "analysis paralysis" that comes from knowing too much. I've found "Mad Dogs and Englishmen" by Noel Coward often does the trick and gets me to foreign places as well. For those who can't sing, try humming. Humming is like a mantra; it calms the brain. In Beilock's research, people who meditate choke less. Did I mention "Whistle while you work"? Pressure to perform, persistent worries, a guilty conscience and general nervousness are all causes of choking. Further, the mere act of trying to increase your control over something can backfire, disrupting what was once a fluid, flawless performance. Pressurized situations apparently deplete that area of your brain (prefrontal cortex) that contains what psychologists call "working memory," a sort of mental scratch pad and info storage area. With stuff temporarily erased or obscured, it's hard to get it back when you need it. Another choker Beilock identifies is "stereotype threat." I had a hard time getting my head around this one, but I now realize it's a biggie. For example, when someone thinks they can't do math because of age, gender, race, or whatever, they often can't. It has nothing to do with their natural ability, and all to do with their beliefs. Art students who know in their heart they can never do as well as their instructors, for whatever reason, won't. It's enough to make you think schools might be houses of choking. Come to think of it, maybe it's best to hum your way around the course on your own. Best regards, Robert PS: "Highly practiced putts run better when you don't try to control every aspect of performance." (Sian Beilock, from
Choke: What the Secrets of the Brain Reveal About Getting it Right When You Have To
) Esoterica: Our brains are also in the business of sabotage. Steadfast practice tends to stymie the evil eye of sabotage. Further, it's a good idea to groom yourself by practicing under a moderate amount of stress. "Think about the journey, not the outcome," says Beilock. Having dealt effectively with prior stress makes working with high amounts of it easier. On the other hand, no stress at all may cause one to "choke by dawdling."
Cows prevent choking
by Leonard Skerker, Ann Arbor, MI, USA The golfer crouched over his ball gets the "yips," for which thousands of ways to solve the problem are described in the Internet. US tennis hackers know that the longer we have to wait for the ball to arrive the more likely we'll screw it up. A super great surgeon I used to work with would, when things got hairy, start to hum. I guess it relaxed and focused (or defocused) him, but it certainly prompted all of us to go quiet and much more responsive. In one hospital in South London where I worked my mentor suggested that, if a procedure I was doing was going poorly, I should turn away, look out the window where there was a pasture containing some cows, then return and all would be fine — it worked. Something about pace, or change of pace, but your comments were right on.
Is anyone ever self-taught?
by M Frances Stilwell, Corvallis, OR, USA I've never found a secret for success — or rather satisfaction in painting — other than integrity and approaching each painting as if it were the first time I'd seen a canvas. Some friends say I should be glad I never went to art school and when I look at some polished artwork I can understand their comments. At other times graduate artwork is simply terrific. Turner said, "The self-taught artist is poorly taught indeed," but is anyone ever totally self-taught? That would mean being deaf to such comments as, "That doesn't look like a tree!"
There is 1 comment for
Is anyone ever self-taught?
by M Frances Stilwell
Not stupid, just choking
by Patrick Lacey, Fresno, CA, USA It is such a relief to learn that I have only been "choking" all these years. Up till now I thought it was a "stupid stick," one that whacked me on the head when I got ready to paint. Singing helps… who knew? That explains why the Hail Marys didn't work. From now on it will be Ave Maria.
There is 1 comment for
Not stupid, just choking
by Patrick Lacey
Whistle while you work
by Maureen Brouillette, Dallas, TX, USA My dad, Al Brouillette, was a painter and liked to whistle under his breath when he painted. Even when he was doing a class or workshop! Now I have a better understanding why. I used to hum and whistle more while I was painting until the last few years when my work has gotten a lot more analytical. I have been conscious that my work has gotten way too left brain and not intuitive enough. Everything I have heard lately confirms my inner thoughts.
There are 3 comments for
Whistle while you work
by Maureen Brouillette
Pitcher wins back his form
by Bill Skuce, Sooke, BC, Canada My first ambition was to pitch pro baseball. I choked badly pitching in relief during my first season and was benched indefinitely. It was then a veteran catcher took me under his wing and worked me out daily till I was in the best shape of my life. One night before a game six weeks later, I was heading to the outfield to do pre-game laps while the infield practiced when I heard the manager's voice behind me yell, "Skuce!" I swung round in time to see a new baseball arcing towards me. "Here, you're pitchin' tonight!" he said. I knew I was ready…and too surprised to be nervous. We won 10-0.
There is 1 comment for
Pitcher wins back his form
by Bill Skuce
Conditions for choking
by oliver, TX, USA I don't worry about choking unless: Someone wants a short deadline. Sometimes this can be a request for proposal or request for grant or something like that and usually I have similars and/or; It is a one-time event (ok so my basic process is photographic but everyone calls and thinks of me as a painter). Actually I usually say to someone asking me to do wedding photos, "no" or if they are personal friends happy to but I suggest you hire a wedding photographer who will do all the standard shots in case I get distracted by shooting the groom tying his shoe laces (tying the knot celtic references etc.) and I would like to be one of the guests.
Gawkers help you bail
by Jack Abelson Usually I cough several times before I choke. I do plein air work. Over the years I've learned how to be pleasant with gawkers, yet keep them at bay so I can work. I let them look, I just don't engage them. However, if, while I'm working, I've coughed a couple times — That is, a few light goofs before the big choke, I'll let the next interesting gawker engage me. Usually I find I'm the better for it. My mind's been unwound, my mis-focus has been abandoned, and some of these people are genuinely interesting. When I get back to work, it is often necessary to build up to full concentration again, but I find that often the coughs haven't lead to the choke, and the work is the better for it. The brain is a strange ranger and the more I think about it, the less I understand. The key, though, is that I found an interesting tool to help me bail when my project is taking on water. So, well understood or not, I use it.
Needs advice on how to speed up process
by Eve Salishur There are days when a choke would be good. Most times when a painting goes south I experience a complete otolaryngologic, thoracic, and cardio meltdown. I sit on the floor surrounded by abused materials, look upward and gasp, Lord, take me now! Usually this happens very soon after having produced what I self-servingly consider a good piece. Since I don't do pride, I'd say satisfaction comes before the fall. I'm probably sabotaging myself, but who knows. I'm only posting this to say that I envy people who only choke. My "little deaths" — not to be confused with the usual use of the term, but in the artistic sense — are really titanic. I'm usually resurrected from a watery grave in a few days, but I'd adore some really good advice on how to get through this period a mite quicker. At this point all I can tell you is that Scotch doesn't work.
Techniques to avoid choking
by Sharon Williams, Mississauga, ON, Canada I never, ever try to paint or do anything creative without first picking out the music to play. In fact, the music starts, then I start organizing materials, allowing myself to be absorbed in the non-thinking mode needed to get my best pieces. I often sing along to help turn off the thinking side of my brain. I also like to move to the music to loosen up my muscles. The next anti-choke technique I use is to close my eyes and make any kind of mark on the paper or to start tearing up or cutting items that might collage into the work at some time. Next, instead of starting to paint, I might add a textural layer first. Rule of thumb: Do mindless things until you have turned off your mind. Some paintings that have been percolating in my brain for long enough (not that I know ahead of time what they might be) will start growing on the paper right away. Others take weeks of working out how to make the marks I see in my mind through trial and error. I may not know how they will be used or where; eventually they go down where they should go. Some paintings know how they want to start but not where they will go. I usually have half a dozen or so available to see if any are ready to go further. If stuck, I'll go through the big portfolio of unfinished or "failed" work. The "failures" often need to be united with another piece by weaving, tearing and rearranging. I work in experimental abstract multi-media (everything except oils – turps are too toxic for me). Last item: I have cordless phones and make sure one is set up where I can see the caller ID. I avoid unimportant calls by letting them go to voice mail, but will answer those from a very short list. Hope one or more of these help. When all else 'chokes,' go to a back-up skill or different medium. If I can't paint, I can sculpt clay or do sculptural crochet. Coming back to a painting later will often provide the answer I could not see before.
Archived Comments
Enjoy the past comments below for How to prevent choking…
 Featured Workshop: Charles Reid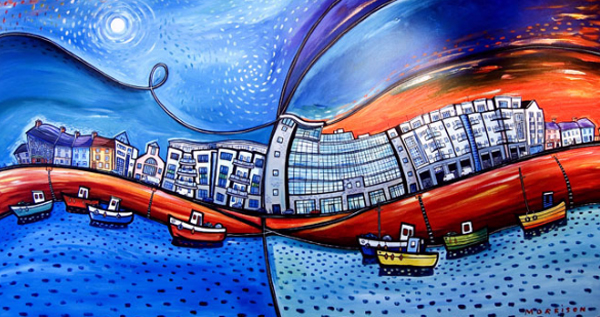 Galway Quays
acrylic painting by Phillip Morrison, Ireland
You may be interested to know that artists from every state in the USA, every province in Canada, and at least 115 countries worldwide have visited these pages since January 1, 2013. That includes Lally Barnes Freeman who wrote, "A book that I heartily recommend is Steven Pressfield's
The War of Art
. It has helped me many times and I have given copies to numerous artist friends." And also Helene Quigley from Facebook who wrote, "I've been singing and humming (and wiggling) for a lifetime and it really works."