Dear Artist,
"Your doubt can become a good quality if you train it," wrote Austrian poet Rainer Maria Rilke to 19-year-old Franz Kappus, an officer cadet at the Military Academy of Vienna who, disenchanted with military life, began sending his poems to Rilke for critique. For seven years, Rilke replied with letters about love, loneliness, truth seeking, suffering and feeling and engaging with art and the world. When tackling doubt, he suggested that Kappus could transform it into a productive creative tool. "It must become knowing, it must become criticism." Here are a few ideas:
If doubt is a crisis of faith in our ability or value, first understand that it begins as a feeling, and feelings are designed to be temporary. I remember my dad once offering comfort while we leaned into grey, alpine sleet in the mountains: "If you don't like the weather," he said, "wait a minute." The art mountain produces some dramatic weather, too — as much ecstasy as despair. Wait a minute — and while you're waiting, keep climbing.
Do a bit of reverse engineering of doubt's components in order to break them into manageable-sized monsters. Negative self-talk, people or attitudes are habits that can be changed with a bit of will and desire. A discouraging obstacle needs to be assessed and solved honestly and courageously. Mediocre performance calls for determination to improve skills. If you're simply feeling bereft of feedback — the affliction of every creative person at some time — it may be helpful to acknowledge that reassurance and encouragement are guaranteed to no one, though these — and Rilke's — letters can hopefully help.
Here's a doubt-transforming exercise I've personally worked as recently as last week: Embrace the fear surrounding whatever it was that kicked off the doubt episode, naming as best you can the cause, the incident or instigator. Now, in your mind's eye, float above the scenario, understanding that the bad vibes are there to be endured and examined for a temporary period. This period, by the way, can be shortened with some steely practice. "Ask it," wrote Rilke, "whenever it wants to spoil something for you, why something is ugly, demand proofs from it, test it, and you will find it perplexed and embarrassed perhaps, or perhaps rebellious." Doubt can be used as an opportunity to critically assess your creative choices and defend them or improve them when needed. Watch your footing when climbing the steepest trails. Rilke wrote, "The day will arrive when from a destroyer it will become one of your best workers — perhaps the cleverest of all that are building your life."
Sincerely,
Sara
PS: "Nobody can advise you and help you, nobody. There is only one way. Go into yourself." (Rainer Maria Rilke, 1875–1926)
Esoterica: By the time Kappus first wrote to Rilke in 1902, Rilke had moved with his family to Paris to continue working on his early and seminal collections of poems, The Book of Hours and The Book of Images — parts of which had already been published and had garnered some critical praise. Over the next seven years, Kappus and Rilke would exchange letters, but never met. Three years after Rilke's death from leukemia in 1926 at age 51, Kappus compiled and published his letters as Letters to a Young Poet. He had continued to serve in the Austro-Hungarian Army for 15 years and then worked as a newspaper editor, journalist and poet. Kappus died in 1966 in Berlin. He was 82.
"Why do you want to shut out of your life any uneasiness, any misery, any depression, since after all you don't know what work these conditions are doing inside you?" asked Rilke of Kappus. "Why do you want to persecute yourself with the question of where all this is coming from and where it is going? Since you know, after all, that you are in the midst of transitions and you wished for nothing so much as to change. If there is anything unhealthy in your reactions, just bear in mind that sickness is the means by which an organism frees itself from what is alien; so one must simply help it to be sick, to have its whole sickness and to break out with it, since that is the way it gets better."
Rainer Maria Rilke's complete Letters to a Young Poet is here.
The Letters: Vol. 1 and 2, narrated by Dave Genn, are available for download on Amazon, here. Proceeds of sales contribute to the production of The Painter's Keys.
"Live the questions now." (Rainer Maria Rilke)
Featured Workshop
August 1, 2019 to August 7, 2019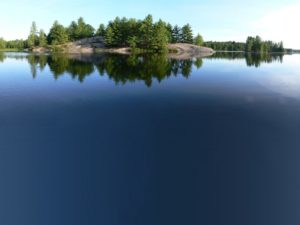 Six days in the Ontario backcountry. Locations accessible only by canoe. Canoe, camp, cook and paint like the early North American plein air artists. Every day we do a short paddle from our base camp to a painting location and spend the day capturing the scene. Workshop leader Keith Thirgood has been teaching adults to paint for 12 years and canoeing and camping for most of his life. Keith teaches a step by step approach to plein air, which makes capturing a scene easier than you ever thought possible. He also teaches Modern Colour Theory using his special, limited palette. This set of colours is useful not only en plein air but also in the studio.
The Kawartha Highlands is an amazing place to paint. Forest, bald rock faces, hundreds of islands, sparkling water. On day seven it's hard to leave.
For more information, visit www.wilsonstreetstudios.com.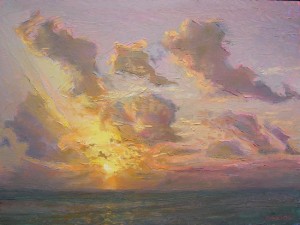 Shining Through
oil 12 x 16 inches
Featured Artist
Capturing the beauty of nature and expressing those impressions in oil paint is a joy. Every hour of the day presents new possibilities and keeps even the same landscape location, same composition, an ongoing and beckoning challenge. For this reason, I love painting series: it is exploration made visual.