Dear Artist,
In art critic Jerry Saltz's recent dirge for the art world, he welcomes the return of art made at the kitchen table. "For now, there aren't big studios, dozens of artist assistants working on one artist's work, whole staffs keeping track of it all," writes Jerry. Instead, he says, art is retreating to domestic spaces — in the fray with cooking and children and laundry and gardening, and being made by hand by one person at a time. "This is how our species made most things over the last 50,000 years. Creativity was with us in the caves; it's in every bone in our bodies."
For those of us who've already been working without a painting staff, fabricators and an admin team, making art in the new world looks a lot like it did in the old world. I'm stirring a pot between coats and writing to you from my kitchen bench. Work winks in the corner of my eye, asking, at all hours, to be made better, while life unfurls in one long, seamless and integrated ribbon. It is, perhaps, small potatoes in comparison to a mega-studio, but a potato is a handy thing during a pandemic.
Having grown up with a parent who made art in a studio five paces from the house, it never occurred to me to leave "home" in search of a place to work. In not doing so, the dysphoria of traffic and a cold hearth have been omitted by proxy. Artist Cheryl Donegan describes it as, "cherish the privilege." Early on, while living with an actor, she realized that as a visual artist, she wasn't dependent on an external company or collective to do her work. All Cheryl needed was her room. "I can work when no one cares and no one is looking…and I have and do. And of course, that is what it takes."
Sincerely,
Sara
PS: "Viruses don't kill art. But even successful artists will be pushed to the limits, let alone the 99% of artists who always live close to the edge." (Jerry Saltz)
Esoterica: I'm willing to bet my last roll of toilet paper that the 99% of artists the world is currently digging professional graves for will not all perish in the age of isolation. We have low overheads. And our worldly needs are modest. We know how to work for love. Many of us are poor consumers. We also thrive in the quiet spaces, which means our ideas are being given the opportunity to improve. We are all at home, now. If part of art's function is to explore our universal human experience, home is our current, unifying theme. "Many artists in the past have said that they lived as if "a retiree" (Duchamp) or on "vacation" (Dubuffet or Miro, I think)," writes Cheryl. "…sort of the opposite of the 'art worker,' and certainly the contrary of 'business art'… but I guess no one is going to stop us now, as if they ever could."
I wish each and every one of you well during this global health crisis and encourage you to flatten the curve by staying at home with your creative materials. I hope our Painter's Keys community can be a source of friendship and creative inspiration during this time and always.
In friendship, Sara 
Have you considered a Premium Artist Listing?  With each letter, an artist is featured at the bottom of this page. The Premium Artist Listings are a means of connecting artist subscribers through their work. Proceeds from each listing contribute to the production of The Painter's Keys. 
"If the skies fall, one may hope to catch larks." (Francois Rabelais)
Featured Workshop
August 19, 2020 to August 21, 2020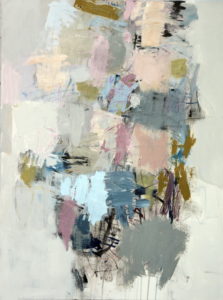 Have some experience painting, but want to explore the elements of non-objective painting in more depth, increase your confidence and creative intelligence? Boldly Abstract 2 is for you.  As in Boldly Abstract 1 we will cover aspects of color, composition and mark making however through a series of more challenging exercises meant for those with more painting experience. Learn how to fix an unsatisfying painting.  We will share our extensive knowledge of the art business with you, covering such topics as the mechanics of running your own art business, applying to galleries and the ins and outs participation in art fairs.   
August 19, 20 and 21
9 am to 4:30 pm
$950  Bring a friend and save $50 each.  Take both workshops and save $100
https://artbycat.com/page/1-Workshops-Prints.html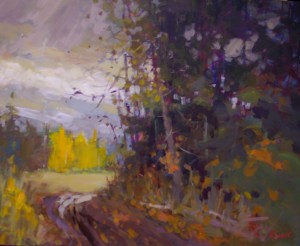 Turn In The Road
24x30 acrylic
Featured Artist
My art represents an artistic journey that has been on-going for more than thirty-five years with help and guidance from many wonderful artists. Now, with years of plein-air painting experience, study and solo exhibitions, I believe that my current work has reached its highest level, reflecting the depth of my absorption in the wonder and beauty of the world around me.  I have learned that, as an artist, I will never stop looking for better ways to express my feelings in art and that struggling to more fully understand myself is integral to my painting; a philosophy that was part of every workshop I taught. Still is.