Dear Artist, Recently, Doug Payne of Waddington's Art Auctioneers in Toronto, Ontario wrote, "A painting came into our auction house and I'm not sure if this was an early work (dated '62) or it's not a painting by you. I've sold a few of your paintings over the years, but I'm not sure about this one. I'd hate to offer this in an auction and find out that it was not done by you." Doug included a few photos including the signature and a shot of the back of the painting. I wrote Doug right away, thanked him for contacting me, and told him it was a fake. When authenticating paintings, one looks for many clues, including signature, time and style. In Doug's painting, some of the letters within my signature didn't match my typical ones. Time was also bogus — the title lettered on the back, "Bald Indian Bay," was a place I didn't get to until 2004. By far the biggest problem with the painting was the style. The work was roughly and amateurishly painted with a lot of repeated strokes and sloppy passages. An artist's work, on close examination, practically always shows a characteristic stroke. I tend to put my strokes down and leave them alone. This faker either didn't notice that, or didn't know how to do it. It was one of the lousiest Genns I'd ever seen, and believe me, I've done some lousy ones. A painter's stroke is her true signature. One can tell handedness, directionality, speed, thoughtfulness, liquidity, degree of commitment, types of brushes, etc. From my cocky perspective and years of looking at other artists' works, both ancient and modern, I believe I can tell the approximate age of many artists at the time of painting. It's estimated that 15% of historical art in private and public collections is fake. In modernist and abstract work the percentage may be higher. Even official catalogues of Monet, Degas, Cezanne, etc., appear to contain dubious entries. While not denigrating the expertise of scholars and forensic authenticators, why not get a second opinion from an actual painter? After all, many have been there, done that, and made the strokes. Best regards, Robert PS: "First appearance deceives many." (
Ovid
) Esoterica: Many years ago Carol and I visited the home of a British ex-pat living in the south of Spain. His art collection included Van Gogh, Klimt, Munch, Van Dongen and Klee. While the paintings were clearly signed, he insisted on guiding us around and telling us the names so we would be sure we knew what we were looking at. The art had nothing to do with the names. A Kandinsky and a Braque looked like they might have been painted by the same faker. In my youthful cockiness I was just going to talk to him about his problem, when he announced that Lord Longbottom (or somebody) was coming around shortly for tea and we would have to go. I've grown mellow since then. There will always be those who buy names.
Is this a fake Robert Genn?
Fake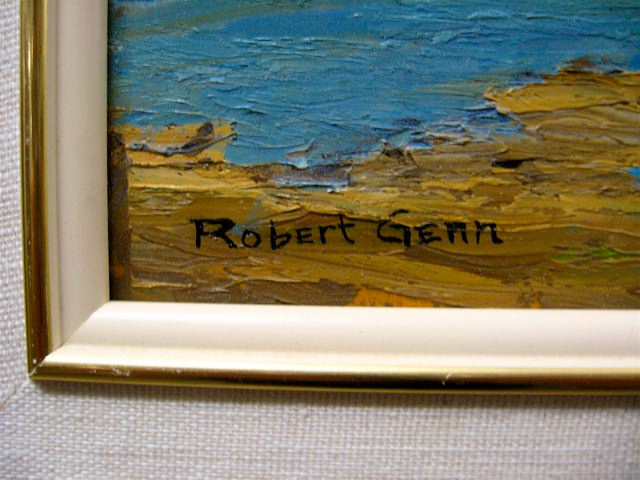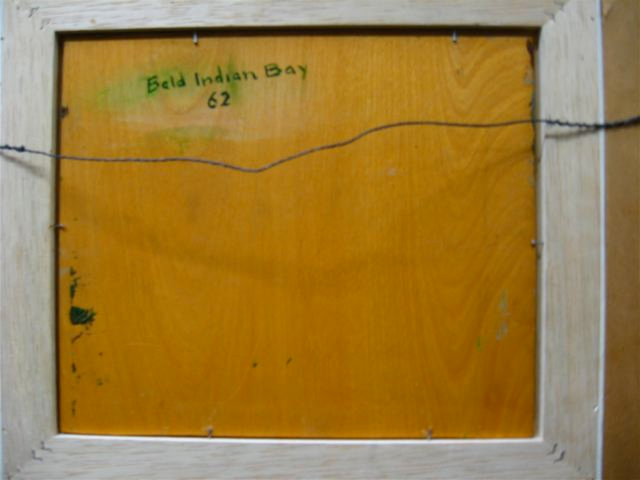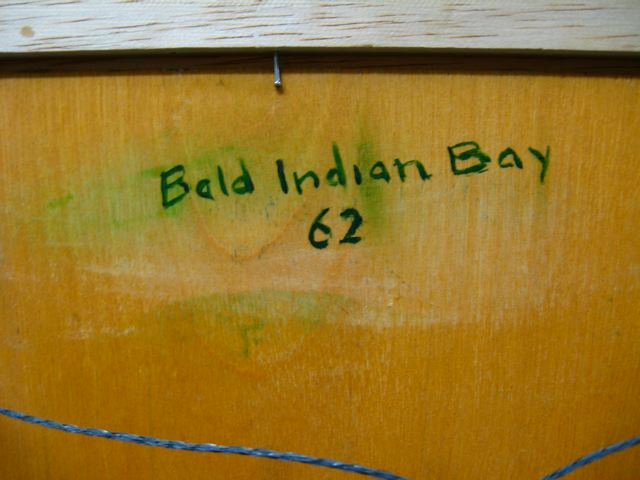 Authentic
'Scum of the earth'
by Bob Hughes, Liverpool, Merseyside, UK Fakers, forgers, call them what you will, they are all 'Scum of the earth.' I am pretty sure there are a lot more fakes hanging on the walls of wealthy people who paid 'Mega Bucks' for a name artist rather than one of quality. I also agree with you: "Why not get a second opinion from an actual painter?" before they part with all that money. They would also get some very valuable insight into how an artist thinks as well, and not what the non-painters tell them what is in vogue. A lot of people are simply too embarrassed to say what's rubbish for fear of being ridiculed.
Having a bad day?
by Ron Unruh, Surrey, BC, Canada I can see immediately that the skies and water in this painting are not characteristic of your minimalist strokes. They are far too busy in this painting. Had I seen this at auction, I may not have concluded that it was a fake because I don't customarily think like that, but I may have decided this was one of your earliest efforts or a bad day. In one sentence in your commentary you said, "From my cocky perspective and years of looking at other artists' works, both ancient and modern, I believe I can tell the approximate age of many artists at the time of painting." I am not concerned whether you have acquired a self-assured perspective after years of experience, but I am curious about the clues to a painter's age at the time of painting. Please enlighten me. (RG note) Thanks, Ron. Many (not all) painters tighten up and become more fussy as they age. Strokes can get smaller and more deliberate. Style may remain the same but the rendition becomes disruptive. It may be due to a growing lack of confidence, vision problems, repetition or weariness. I once discussed this with the Canadian painter A. Y. Jackson. He called the condition "painterly senility" and suggested that older painters need to constantly renew their vision and refresh their stroking. He and I agreed when you follow a painter for a lifetime you can observe transitions as they happen.
There is 1 comment for
Having a bad day?
by Ron Unruh
Marking the back of a painting
by Laura Waller, Tampa, FL, USA When you write a description, date and sign the back of a canvas, what material do you use that won't leach through over the years? (RG note) Thanks, Laura. I use a fine point "Sharpie" permanent marker. I use at least a #10 canvas that is always well primed by me as well as the priming it comes with. So far no problems that I know of. As mentioned before, I do not often put a date on my paintings.
There is 1 comment for
Marking the back of a painting
by Laura Waller
Certificates of Authenticity
by Lyse Anthony, Palm Harbor, FL, USA At my last Juried Outdoor Art Festival I was asked rather rudely if I give Certificates of Authenticity …for my Original Work! I was offended but I guess I cannot blame people for being suspicious since reproductions are now so hard to distinguish form the originals. My watercolors and reproductions are clearly marked as such on the price tag. This is one of many show regulations for artists. Apparently, this was not enough for this person. What are your thoughts about Certificates of Authenticity? Do they make the work and the reproductions more collectable? (RG note) Thanks, Lyse. It may be just my ignorance but I think certificates of authenticity to go with originals might be a bit pretentious and pompous. The material written on the back of the painting and the provenance of a jury or a trusted dealer should be enough. Remember the photo-litho print boom of a few years ago? They needed the certificates to legitimize the paper. Most of those reproductions had certificates, and though many of them were of very fine paintings, most of them are currently not worth a wheelbarrow of horse puckey.
There are 4 comments for
Certificates of Authenticity
by Lyse Anthony
The 'chop' as additional security
by Gary Black, Australia Years ago I had a Chinese "chop" made of my name Gary. I had used the chop authenticating documents when I was the CEO of a dietary supplement company in New Zealand. The chop has a unique ink and the chop also has a unique style so is hard to forge. This was accepted as another "security" measure in the control of documents within the company. I am not of Chinese heritage but a mix of Irish, English and Scots. The chop design originated on a visit to Hong Kong and at the time I thought it was something different. I now use it to stamp the frame and the back of the canvas of each painting I complete. This now forms an immediate association to myself of any paintings with my name on it. A forger would have a very difficult job trying to forge the chop as well. A photocopy would have a different ink and would not have the buildup of ink that a chop gives.
Buyer beware
by Virginia Giordano, New York, NY, USA Fake Rothkos, Pollocks and other major works slip past knowledgeable dealers, major auction houses and collectors and sell in the tens of millions. If the fake is so good it can only be detected by x-ray or chemical analysis, what makes the original worth so much? Is it simply the name of the painter or the content of a painting? I realize this is a heretical question in the canon of masterpiece art work. (RG note) Thanks, Virginia. Mark Rothko and Jackson Pollock are apparently easy painters to fake. The prudent buyer needs forensic inspection of the sort you mention. While the fake may be "just as good" as the original, this does not make it "by the hand of the master." In the darker corners of the art market the desire to sell may exceed the desire for the truth.
There are 2 comments for
Buyer beware
by Virginia Giordano
Is authentication losing its importance?
by Alev Guvenir, Istanbul, Turkey If signature is revealed by strokes and other qualities, what about the new realist works? In some you cannot identify any strokes at all. Some of the contemporary work is just an assembly of technology. Maybe authentication is losing importance and it is the idea that counts. However, idea has a very short life. If one can think of something, there is always another person, in some part of the world who has thought about it before. (RG note) Thanks, Alev. Indeed, strokeless and other flat work is tougher to analyze. Work produced by mechanical means — and there is lots of it nowadays — is even more difficult for mere humans to decipher. As long as big bucks are pursuing authentic works of any sort, forensic authentication will be necessary.
Forgery a part of the story
by Sandy Davison, Lansing, MichiganI, USA Some Rembrandts have been mostly removed from his oeuvre. "Man in the Gold Helmet" is an example. Rembrandt was ego driven — you can tell by his fabulous marks that he wants his "umph" to be seen — but he was overall more interested in things other than things. In this painting, like a few other Rembrandt wannabees, the emphasis is on the helmet without the same passionate treatment of the sentiment or story. One painting that has been removed from his work and slightly belies the above (though not much), is one of great streaming light falling in an ornate window and a small figure greatly reduced in significance artistically. I concur with a great, and dead, art faker who saw closely the mark making and this indeed looks like the hand of Rembrandt — and the sentiment is his. But it's been on and off the list of his work and is now considered by those who make such pronouncements to be off. It's another interesting part of the art forgery biz, the politics of the experts. They can be and are swayed through peer pressure, payments and positioning. Work goes on the artist's oeuvre when the market for her work is hot, but too hot and it ups the ante for art experts to denounce work to keep the price points of those who already have the limited production of dead artists. At least with your work, Robert, the dealer could go right to the horse's mouth and your reputation can be spared its inclusion. I wonder how often you have this occur, and when it started to happen. Was faking Genns something that began recently? How can one know such things? Does it occur after one's work reaches a secondary market? Level of saturation among buyers? Randomly when another artist with skills to do so but without recognition sees it as a path (deHory, John Myatt, Ken Perenyi)? Or, like Eric Hebborn, a great big "sod off" to the business and game of art? Like all things in the human realm, art forgery seems to be part of the story, part of the push and pull and invention and neglect of our species in action. (RG note) Thanks, Sandra. Forgery commences when an artist's prices edge higher, whether the artist is dead or alive.
Archived Comments
Enjoy the past comments below for Spotting a fake…
Featured Workshop: Valerie Kent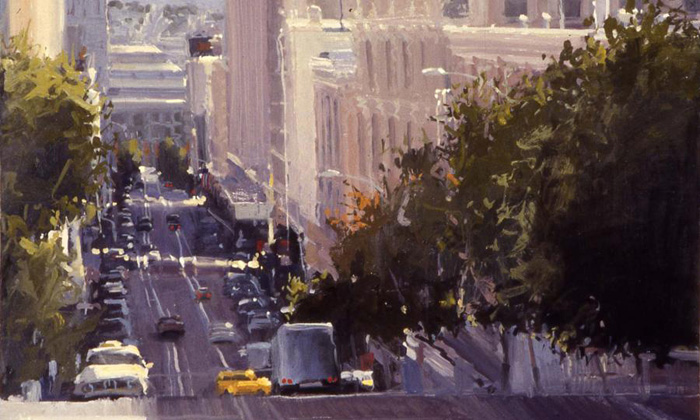 Untitled
oil painting by Ken Auster, Laguna Beach, CA, USA
You may be interested to know that artists from every state in the USA, every province in Canada, and at least 115 countries worldwide have visited these pages since January 1, 2013. That includes Bernadine Fox of Vancouver, BC, Canada, who wrote, "When I had a hairy dog who deposited fur constantly, I often joked that they would eventually authenticate my paintings by doing DNA processing of the dog hair in it. It was a joke. But I do think that these types of advances will ultimately find their way into the art world and we will have new ways to authenticate the veracity of an artist's work." And also David MacSmith of Denison, TX, USA, who wrote, "Your faker should be charged with Assault with a Deadly Brush." And also Bev Rodin of Willowdale, ON, Canada, who wrote, "I paint in series so I understand having related works. But I never try to duplicate a piece but always make what I hope is an improvement." And also David Blanchard of Sunnyvale, CA, USA, who wrote, "You need to realize that collecting is not really about art, or Pez Dispensers, or whatever. Collecting is about collecting."