Dear Artist, Recently, Michele Sinkez of Hebron, Connecticut wrote, "I overheard a collector say that white mats are a poor choice because they distract from the art. He said that deep-toned or neutral mats are best. Are colored and oversized mats the current trend? Is there a universal or professional standard when it comes to framing and matting?" Thanks, Michele. There is no universal standard, only conventions. And these conventions, as you suggest, are regularly tossed about by the fickle winds of fashion. To make things more interesting, trends and taste are localized. A frame that looks good in Phoenix will not be seen in Philadelphia. Overseas is even more perplexing. What we consider tasteful (and expensive) Western frames regularly appear in European dumpsters. On the other hand, curly, skinny, golden European jobs cause Western artists to consider self-induced ear removal. "We love your painting," a French collector recently wrote to me, "but your gallery framed it to look garish and ostentatious. Sacre bleu!" That painting had a wide white liner. White may suck the life out of art, but at least it's pure. White in frames is like basic black in frocks. Nowadays, the walls of homes and offices are painted in all manner of deep tints and classy hues. Fashionable galleries regularly repaint their walls to match the trends, and mats and outers are matched to join the fun. There's an argument that galleries shouldn't compete with collector's homes–the concept being that they work best when they're neutral way-stations for art en-route to a proper home. Like the flamboyant frames that dealers sometimes put around your work, the business is often ruled by the unique character of the gallerist. Further, wealthy North Americans are codependent with the Interior Design subculture. Some friends in the oil business were swept away by a designer who "conformed" all the frames in their extensive picture collection. Within a year another designer had swept through and changed them all back to match the pictures. One of my framers has such an extraordinary love of interior designers that he invites them to private family barbeques. Best regards, Robert PS: "Everyone carries his own inch-rule of taste, and amuses himself by applying it, triumphantly, wherever he travels." (
Henry Brooks Adams
) Esoterica: I leave final framing to my widely-dispersed dealers. For me, a frame is a studio tool for getting work stopped. On display on my secondary easel, a simple frame around a work-in-progress helps isolate it from its neighbors and lets it quietly speak to me. Even messed-up, unsuitable frames help paintings to talk. I refer to my secondary easel as my "Caritas Easel." Caritas is a Latin word that means "to cherish, appreciate and give special attention to." The attention you give to a framed painting on the Caritas easel is different from the attention you give to work on your regular, primary easel. A framed painting helps the artist sit back, have a cigar, drink scotch, and be wealthy.
Frames that don't compete with the art
by Jos A. Smith, Easton, PA, USA There is an old Chinese saying: A frame should not be darker than the darkest part of a painting nor lighter than the lightest part (for what that's worth). The Impressionists framed their paintings with simple molding painted a neutral color. It was the collectors who put them in the overpowering gilt, ornately carved frames to flaunt their wealth. Eli Wilner, a leading authority on frames and frame restoration, re-framed all the Impressionist paintings as they were originally framed for a memorable exhibition at the Chicago Art Institute a few years ago. You could actually enjoy the art without the frames competing for your attention and casting shadows. Over the years I have been on a number of juries for national exhibitions, and cannot count how often a drawing or painting that would have been accepted, was rejected because it was poorly framed.
There are 2 comments for
Frames that don't compete with the art
by Jos A. Smith
Interior designer taking charge
by Elaine Campbell, Kalaheo, HI, USA I am both an Interior Designer and an Artist. I insist upon having my own art framed the way I want it framed… to complement and complete my work. I paint what I want to paint in colors I want to use and feel that framing or even not framing is entirely up to me, as long as I own the painting. Now, as an Interior Designer I expect my clients to hang my works as I have chosen. When installing original works of other artists, one never knows what the artist intended. Thus, I feel free to reframe if necessary and then mainly to complement the work.
Tyrannical rule prompted exit
by Terrie Christian, Plymouth, MN, USA Sometimes matting and framing rules can have an impact on an artist's creativity. This happened to me when an art group I had been a member of for a long time changed their rules to white or off-white mats only. I tried to fit in after that, but what was happening to me was trying to make art that would go with the rule. Then, since a board had changed the rule without a vote, I got a membership vote on the issue. When the group stuck with the change, I had to leave. It was interesting when I did, because my creativity soared after leaving. I had to get out of the box.
Save trouble with a 'working' frame
by John Churchill, The Cotswolds, UK Apart from mixed media which seems to mean anything with anything, done on anything, generally only watercolors and giclees are matted. They are meant to live long and prosper, and so put into archival mounts. These are generally white or variations of white. Mats which have color in them, it is thought, can pass this color to the artwork, contaminating them. Litho prints are often dressed up in multicolored mounts, but they have a shorter life. A painting does look a bit different in a frame. I prefer a "working" frame, simple narrow black or dark grey. The purchaser can then put on what they want and feel they've made a contribution.
There are 3 comments for
Save trouble with a 'working' frame
by John Churchill
Framing before delivering
by Sandy Davison, Lansing, Michigan, USA I would love to relinquish the framing to my galleries, however working in pastel it becomes the protection and the packaging. Also, framed paintings just look better than unframed ones to most people and not all those in the art business can "take in" a painting out of a frame. If they don't embrace the work, they lack passion in selling it too. Pastel has many advantages, and the matte surface and super deep color is one of them. In my preferences, like the Impressionists who mostly favored matte surfaces without varnish, the work will ultimately be handled according to the dictates of the market it circulates in. Almost all the Impressionists' work was varnished (often against specific injunctions on the back of the stretchers) during their lifetimes and once it was out of their hands. The fashions of the market will always change what they can change once it's in their hands. For pastel, at least they cannot varnish it! I've used very deep "wheat," "earth" and "moss" colors surrounded by a gold fillet and found they worked well with the subjects of my work and also for the function of isolating the painting. However, one regional group of gallerists loudly requested 'white mats and white frames.' This prejudice seems like an old style nowadays — maybe they need to check with their decorators.
White or grey gallery walls
by Peter Brown, Oakland, CA, USA Fundamental to the presentation and framing of art pieces are the mechanics of the human eye. The iris serves as an automatic gatekeeper for the retina. The iris is sensitive to white, and will close down to accommodate that exposure. Depending how large the painting is, a white mat will often subdue the color values in the art presented. This affect is most noticeable in works 16 x 20 and smaller. Small work views best in a thick frame, especially if the wall color is light or white. I once had a gallery painted to my specifications. I ordered a neutral gray of 25%. (0% is white, 100% is black) When I entered the gallery, I suspected that someone had over-ridden my wishes and had the walls painted a standard white. I eventually found a piece of typing paper and taped it to the wall. The walls were indeed 25% gray. I just couldn't see that without a reference point. White walls in galleries became the fashion during the period of Abstract Expressionism and Action Painting. The paintings were generally very large and difficult to light. White walls worked to bounce light around the room, and the expanses of painted canvas were large enough to trap the eyes inside the edges of the paintings. The white walls didn't interfere with a proper viewing.
Compliment but don't steal the show
by Kitty Gorrell, Friendly, WV, USA We have been custom framers for many years. Although all your information was certainly factual and important, I feel you missed giving the questioner a good answer. First, if the mat or frame draws attention away from the art work in any way it's the wrong choice. 'Dress' the artwork to compliment, support and protect but never detract. Second, an old framer's trick and advice we often gave to our customers: When in doubt in choosing a mat, place a corner sample on the artwork. Look away and focus your eyes on something else, then look back. If your eye instantly sees the mat or frame first, before the artwork, it's the wrong choice. Again, compliment but never steal the show. And, white usually steals the show.
There are 2 comments for
Compliment but don't steal the show
by Kitty Gorrell
The wisdom of white mats
by James Stoeckel, Hilo, Hawai'i, USA I have been a picture framer in Hawai'i for 35 years, and have had my own shop for 30. I use white mats on paper art almost always… the problems I've run into? Color and multiple matting looks great… in the beginning. White mats look 'loud' …at first! I have learned that it takes a very long time for the brain to 'see' colors, and have noticed that color mats, and especially multiple mats, tend to 'turn on you' after a while. As the colors 'sink in,' we start to see the discrepancies in the colors i.e., the blue in the mat is just not quite the blue that we first saw, and is just slightly the wrong blue for the art. White mats are the exact opposite: at first, they seem too bright, too loud, etc., but as we get used to seeing them, they 'calm down' …to where they almost disappear. Occasionally, the white mat we chose turns out to be not quite the right white, so we change it. Rather than a white top mat and a color bottom mat, I get a better look by adding a "V-groove," which adds a line as decoration rather than another color. I explain this to all my customers, and also guarantee the mat colors. If the mat is correct, one will look at the art first. If the mat is not right, one will tend to look at the frame first. Virtually all my customers become very satisfied with the way we framed their art, and all understand that the best part of simple, single, white mats is they become very stable and look great for a long, long time. Color mats start getting boring or irritating within a few months. At the first frame shop I worked for, the owner did lots and lots of fancy matting. For years, I did the same thing, but slowly realized that many customers were not enthusiastic about our work. I would sense the feeling that they felt like they spent too much on the framing, etc. Part of that feeling was because the fancy matting did not visually last very long, and left a feeling of dissatisfaction. I believe the truth of the matter is what is called, "Mat Pushing" – If I can sell triple matting to all my customers, I can make an extra $5,000 a year. I prefer happy customers. I believe that is why I have customers who would never go anywhere else. I am very grateful. By the way, I see many mats that are too small, but hardly ever see one too big!
There are 2 comments for
The wisdom of white mats
by James Stoeckel
Watercolour and coloured mats
by William McAllister, Bath, Bristol, UK Colored mats make my skin crawl. Certainly not for any aversion to color (I am an artist after all), but because colored mats are very acidic. Archival purity is a matter of special importance to me. Watercolors take an unwarranted back seat to oil paintings, because many feel that they will not last as long as an oil painting. But I will match any painting of mine against 99% of the oils being painted today. So many painters have lost any knowledge of the chemistry in the art, that my work will outlast theirs. Certain environments create their own framing requirements as well. Collectors of my work in Hong Kong, for example, must have special frames made that include desiccants to absorb the heavy moisture in the air and prevent mold and mildew from forming. But don't let a colored matt come in contact with your paintings.
There are 4 comments for
Watercolour and coloured mats
by William McAllister
Frame to the art and not to the room
by Nick Rosal, New York, NY, USA I have the luxury of seeing this particular subject from many points of view. As an artist, a gallery and frame shop owner, head of production for an art publisher at one time and many years working with interior designers, the ends are all the same: make sure you see the art in the frame when you are done! Being a NYC shop, I have seen Ms. Sinkez' trend in the tri-state area with collectors (NY/NJ/CT). My feeling is, if you frame to the art and not to the room, the only trend you will create is good design and care for the art you cherish. Collectors purchase art because they are visual people. The frame on that art is part of that visual. As far as the white mat black frame? It's purely economics and streamline design for the gallery and artist. Frame everything the same so the work stands out on its own with minimal design interference while keeping the cost down on simplicity. To answer Ms. Sinkez' question on whether there is a "universal or professional standard when it comes to framing and matting?" I offer the following general tips: — Your mat can never be too big, but it can be too small (if you feel you need to err, err on the larger size). — The width of your mat should never be the same width as your frame (let the eye rest somewhere). — Don't hi-lite a color in the art! If you have a single red dot in a dark background that is the focus of the artist's image, putting the slightest pinstripe of red in the bevel of the mat or outer edge of the frame will diminish the drama of that color. See a color you like in the piece? Pick another! — Think in terms of "temperature" – is the art warm or cool? Pick mat tones that exist and are in harmony with the work. The fact of the matter is, framing design is just as personal and particular as the choice of art that you want framed. However, your art will guide you to the type of frame to pick. An obvious example would be modern art in modern frame and traditional art in a traditional frame. But, that simple rule can help you decide the more subtle choices with framing design. Warm-toned paintings fit nicely in gold frames and cool-toned paintings in silver frames. The same idea of color harmony can be carried through on works on paper with mats and framing. Your framing design choices become limitless when you take the approach of color harmony and throw it out the window and use a contrasting color approach, albeit understated. In the end and for my taste, the frame needs to pick up the essence of the art subtly. Let the power of the artist's palette, strength of stroke and lyric of line be the design that speaks to the audience more than the frame. That is why it's on the wall!
Leave it to the buyer
by Michal Ashkenasi, Israel I leave matting and framing to the buyer. Most of them ask me anyway to send it without a frame, because it is cheaper to ship, and so each can choose to his own liking. I have my "Caritas easel" in the studio, but do without any frame. I try to be objective (is this possible with one's own work?) and most of the time I 'feel' when it is right. But I leave the newborn at least two weeks on the caritas! As an ardent reader of your twice-weekly letters, I am happy to say that even after 3-4 years, I still enjoy them and wait for them! I'm only sorry I live so far away and am not able to participate in one of your workshops!
There is 1 comment for
Leave it to the buyer
by Michal Ashkenasi
Archived Comments
Enjoy the past comments below for Framing and matting…
 Featured Workshop: Carolyn Caldwell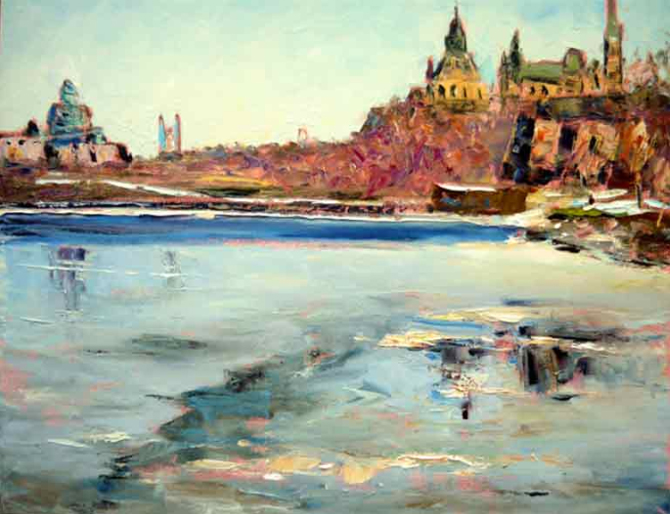 Spring thaw
oil painting by Sylvio Gagnon, Canada
You may be interested to know that artists from every state in the USA, every province in Canada, and at least 115 countries worldwide have visited these pages since January 1, 2013. That includes Jack Tsui who wrote, "I really liked the video
Hollyhock
on your site because I finally got to see what the guy who writes to me all the time looks like."