Dear Artist, Yesterday, Darryl Daniels of Montgomery, AL wrote, "I lost my 'inner artist' over a period of years when I was taking care of my grandparents, trying to run a business and dealing with the challenges of marriage, etc. I stopped thinking about art and was knocked off course. While I now have art magazines, books and other forms of stimulation, I can't begin again and I have persistent feelings of failure. When I think about what I have not done, the work ahead seems like an overwhelming mountain. How does one recover from this condition?" Thanks, Darryl. I'm willing to bet that every artist in the history of art has suffered from your condition. Some suffer for months or years, others weekly, others several times a day. I'm suffering from it right this minute, but there's a good chance I'll be back to work as soon as I get this letter written. Generally speaking, books, magazines and other stimuli don't work. You have to steel yourself up and get yourself busy. It's the work itself that rocks the mountain. If there ever was such a thing as an "inner artist," it's something like a pile of loose bricks that you have to form into a small monument every day. This is the simple difference between dreamers and doers. I call it the "worker's edge." A goodly part of the worker's edge is the knowledge and understanding that your personal creative processes are their own reward. Painting, for example, can be a parade of minor defeats and failures, but nevertheless the personal and individual working process is more positive than negative. Up here in Canada we call it "beavering away." Beavering can start at any time, even with old beavers. Our national animal serves us well. Beavers pay little attention to the overweening mountain. Simple accumulation changes the course of rivers. What happened to your inner artist? Your inner artist has just been temporarily out of action. Your basic human instinct to invent, create and build is still just below the surface. To flourish, you need to exercise. Ready or not, you need to start. The philosopher
Lao Tzu
(604 BC — 531 BC) said it some time ago: "A journey of a thousand miles begins with a single step." Best regards, Robert PS: "Just keep going — no feeling is final." (
Rainer Maria Rilke
) Esoterica: Failure is a basic ingredient of success. Simply accept the notion that failures are the stepping stones to your greater self-realization. Looking at art magazines will only show you how imaginative others are, and how well some of them are doing. The time to look at magazines is after a busy day in your workplace. You need to know your inner artist will come to life only when you start. Now is as good a time as any. "Boldness has genius, power and magic. Engage, and the mind grows heated. Begin, and the work will be completed." (
Johann Wolfgang von Goethe
)
Joy and disappointment
by Sonia Gadra, Frederick, MD, USA Two emotions that all artists experience at one time or another are joy and disappointment. I spent a lot of timethis winter developing five paintings en plein air so I could choose three to submit for jury, which I thought turned out very well. I learned however, that the joy is not in competing and not just in the acceptance, it's in the painting process. In the end, four out of the five paintings that were rejected from the plein air competition were selected for a juried spring exhibition in another state. After the disappointment you must keep trying and the joy you thought you lost will come back. Such is the life of an artist.
There are 3 comments for
Joy and disappointment
by Sonia Gadra
Experiment and play
by Jan Yatsko, Atenas, Costa Rica Family illness and subsequent death also coincided with loss of job, income crashing to 25% of the original and starting a new job direction with my husband has created an off-course from my art for over two years. My creative time has been so fragmented physically and mentally so I organized a Plein Air group that meets once a month at a different location. We are a group of open minded individuals who are creative through painting, sketching, writing, etc. I like the influence of other creative pursuits. Sometimes to be creative again in your own technique one has to step over into another, like going from painting to writing, or drawing to dancing, etc. Anyhow, the Plein Air group gives me the opportunity to create and socialize with other creative types. I still find that it is a constant struggle to find the time to create and I find myself fighting for it. Think small. Work on small projects that can be completed in a short time. Experiment, play and have courage to believe in your creative self a drop at a time.
There is 1 comment for
Experiment and play
by Jan Yatsko
Welcome the failure
by Mark Hope, Wasaga Beach, ON, Canada Been there, done that. Robert is right; the good news is the 'inner artist' isn't gone, just dormant. I had stopped drawing and painting soon after I married. After I had divorced I attempted to return to the pencil and brush. I was soon met with 'failure' on my first small tries and the same thoughts entered my mind: "I've lost my skills." I felt devastated. But I persisted. There was something inside, some small ember that still glowed. With each small success I rekindled that ember and today some 15 years later I have a roaring bonfire of creativity blasting away. Start with something small in the medium you used to work in. Welcome the failure; don't be afraid of it.
There is 1 comment for
Welcome the failure
by Mark Hope
Just show up
by Nicole Pletts, Durban, South Africa I, too, suffer from moments of being uninspired and I actively, mentally and physically, don't want to go down to my studio. My only solution to this is to just "do it." I can't afford to wait for inspiration to strike as I have a family to support. Last week I really didn't want to paint; I was tired and miserable. I forced myself to the studio and painted an amazing painting. It just worked. Sometimes I am raring to go to my studio and I produce something scary and not up to scratch. Such is life; you have good days and bad days no matter what you do. All you have to do is show up.
There is 1 comment for
Just show up
by Nicole Pletts
Your mind is selling you out
by Joseph Jahn, Nibe, Denmark There is a good reason to call it a work of art. The mind does not produce art, the hands produce art. Clean a palette, arrange your brushes, mix some color or stretch some canvas. You'll find in these small acts the smells that you once loved, the actions that at one time seemed so unbelievably marvelous and the motivation needed to just dive into the act of creation. Your body never forgot how much you love the work. Your mind is, for some reason, selling you out. Tell it to shut up and find something else to do while you get to work.
There are 5 comments for
Your mind is selling you out
by Joseph Jahn
Break was a blessing
by Aleta Pippin, Santa Fe, NM, USA I've felt this way myself. There have been times that something has gotten in the way of my going to my studio and the longer I'm away from my studio the harder it is to get back into the swing of things. I've learned through the years that it's best to make the effort to be in the studio (or wherever you do your work) on a daily basis. In 1996 to 2000, I quit painting, thinking that there was something else I wanted to do with my life. In 2000 I decided to quit second-guessing myself and to commit to painting. There was fear in that decision as I hadn't touched a paint brush during those four years. Once I started painting again, the fear went away. And even though I hadn't painted during that time, my work had achieved another level of sophistication. That sophistication was borne out of my love for art and continuing to visit museum shows and to view other artists' work. I considered what attracted me and why, as well as maturing in my own idea of what appealed to me. So maybe those times when we're feeling guilty for not being in our studios should be reconsidered as blessings, allowing time for introspection and a renewing of our creative ideas and enthusiasm.
There are 2 comments for
Break was a blessing
by Aleta Pippin
Twelve Steps for Artists
by Dennis Church, Naples, FL, USA Your letter today reminds me of the essence of
A.R.T.S. Anonymous
(Artist's recovering through the Twelve Steps) where we admit we are powerless over our creativity and that our lives have become unmanageable. Recovering from what? Recovering from the blocks to creativity and that can cover a lot of territory. Thanks for the reminders.
There is 1 comment for
Twelve Steps for Artists
by Dennis Church
Nourish your inner artist
by Debra Moini, Santa Monica, CA, USA Our "Inner Artist" is like a child needing much tending and nourishing. Just like the family and job you are now taking care of, so this part of you also needs your care and attention. Your inner artist isn't lost but perhaps hidden because of neglect. Bring her out gently by giving even a little time and attention. Wonderful things can happen. You may even find the other responsibilities easier to deal with when the creative part of you has been fed. I've been where you are so I understand how easy it is to put yourself aside for the needs of others. However, in the long run living this way is out of balance and not healthy for you or them. Dust off those paint brushes!
Jump onboard
by Alan Soffer, Wallingford, PA, USA Yes, outside influences can be devastating, whether physical, social, or psychological. In a recent interview, Chuck Close spoke to the creative process in the following way: "Those who are waiting for an epiphany to strike may wait forever. The artist simply goes to work, making art, both good and not so good." The process will absolutely work, as Robert quotes
Lao Tzu.
We jump onboard and begin the journey. When I had a full time career outside art, I spent what little time available writing and making notes, drawing possibilities, pasting inspirational photos from magazines and newspapers, and filling my soul with information and thoughts. It was a great way to take the first step.
Are artists made or born?
by Pat Stamp, Callander, ON, Canada For the past 35 years I've been a professional potter. Now, with aching joints from the stresses and strains of the work I have begun to dabble in painting on paper. It is a bit daunting because it is all so new. There are common elements but the process is very different. Thirty five years ago when I was in college studying to be a potter the question was asked, "Are artists made or born?" My professor, a woman of strong opinions, stated firmly that artists are made because even if a person was blessed with "God given" talent, if there is no work ethic nothing will happen. This is your "worker's edge."
Goal orientation
by Kate Beetle, Walpole, NH, USA I would point out the difference between goal orientation and task orientation. An individual task can be put off almost indefinitely. One always has mountains of them to reshuffle and prioritize. Goal orientation gives the tasks a higher purpose and helps with prioritizing. I am harking back to your letter about
quality dribble
of a few posts back. Using those ideas, I decided to work largely in oils for the moment but allow myself both still life and landscape. Since the economy is tight, I have been working on smaller pieces, and seem to have found a price point that works. I have been in commercial design for many years and am working on transitioning to "fine art." I want gallery representation so I'm working on consistency. I wasted a lot of money and energy last year on photography, framing, and show fees for work that should not have gone out, or on shows that weren't going to really move me forward. So my goal is twenty-five gallery-ready pieces. At two a week, that's three months. Oops! I'm ready to paint but there's no canvas stretched — so I spent a day prepping–8 x 10 inch and 12 x 16 inch canvas. I don't have to face an acre of blank canvas and mistakes are easier to toss. The goal is now ordering the tasks. I did calligraphy for many years, and a friend asked me to do this quote for him. It has served me well over the years: "Nothing in the world can take the place of persistence. Talent will not; nothing is more common than unsuccessful men with talent. Genius will not; unrewarded genius is almost a proverb. Education will not; the world is full of educated derelicts. Persistence and determination alone are omnipotent." (
Calvin Coolidge
)
Losing the fear
by Lynne Schlumpf, Chugiak, AK, USA When I was in first grade, I drew this cow I will never forget. It was really good, and everyone said so except the cold, distant woman who came to parents' night. That was my mother. Forty years after I drew that cow, I finally started where I left off, sporadically at first. What do I draw? I spent many nights wondering. I began to paint things I loved. Only things I felt really strongly about, but I still felt like a loser. Then one day I decided to do a challenge. It was my last effort at making myself do this every day. For all those years my art haunted me. It was in everything. The challenge was to draw 51 days of sketches; one for every year I have been allowed to live on this earth. It started out really hard, really, really hard. Seemed like everything I did was awful. And every night, I would sit up late and draw one picture every day. I did it because I had to at first (because of the challenge). Right around about the 20th day or so, I began to look forward to it. If I couldn't think of a sketch, I would watch TV for awhile or look at Google. This would always give material. Then the change really happened. The fear left. The feeling of being lousy or a loser was completely gone. I slowly realized that I was drawing because I had to, but this time for a very different reason.
There are 6 comments for
Losing the fear
by Lynne Schlumpf
Archived Comments
Enjoy the past comments below for Rediscovering your inner artist…
Featured Workshop: Gaye Adams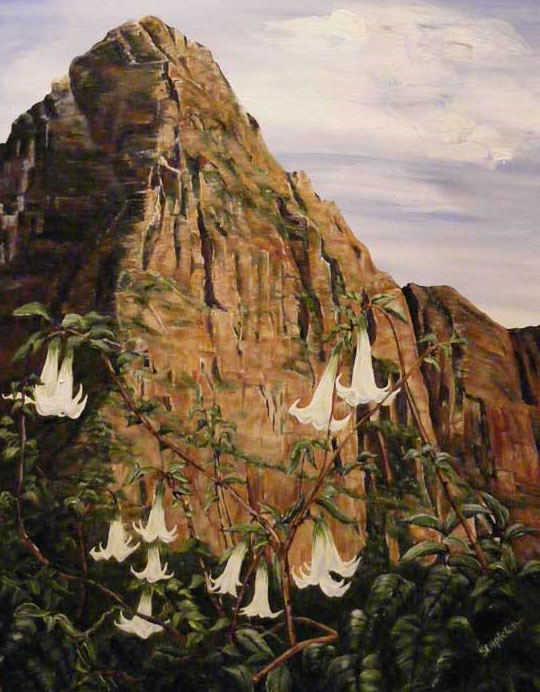 Wayna Picchu

acrylic painting by Pam Stapleton, Kelowna, BC, Canada

You may be interested to know that artists from every state in the USA, every province in Canada, and at least 115 countries worldwide have visited these pages since January 1, 2013. That includes Susan Marx of Orange, NJ, USA, who wrote, "As a painting professor of mine use to say, 'If you wait for the muse to appear before you start to paint, she never will. She comes while you are painting.' " And also Darrell Fullick of Kennesaw, GA, USA, who wrote, "In any creative endeavor, one has to get up and 'go to the office,' just like a real job." And also Doug Key of Greensboro, NC, USA, who wrote, "I give credit this year to one simple mantra — 'Shut up and paint.' It's sort of like the Nike slogan — 'Just do it.' "