Dear Artist, I'm walking a labyrinth in Sedona, Arizona. I'm repeating the words, "My higher self is guiding me." As well as thinking of something else, I'm wondering if there's "something else." Sedona is one of those spiritual hot spots where visitors come for all sorts of body work, yoga, self-improvement, or guru-inspired transformation. In the USA, this kind of stuff is a $10 billion-a-year industry. Sedona is also the place where three fine folks allowed themselves to be cooked to death in a spiritual sauna at the end of a labyrinth. This was at the urging of the now bankrupt and criminally implicated guru James Arthur Ray. If only those folks had been aware of the life-centering force and personal power one gets from the harmless little activity known as painting. Yep, I'm talking about painting as a spiritual event. The act has something to do with making a physical tribute — a sort of a visual prayer — honouring the gifts that surround us and the life we've been given. Before you hit that delete key or drop a note to say I've gone wonky again, here are a few observations for those who might be buying my oysters: Art establishes and makes tangible a time, a place, a thought, an idea. Art, properly made, enhances and enriches the lives of others. Art gives an opportunity to endow new life and new meaning into the ordinary. Art gives an opportunity to design your own world, and, as in your children, create a significant immortality. Art is hard-earned work that is its own reward and has a degree of permanence. Art, because it's so easy to do, and yet so difficult to do well, encourages humility in the human soul. Art is an apprenticeship that can be stretched into a lifelong education. Art thrives on democratic ideals, freedom of expression and rugged individualism. Art permits you to step out of the labyrinth and into a quiet corner of your own private joy. Best regards, Robert PS: "You don't need to follow someone else's path." (Nathan Thornburgh) Esoterica: A spiritual awakening is often found and developed in a wilderness. It can be a poem or a parable of a deep forest, a mountain meadow or a cactus-studded desert. The outdoor spirit of plein air refreshes and further enables the indoor studio chapel. Each new creative beginning is a confirmation of the simple truth of taking care. And while it may all appear to be self-indulgent and isolating, every thought, every stroke, every caress of the brush adds a small refreshment of meaning and purpose to our universe. "Work is love made visible." (
Kahlil Gibran
)
Making art is its own reward
by Joseph Marmo, Stuart, FL, USA Bravo, Robert. I sincerely agree with your assessment of the spiritual in art. Matisse perhaps said it best: "I approach painting in a state analogous to prayer." When I paint I feel closest to that which is greater than the sum total of what I am. It is a form of meditation. There are times I am so keenly involved in my work that I can only hear the touch of the brush to the canvas. All else disappears. It is such a beatific state of mind that it is hard to understand why it is so difficult to get motivated when the rewards are so great. It is the reason to paint for painting's sake. Making art is its own reward.
There are 2 comments for
Making art is its own reward
by Joseph Marmo
Youthful spirit valuable
by Jan Ross, Kennesaw, GA, USA Some people call it 'getting in the zone,' but I think those of us who become totally absorbed in the process of creating have experienced those moments when our painting 'paints itself.' I feel like the hand of God is upon mine, directing it where it is best to go. Afterwards, I can look at what I've painted and am almost in a state of disbelief at what I've done. Maybe that's why when someone observing my work asks, "How did you do that?" I just can't explain it. My observation has also been that artists retain their youthful curiosity and enthusiasm for life as they age. Friends who are in their 80's are more energizing than some much younger, those with lives consumed with the mundane. For an artist, a youthful spirit is more valuable than a youthful body. In our own way, are we not still children, seeing the wonders of life, wanting to capture the images and feelings of a miraculous world invented by a great creator? Whether painting is another form of meditation or a spiritual event, or simply meaningful work, I can't say, but like to remember: "For the mystic what is how. For the craftsman how is what. For the artist what and how are one." (
William McElcheran
)
There is 1 comment for
Youthful spirit valuable
by Jan Ross
Art is life itself
by Kristine Fretheim, Maple Grove, MN, USA For me, art is life itself. The process of watercolor painting opens my experience to a more raw, vivid awareness than ever before. A long-time Zen practitioner, I find sitting meditation in retreat is much like painting. As the days go by, you wonder if you're wasting your time; you're convinced you've "lost it," that you can't finish. Facing things as they are really sucks. We want them to be how we want them to be. Meditation can be excruciating. And so can coming face to face with yourself during the process of painting. That "meeting" may be the crucial turning point in development of a painting that sings out the artist's truth with passion. The creative process extends beyond paper or canvas. We learn that we use our senses, thoughts and emotions as paint and brushes to create not only artwork, but our life itself.
There are 4 comments for
Art is life itself
by Kristine Fretheim
Dialogue without words
by Stewart Turcotte, Kelowna, BC, Canada Being an artist is not the creation of something from your conscious; it's not even replicating what you see. It may be in some illustrative cases where a literal translation of a scene or object is the objective but for true artistic painting, you are relating the ineffable, something that cannot be put into words. Another artist, Murray Phillips, says, "When I start a painting I am starting a dialogue, so the work I do is the first half of a conversation. The conversation is finished, unknowingly, when the viewer adds his life experiences and filters the image through his unconscious. Then the conversation can be completed." The paintings created by a true artist reflect a totality that neither contributor can fully put into words, so both can only view the image in a collaborative sense. This understanding that you have shared is the difference between being a painter and being an artist. That is why people purchase art for no apparent reason; they cannot help themselves because something inside them subconsciously connects to the image in front of them. Love is ineffable, work I have lots of words for.
There is 1 comment for
Dialogue without words
by Stewart Turcotte
A penetrating truth
by Jennifer Elliott, Chilliwack, BC, Canada I'm leaving the security of a full time job as a graphic designer to pursue painting full time. It's a bit daunting, yet incredibly liberating. I just wanted to let you know that this last letter you posted is, by far, the one that's touched my soul the deepest. It has taken many of the same thoughts I've had rattling around my head and beautifully condensed them into a solid, penetrating truth that has encouraged me to 'relinquish my brush' to my 'higher self.' For whatever reason, hearing this from you in this letter has confirmed that which I've always believed but somehow doubted.
There are 2 comments for
A penetrating truth
by Jennifer Elliott
Daily walk inspires
by Weslyn Morrison, Richmond, BC, Canada I paint because I love to paint. I am fully in the present when I paint. I am not worried about yesterday or concerned about tomorrow. I am just being… right now. I live near the river and I walk along the dyke pretty much every day, and every day I see something different. It is the rhythm, the flow, the gesture of things that appeals to me. It has taken me a long time to realize that my passion, my spiritual being was centered in this activity. It bubbles up inside me and if I let it, it flows out of my brush. Consequently, I have a few nice paintings and a ton of "works in progress." I am a work in progress.
There are 3 comments for
Daily walk inspires
by Weslyn Morrison
One with nature
by Ed Cahill, Atlanta, GA, USA I, too, find painting to be spiritually the zenith of my life. First, when looking at someone's good work and feeling a wondrous appreciation for their talent and inspiration to achieve similar heights. For me, personally, sometimes I get it just right. Plein air is almost a religion in itself — the assembling of materials, trekking off into the woods, searching out the right spot and the ritual of setting up the easel box, squeezing out the paint from the tubes onto the palette and mixing the colors so carefully. Then the actual act, whether feverish, contemplative, enlightened, frustrated or rewarding. My best work is temperamental and reactive, saturated and simplified. Only a day later can I tell if it's a good or poor attempt. One thing that strikes me is that after a few hours in the woods the birds just think of you as another part of the landscape and often alight nearby without fear. This I think is a true sign that you are one with nature and in sync with the flow around you; it's the reason I will never give it up — I cannot; it's more a part of me than my name.
There is 1 comment for
One with nature
by Ed Cahill
A state of grace
by Lynn Harrison, Toronto, ON, Canada It seems to me that art-making, not just painting, but creative writing, songwriting and so on, may be the most important unrecognized spiritual practice of our time — and that seeing it as such may be more beneficial than our culture's other frames (such as career path, "self-expression" or route to fame and fortune). Like any spiritual practice, creative work calls for focused presence, receptivity, discipline, humility and awe. It often involves something of what some call "grace," awareness that a conflict has been resolved not as a result of our cleverness, but because a process beyond us is also participating. As Lewis Hyde wrote in
The Gift: Creativity and the Artist in the Modern World
,  "Along with any true creation comes the uncanny sense that 'I,' the artist, did not make the work." Artistic accomplishment often seems so transcendent and surprising, even to us, it seems that an unseen hand may be with us. However we understand it, a spiritual orientation to our work can make it flow more easily and invest it with a depth that transcends our individual human selves.
Art cut from curriculums
by Rick Rotante, Tujunga, CA, USA Your list is inspiring but is being sent to the already spiritually converted. Why one wonders, with all the wonderful things art encourages, is it being cut from school curriculums? I see what art can do and I am frustrated with the low level of importance with which it is received in the minds and hearts of everyday folk. Perhaps places like Sedona with its other worldly aspects isn't the exact remedy for true inner spiritual achievement. It does motivate many artists who live there to reach a higher calling in spite of the commercial air that has permeated that area in recent years. I feel the spiritual side of art is only appreciated by those willing to surrender to its higher nature, as with all things. I use this word "religious" in a secular sense, not as pertains to a deity.
Time stands still
by Gerry Geoffrey, Calgary, AB, Canada
When I look back at my business career, even with all its high water marks, it is a previous life. There is no immortality in the corporate world. However, when I look at the paintings I have produced, I see immortality. They will certainly outlive me. I take more pleasure in completing a painting that almost meets my expectations than I do in any of the successes I achieved in my previous career. I am not religious, so the term 'spiritual' means something different to me than it does to others. But a painted landscape that captures the presence of the scene in a way that translates itself when it is hanging on a wall is spiritual. Time stands still when you are painting. It is, without doubt, a form of meditation. I doubt there are many activities that capture the attention or focus the mind in the same way. Nor do many accomplishments provide the same level of internal satisfaction than does a painting when you feel you have 'nailed it.'
Archived Comments
Enjoy the past comments below for A spiritual event…
 Featured workshop: Don Sahl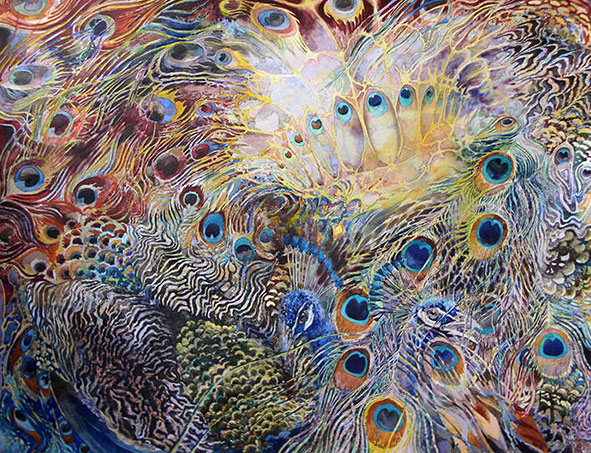 Peacock
watercolour painting by Oleg Korolev
You may be interested to know that artists from every state in the USA, every province in Canada, and at least 115 countries worldwide have visited these pages since January 1, 2013. That includes Hope Cunningham of Tucson, AZ, USA, who wrote, "Art is my teacher, my guru, my path to spiritual development." And also Kitty Wallis of Portland OR, USA, who wrote, "When I paint, my mind can more clearly see what is genuine and what is not. When painting, I can weed out the ego thoughts during the constant sifting of thoughts." And also Rodney Cobb who wrote, "Your point that painting is a spiritual experience is very well taken. It reminds me of a traditional saying: "For those who believe, no proof is necessary; for those who do not believe, no proof is sufficient."