Dear Artist, We live in miraculous times. I'm set up on a mesquite hillside overlooking the delicately tinted low-rise pueblos of Santa Fe. The crisp morning air is blessed by the call and occasional appearance of a canyon wren. Out of a cloudless cyber-sky my inbox jingles from another time zone — someone with similar problems to my own: "I have a condition I call 'Maker's blinders,'" writes Robert Bourke of Pickering, Ontario. "I find I concentrate my attention on one part of my work and not on other parts — similar to the way a carriage horse with blinders would look only in one direction. Other elements in the work can be substandard, and I don't see them. You might say I get an emotional connection to one part of my work. What's going on here?" Thanks, Robert. Good name for a major problem. It's human nature to pay attention to what we do well and avoid what we don't. For example, if we draw well it's easy to measure our work (and the work of others) by our good drawing. While the blinkered life can lead to some interesting art, the evolved artist learns to multi-task. This is a subtle ability — mostly self-taught — to keep some things in mind while keeping other things in mind. Here are a few tips: — See the "big picture" — the whole work as it might play out — perhaps in many possible outcomes, as in a game of chess. — See the "whole meaning" of the work — whether an idea or an object — so that one part will not distract from the main thought. — Regularly refresh and reboot your image-in-progress to get a better understanding of your goals. This may mean walking away and leaving your work for a period of time. Evolved artists teach themselves to compress time so vetting is compounded and becomes more efficient. — Give yourself creative power over all. When you begin to see yourself not as a technician but as a master "auteur," you begin to be one. Don't consult with another — especially early on in a project. Your consultant may have the same blinkered hang-ups as you.
Edgar Payne
, 1883-1947) Esoterica: I recently spoke of painting and other art-making as a spiritual event. In our case, spirituality does not need to be an honouring of a narrow path but rather open to all possibilities. From our folding stools of the field or in plushy studio comfort, our zone is made large by our imaginations. Here on this hillside the largesse of the universe is palpable, and while humility dominates, it doesn't interfere with the ghost of Edgar Payne.
Some bitter fruit
by Bill Hibberd, Summerland, BC, Canada Artists, being human, fall victim to the same weaknesses as the rest of our tribe. We love to box ourselves into systems and rules. We believe the lie that we must approach and execute our work in a particular way even as we repeat unsatisfying work. It's pretty humorous though bitter fruit. I'm as guilty as anyone and need to regularly ask myself why I paint in default instead of in a state of openness and exploration. As artists, surely the one thing we can demonstrate is how to exercise freedom.
There is 1 comment for
Some bitter fruit
by Bill Hibberd
Receptive right brain
by Kath Hankel, Jefferson, IA, USA
The Master and His Emissary
by Iain McGilchrist, deals with the issue of right brain, left brain and how they share information. They each have totally different ways of functioning. The right side takes in the overall picture, is nurturing and socially tuned. The left is linear, mechanistic and looks at portions only. This sounds like the problem with the artist who is stuck on a portion of his painting and is unable to complete it — he is stuck on the left side of his brain. McGilchrist's book is fascinating and I have gained some knowledge into why people are the way we are. The stifled artist might try using music when he paints. It is a right brain activity and might put him in a more receptive mode. Let that muse in. The creative spirit is exciting and the epitome of hope for the human race.
There are 3 comments for
Receptive right brain
by Kath Hankel
Gestalt painting
by John Pryce, Uxbridge, ON, Canada The word Gestalt has its origins in the world of psychology and philosophy. Sometimes it's described as "essence or shape of an entity's complete form." In visual art, the word Gestalt can be used to describe the wholeness or unity of a painting. The Wikipedia encyclopedia uses the phrase "The whole is greater than the sum of its parts" to explain the word Gestalt. Colour harmony is an important element in achieving unity in a painting. One way to obtain a degree of harmony is to allow the under-painting colour to permeate through and around shapes. Some early Canadian impressionist plein-air painters used pine panels that were varnished. The golden wood colour of the panels was sometimes left around brushstrokes giving the paintings a wonderful harmony. There is no single solution to achieve that wholeness in a painting and the use of colour is just one important element. Each subject and each season has to be dealt with accordingly. I am sending an example of a quick plein-air painting of a summer scene in Gibson's B.C. using a warm red under-painting that permeates throughout the painting giving a form of harmony. Looking at the big shapes first and dealing with the smaller detail later helps to overcome the urge to pick away at an area and not to see the whole picture. To have one colour dominant also helps to achieve unity.
There are 4 comments for
Gestalt painting
by John Pryce
Concentrated energy
by Susanne Kelley Clark, Dallas, TX, USA As I heard in the past from a teacher… the picture plane is your world in which to create… step back often. You must be aware of every part of it at every time along the way to make the painting hold together. However, some of the best advice comes from Robert Henri's
The Art Spirit
. "A good painting is a remarkable feat of organization," "hold to this principle that the greatest drawing, the greatest expression, the greatest completion, the sense of all contained, lies in what can be done through the larger masses and the larger gestures. If we build a painting successfully, the most important work is in the beginning and it does not allow us to fiddle with detail or incidentals. The awareness and energy of the work carries through to the finish with," (and I love this one), "every line, area, tone, value, texture, in fact every effect produced in any way, including even the pressure of the brush, should be considered a compositional or constructive element." We cannot not see a brush stroke's effect on our whole picture plane if we have blinders on. The other thing I became aware of years ago, is that if a painter is tired or distracted, they tend to paint with blinders on, since it does take a lot of concentrated energy to make a painting, not so much to paint a square inch at a time.
There is 1 comment for
Concentrated energy
by Susanne Kelley Clark
Playing to the strengths
by Paul deMarrais, TN, USA It takes years for each artist to accurately assess their strengths and weaknesses. How they develop has a lot to do with what emerges as an artist's style. I believe, although you can improve in weak areas, it is unlikely that a weak area will become strong through sheer repetition. I'm strong in color and shape, less good at drawing. I've come to believe that it is a reality that all art and artists are flawed and each painting we complete is destined to fail and fall short in some way. In the end, I try to play to my strengths and live with my shortcomings. I have to accept the fact that in art and life, I'll never be as good as I would like to be.
There are 2 comments for
Playing to the strengths
by Paul deMarrais
Fresh eyes
by Nina Allen Freeman, Tallahassee, FL, USA I have been working on a painting of a barn for a couple of weeks now and something about it has really been bothering me. I painted and re-painted. Finally I took it to one of my classes and let my students pick it apart and they had some ideas. It wasn't until I took it back home that I finally saw a glaring error. I had a roofline ending at the edge of the painting right next to the edge of a major area of bushes. Your eye was directed right out of the painting. I was able to correct it but it is strange that all that time I was working on this now very irritating painting, I would have discovered such an obvious problem. I think it was moving it to a different location, in different light and having new eyes look at it. This enabled me to also look at it with a fresh eye, I think.
There is 1 comment for
Fresh eyes
by Nina Allen Freeman
Reverse engineering
by Lorrene Baum-Davis, Placerville, CA, USA Previously in my art life I was a goldsmith and used the term 'reverse engineering.' I would draw what the client wanted and then later work backwards to the starting point. This way I could make sure the project worked. I do the same thing with my graphics and my syllabus for the teaching and making of polymer and metal clay arts. It is nice to know that the work will be balanced, artful and wear well.
There is 1 comment for
Reverse engineering
by Lorrene Baum-Davis
Uncertainties inhibit flow of decisions
by Darney Willis, Siloam Springs, AR, USA One solution for "Maker's Blinders" is tackling the difficult areas first, at least far enough until they're not a nagging uncertainty any longer. When I am teaching I call these tough areas "the question marks." I tell my students to search over the canvas and get rid of the question marks — those areas they don't know what to do with. I encourage them to bring the whole canvas up together, not just focus on and finish out the areas they are most confident with first, and then try to retrofit these unaddressed areas later. Painting can flourish when it is a very intuitive and confident experience, and having these uncertainties out there can inhibit the flow of the many choices needed to be made. Finishing out only the area we are most confident with first, and then trying to bring in the left out areas is sort of like having a committee composed of six or seven people that are supposed to meet many times and all but one of those committee members meet every meeting. The one member comes to the very last meeting and then tries to give input, but is totally uninformed, out of the loop. It's hard to integrate much of value to the proceedings unless you are included all along the way.
There is 1 comment for
Uncertainties inhibit flow of decisions
by Darney Willis
Drastic measures
by Mary Moquin, Sandwich, MA, USA A professor of mine related a story about one of his professors. One day, when a student was struggling with a painting, the student pointed out the area that was "working" and expressed frustration over the parts that weren't working. The Professor then dipped a paintbrush in a large can of black paint and blotted out the portion of the painting that the student was attached to. He said, "There, now make the rest of it work." Extreme measures to get the point across. But sometimes it takes drastic measures to make a whole piece work together. I have known of artists that cut out all the working parts and make new mini paintings — a great way to recycle old work that is hanging around with just a few "sweet" parts. Or, perhaps covering up the part we are attached to with something temporary to keep us from being distracted by the part that is working and allowing us to focus on what isn't.
There are 2 comments for
Drastic measures
by Mary Moquin
Artists have individual goals
by Tatjana Mirkov-Popovicki, Port Moody, BC, Canada Software engineers have figured this out. The person who makes code cannot see what's wrong with it, thus the industry devised concepts of extreme programming. Two designers sit next to each other, while one codes the other one watches, and various testing techniques. In any case the message is that the creator is infamous for his blinds. The difference with art is that software designers, despite the imaginative solutions and algorithms, all work towards a common goal. In art, there is no other living person who should be going towards the same goal as you. Even if, close enough, there is a fellow artist who can open up his vision and understand your work, most of us wouldn't like to consistently "be corrected." Actually, neither do the software engineers, but are forced to put up with it. It's great to be an artist!
There is 1 comment for
Artists have individual goals
by Tatjana Mirkov-Popovicki
Archived Comments
Enjoy the past comments below for Maker's blinders…
 Featured Workshop: Don Sahli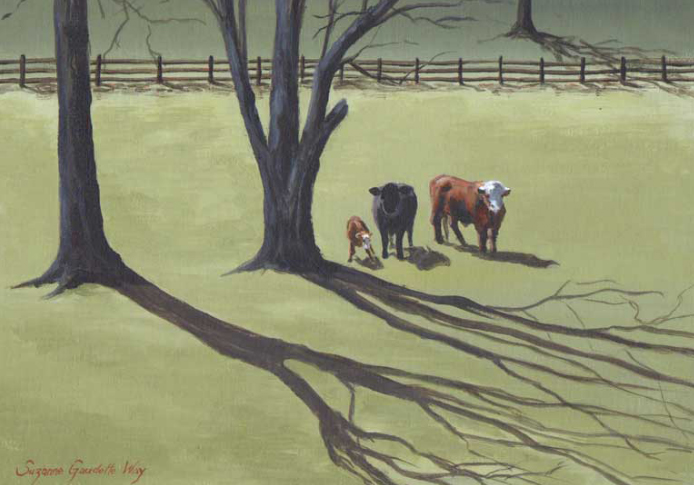 Family
acrylic painting, 11 x 14 inches by Suzanne Gaudette Way, Nashville, TN, USA
You may be interested to know that artists from every state in the USA, every province in Canada, and at least 115 countries worldwide have visited these pages since January 1, 2013. That includes Mary Kramer of Oro Valley, AZ, USA, who wrote, "When that happens to me, I realize that the neglected part of the painting just doesn't interest me anymore, and I crop it off. I call it 'design by guillotine'!" And also Ian Fry of Vancouver, BC, Canada, who wrote, "With the complexities of the creative mind being what they are, I can only speak for myself, and while working on one section of a painting, I somehow hold a hazy image of the whole work in the back of my head. Having painted for years, I only became aware of this recently, but it works for me." And also Pat Kamperschroer of Brazil, who wrote, "This not only applies to art in any form, but to life. I find it easier to focus on the things that bother me and forget all of the goodness that surrounds me. I have added this link to my reflections page."
Best regards, Robert PS: "Let neither drawing, nor composition, nor form dominate your attention, but pay heed to all at the same time." (