Dear Artist,
I'm laptopping you from Ansel Adams's room in the beautiful old home of Mabel Dodge Luhan in Taos, New Mexico. It's now a B and B and conference center. In these hallowed rooms Mabel entertained some of the luminaries of her day — D.H. Lawrence, Georgia O'Keeffe, Nicolai Fechin, Walter Lippman, Marsden Hartley, Willa Cather and many others. Mabel was a maven of experimental thought, risky undertakings, free love, new art, new writing, socialism, anarchy and counterculture. In 1916, at age 37, while still in New York and in the process of getting a divorce from her second husband, she began thirty years of psychoanalysis and started a bi-weekly advice column for the Hearst newspapers.
With her fifth husband Tony Luhan, a Pueblo Indian, Mabel built this house in 1918. "Now I had come to the place where one life ends and another may begin," she wrote in her autobiography, "For the first time in my life I discovered I could trust someone always and that I could be trustworthy to someone always." FYI, we've put up a selection of Mabel Dodge Luhan memorabilia at the bottom of this letter. Mabel intuitively cultivated what she considered the right kind of talent and dropped those who were beneath her. Hers was the art of the salon. Often quiet and coy, then again flamboyant and bombastic, she flaunted her narcissism. Above all, Mabel was without fear. She felt writers, painters and intellectuals were naturally attracted to her and that she had a unique ability to bring out their best. "It is my gift to the world," she wrote.
Those of us who seek a quiet life, who don't do salons or put ourselves forward, can only reflect on the connections we might have missed. Success and fame in the arts often depends on who you know and being in the right place at the right time. To be invited to pass through Mabel's pueblo gates was worth a long journey by train and jitney. Though many thought her crazy, to be endorsed by her was of some consequence. Mabel's dance card reads like a who's who. These walls exude the spirit of some of the creative greats of the first half of the twentieth century. Is it possible some of this moxie can rub off on passersby?
Best regards,
Robert
PS: "I have always been myself and at the same time someone else; always able to be the other person, feel with him, think his thoughts, see from the angle in which he found himself." (Mabel Dodge Luhan 1879-1962)
Esoterica: Right now Natalie Goldberg, author of Writing Down the Bones is giving a yoga and writing workshop in Mabel's house. There's another workshop coming in August. "In silence we alternate between writing and meditation," says Natalie. "A cushion or chair is fine — sits are no longer than 30 minutes and some are shorter. We have timed writings and space each day for a nap, a solitary walk and individual writing. Instruction is available." I'm wondering how enforced silence might work in a painting workshop.

The Goldberg variations
by Angela Treat Lyon, Kailua, Hawaii, USA

I was at one of Natalie Goldberg's 10-day writing retreats in 1991 right there at Mabel Dodge Luhan's place. It was so wonderful to walk around town and see the effects of Georgia O'Keeffe, D.H. Lawrence and the other luminaries of that time who floated through or stayed a while. I never really appreciated what Georgia O'Keeffe painted until I went up to Ghost Ranch and saw the actual landscapes — or how she opened up the art world to female artists. And would that there was a Mabel Dodge Luhan today to mentor and help artists bloom. Incidentally, I love your letters. It's so cool to not just get your views of everything from acrylic soup to canvas and nuts, but to see the beautiful works of people like Paul deMarrais, Mary Moquin and Tatjana Mirkov-Popovicki. Thanks to everyone for being such a great community. It means the world to me when I finish a long day to be able to tune in here and let my eyes feast and heart fill.
There are 2 comments for The Goldberg variations by Angela Treat Lyon

Need to explain the value of silence
by Kit McDonald, Canada

You were wondering how enforced silence might work in a workshop. I took part in a watercolour workshop given by Anne Popperwell at Metchosin International Summer School of the Arts on Vancouver Island several years ago. She believed that we would be more involved in the painting process and thereby learn more if we didn't talk or chat during the workshop. Our concentration would be entirely on the painting process. Quite a few of the participants found this impossible to do. They reacted like bad children and giggled & laughed and defied her request for quiet. They also continued to repeat their old way of painting. Those who managed to become totally absorbed in the process did some of their best work ever. The silence really did work but it was difficult to shut out the jabber of those participants who were in defiance of Anne's request. I loved that workshop! Probably her request for quiet could have been explained a little more fully so that the participants were on board. Otherwise it was amazing.
There are 2 comments for Need to explain the value of silence by Kit McDonald

Shutting out the chatter
by Peter Trent, Hawkesbury, ON, Canada

Have you not, on many occasions and in various ways, told us that painting is a one person deal and that we are always by ourselves; loneliness and self-examination are an essential part of the painting process even when sharing space with others? If one cannot insulate oneself from the surrounding chatter and hubbub of an atelier it is likely that whatever is produced will be of lesser quality.

Silence quells the artist ego
by Sandra Taylor Hedges, Cornwall, ON, Canada

I recently watched the movie of Georgia O'Keeffe's life and Mabel played an important part in her survival as an artist in a man's world. I think it was the flamboyant personality of Mabel that balanced the introverted Georgia. In the movie we see Georgia spending long periods of silence while painting the Taos landscape and while I watched I wished to see myself there deep in the silence of the moment. I think a silent art retreat would be a way for the artists to get out of their egos, spend time with something greater than his or herself and create.

Bob's virtual salon
by Janice Vogel, Senden-Bösensell, Germany

You write, "Those of us… who don't do salons or put ourselves forward, can only reflect on the connections we might have missed." Do you not realize that with your Twice-Weekly Letter you have created a virtual salon enabling worldwide participation? You provide a platform for connections to be made at anytime from anyplace. Thank you, from all of your readers. Perhaps we should start calling you Mabel!

Stewart Cubely's Painting Experience
by Blair Mann, Atlanta GA, USA

Enforced silence at a painting workshop is a wonderful idea. I have attended Stewart Cubely's Painting Experience, called "Process Art," several times where it is not allowed to comment on anyone's work, positive or negative, and it feels odd at first, but is extremely freeing. I have often thought this should be a standard for all workshops. At the end it's okay for the instructor to give a critique to all…

Another Cubely experience
by Virginia Maxfield, Maitland, FL, USA

Several years ago I took a workshop from Stewart Cubley of the Painting Experience. Although the group was large, our days were spent in silence, each of us creating from whatever was within. No critiques, no comments on others' work as we worked. Just blessed silence. In those three days, people who had never held a brush became painters of their own experiences and the process became sacred. Results were stunning. I can say that now that the workshop is over but what we all learned, even the few of us who paint each day, was that the mere allowing of color, line, shape to come forth without our controls is power – it was the most beautiful, freeing, and lovely of adventures.
(RG note) Thanks to everyone who wrote about Stewart Cubely. To get a better idea of his unique approach, please take a look at this video.
There is 1 comment for Another Cubely experience by Virginia Maxfield

The lure of the Southwest
by Karen Gillis Taylor, Niwot, CO, USA

I was so excited to read this letter as I've been returning to New Mexico every year since I moved there for one year in 1985 to pursue my painting and create freelance illustrations for New Mexico Magazine. After my visit in 1985, I returned home, packed up my things and was there to live a month later. Like Mabel Dodge Luhan, the draw for creatives to the Land of Enchantment is strong, and for painters the light is noticeably different and appealing to those that love the full color spectrum and its nuances. The art and social life is welcoming to painters, and people are interesting. I meet people from many walks of life each time I go to visit. The history and cultural richness is an added inspiration to art lovers. The road trip spirit has been calling me again, so thanks for the nudge. I'm packing now…

Feels like family
by Diane Ericson, Ashland, OR, USA

I have a lovely connection with the Mabel Dodge Luhan House, too. I have been enjoying teaching a retreat at Mabel's every year in September for the past 13 years. Maria and Roland and the rest of the staff feel like family. My teaching partner and I look forward to our creative time there too. Here is a link to our workshop, Design Outside the Lines, at Mabel Dodge Luhan House.
Archived Comments
Enjoy the past comments below for At Mabel's house…
Featured Workshop: Barry John Raybould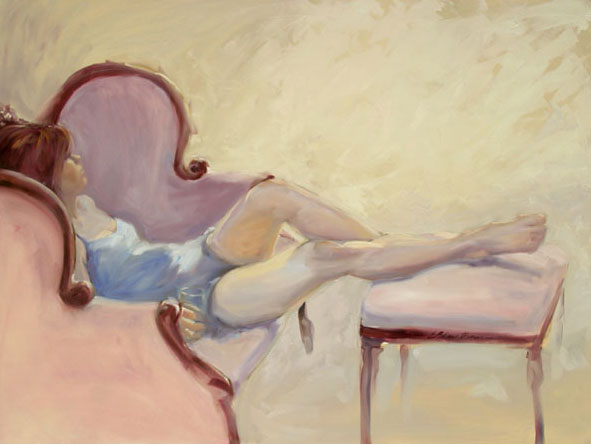 Le Repos
oil painting, 36 x 48 inches
by Elsa Bluethner, Vancouver, BC, Canada
You may be interested to know that artists from every state in the USA, every province in Canada, and at least 115 countries worldwide have visited these pages since January 1, 2013.
That includes Tatjana Mirkov-Popovicki of Port Moody, BC, Canada, who wrote, "It was interesting to read in O'Keeffe's biography how Georgia dropped Mabel many times, so Mabel got the taste of her own medicine."
And also Nikki Bryce of Port Moody, BC, Canada, who wrote, "Put me on your dance card!"