Dear Artist,
In the new pile of books brought by Santa and others, I noticed an early edition of The Inner Game of Music. Written in 1986 by Barry Green, former Principal Bassist for the Cincinnati Symphony Orchestra, "The Inner Game" explores how musicians can temper the hang-ups that stymie heightened creative expression. After researching the nuts and bolts of peak performance with his co-author, sports psychology coach W. Timothy Gallwey, Green determined that performance techniques used by tennis players might also be applied to the arts. Artists, like athletes, while chasing flow and the truth, can instead be bound up with fear, perfectionism, rote and bad vibes.
While alone in the studio striving to solve problems in my own work, I've noticed there always arrives a moment of choice, when I can fold up creatively at the panic and shame of possible failure, or let go and trust in the process of discovery. If I can manage the latter, a temporal, but satiating pleasure in the actual, physical activity at hand emerges. After all, if a painting is, among other things, a record of the act of painting, then might we release ourselves from the burden of results and instead simply create? In this system, the end product may even take care of itself.
If you're still with me, Barry and Timothy suggest this unburdening is achieved by first understanding that we're made up of two selves: a chiding, full-of-doubt, accuracy junkie who hurls negative comments at a talented joy machine emoting in a carefree orgy of self-expression. This interfering inner voice is an art-killer and must be silenced with a master technique called, "relaxed concentration." By getting into a state where we're alert, relaxed, responsive and focused, we can casually make magic while still employing a learned, technical prowess. Here are a few of Barry's tips for relaxed concentration, adapted for painting:
Be aware of what's going on in your work by aligning your feelings with what you're doing.
Be committed to the main goal of making art by putting expression first.
Let your muscle memory do the technical heavy lifting. Think of your practiced, mastered skills as an insurance policy against self-doubt, but also as a set of wings for heightened expression. If you want to be a painter, you need to know how to paint. This mastery frees you to then slip into an automatic mode of play and communication.
Trust in the character of the thing you want to express. Tune into what could be bubbling up from your own, inner joy machine. Does the work, in its purest form, have a casual quality? Is it excited or calm? Is it gorgeous? Is it troubled? What expression are you really conveying?
Lastly, trust in a brotherhood and sisterhood of greatness. Can you draw on the vibes of another or role-play as a means of channelling a certain character of expression? Barry may suggest his students play for a minute like Charlie Mingus, just to get a feeling for the expression. In doing so, we may grow accustomed to the sensations and pull our own uniqueness from within.
Sincerely,
Sara
PS: "Forget shoulds and experience is." (W. Timothy Gallwey)
Esoterica: The Inner Game of Music has been casually lying on our coffee table this week, dog-eared by my father-in-law, a lifelong musician and former clarinetist for the Melbourne Symphony Orchestra. On his 80th birthday, retired but inspired for a new challenge, he picked up a trombone. "The primary discovery of the Inner Game is that, especially in our culture of achievement-oriented activities, human beings significantly get in their own way. The point of the Inner Game of sports or music is always the same — to reduce mental interferences that inhibit the full expression of human potential." (W. Timothy Gallwey)
The audio letters are now ready to give as a gift!
The Letters: Vol. 1 and 2, narrated by Dave Genn, are now available for download on Amazon, here. Proceeds of sales contribute to the production of The Painter's Keys.
"Natural focus occurs when the mind is interested. When this occurs, the mind is drawn irresistibly toward the object (or subject) of interest. It is effortless and relaxed, not tense and overly controlled." (W. Timothy Gallwey)
Featured Workshop
April 10, 2019 to April 17, 2019
Location: between Puerto Vallarta & Mazatlan, Mexico
Week-long workshop in gorgeous paradise retreat for beginning and intermediate students in oils (or acrylics with experience). You will learn how to create a painting with beautiful light that captures viewers' attention and keeps them fascinated. Small group size guarantees personal attention.
While you're busy creating art and exploring, your friendly hosts at Casa Buena will ensure that your stay is memorable. Outstanding accommodations, food, and field trips will satisfy your desire for both comfort and adventure. Spouses are welcome!
For more info, visit: http://www.casabuenaartretreat.com/Retreat_Carol.htm or contact Carole at: cpeirson@earthlink.net or call: 001-757-678-3340 (EST).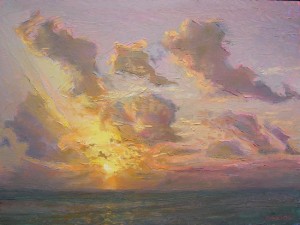 Shining Through
oil 12 x 16 inches
Featured Artist
Capturing the beauty of nature and expressing those impressions in oil paint is a joy. Every hour of the day presents new possibilities and keeps even the same landscape location, same composition, an ongoing and beckoning challenge. For this reason, I love painting series: it is exploration made visual.