Dear Artist, Yesterday, Jennifer Foster wrote, "I was recently at an arts professionalism seminar where one of the presenters was a gallery owner. I asked him about submitting work to galleries in more than one medium. He surprised me by saying that anyone who did this simply showed that they didn't know who they were as an artist. I always thought that diversity and ability in many media were strengths — just as cross-training is for an athlete. When submitting to a gallery or a jury, do artists do themselves a disservice by showing work in more than one medium?" Thanks, Jennifer. Artists need to realize that dealers are often coming from a different place than artists. While you and I know that cross-training and diversity are desirable, even necessary for creative growth, a dealer looks at an artist's work with other things in mind. Product consistency is one of them. Dealers are, after all, entrepreneurs. In this role, most dealers like to slot each of their artists into specific media and genre. Many of them think they know what their customers want, and don't wish to muddy the waters. It's sad to say, but many excellent dealers are not too interested in your range of capabilities. My advice is to submit consistent, one-medium work at first. You can go about showing your breadth and depth later. Here are a few ideas for the multi-media and multi-talented artist: — Keep working and developing independently, no matter what. — Deliver work in different media to different galleries. — Deliver work of different subjects to different galleries. — "Leak" your multi-media activities by blog or word-of-mouth. — Give dealers exclusivity in specific geographical locations. — While it's good to make consistent and regular deliveries, don't worry if you miss a stroke or two. The nature of our game is to be distracted by our muse, and while this may not always be good for the wallet, if the dealer has character, he'll respect your wanderings. Finding copacetic dealers is a fact of life in visual arts. You need to vacuum out the scissorbills and the not-so-swifts. After the cleanup, you'll find the rest to be gentle enthusiasts, strong advocates, and good friends. Best regards, Robert PS: "The person who reps you is golden." (
Nick Farbacher
) "Galleries are displaying a product. They're not museums." (
Nohra Haime
) "Business sure screwed up the art world universally." (
Robert Rauschenberg
) Esoterica: Juried shows present a refreshing facet to the acceptance game — generally no commercial instincts are in play. As a juror I've often noticed an artist's change in media opens a door to new brilliance. Opportunities sometimes follow. Even switching from oils to pastels may bring out a capability that was stultified in the previous medium. In today's world of electronic arts, fractals and Watson-inspired machine-art, it's all so very hard to resist. For an artist, exploration is oxygen.
Masters specialize
by R. Duane Hendricks, Calgary, AB, Canada Should one see a parallel in music? Few master performers play several different instruments to make their living. Occasionally it happens that someone can succeed at a high level as pianist and violinist, or trombonist and composer and conductor, but more often a musician specializes. The techniques required of the different media or instruments are very demanding.
There is 1 comment for
Masters specialize
by R. Duane Hendricks
No to Picasso sculptures?
by Sonja Picard, Ladner, BC, Canada I wonder if this gallery owner would have said the same thing to Picasso who also sculpted clay. What an insane statement; he obviously does not know a thing about artists that he apparently represents. I just started painting and may add that to my repertoire along with jewelry designer and sculptor to my professional art career of 20 years. Thank goodness he's just one misguided person in the art world.
There are 3 comments for
No to Picasso sculptures?
by Sonja Picard
Strength in consistency
by Fleta Monaghan, Asheville, NC, USA I reviewed slides submitted to a juried show a few years ago with a group of artists. The purpose was to get an insider look at submissions, make comments and critique (me), engage in discussion and to learn. It was a real eye opener for many. One thing that stood out was that artists who submitted three works that were consistent in theme, style and content stood out. It was interesting to see the work one against the other for each artist and gave a sense of purpose. Entries with three disparate styles or subjects were overall weak, and even if there was one piece that stood out, it did not hold up to a grouping where one painting supported another. I truly believe all artists are driven to experiment and stretch their wings.
There are 3 comments for
Strength in consistency
by Fleta Monaghan
Creative trip phenomenon
by Cheryl Braganza, Montreal, QC, Canada I am presently in a haven of sunshine and color in San Miguel de Allende, Mexico built on a quartz rock, so they say. This is my first visit and I am surrounded by serious and not-so-serious artists, muralists, fledgling painters, ceramists, digital artists and would-be artists. In fact, meeting a non-artist is an anomaly here. The weekly newspaper is clogged with art courses of every description. The morning and evening light is exquisite. I thought I had come to paint, but I can't. I tried to force myself to do a local street scene and gave up. I leave to go back to my studio in Quebec in a few days taking back blank canvases and swollen paint tubes. Do you recognize this phenomenon? Will the whole trip have been for naught?
There are 9 comments for
Creative trip phenomenon
by Cheryl Braganza
More mileage in multi-medium
by Denise C. Smith, MI, USA A solution would be to correctly call the art "multi-medium." "Multi-media" is an advertising platform in which a campaign is spread between television, radio, print and display, etc. Many artists get this title wrong and it tends to confuse the viewer / gallery director. I am a "multi-medium" artist working in scrimshaw, kiln-fused dichroic glass, natural stone and wire-sculpted jewelry settings (also a graphic designer — but don't include that in shows other than display technique). It has taken me quite a bit of work to develop an understanding and acceptance of my artistic presentation, but it is slowly becoming "expected" by my clientele and since I am not defined or limited by my announced medium, there is an excitement to see what I've come up with in my combinations. There are ways to present and actually get a little more mileage out of being a "multi-medium" artist. My suggestion to the artist or any artist considering varied mediums would be to actually play that up in their presentation and arrange them in section in their display so as not to confuse the viewer. People take more time in my booth because it transitions from end to end and they find more interest than in normal booths. Quite an advantage!
There are 3 comments for
More mileage in multi-medium
by Denise C. Smith
Free from gallery chains
by Louise Francke, NC, USA Yes, I switch media and themes like hats. Otherwise it gets boring doing the same old. Working in a different media opens my mind as to how I can stretch the media I usually work in — oil paint. Recently, I've been out in the fields using oil pastels on small pieces until it gets too hot. Then I'll make another switch! It's nice to not worry about details and to be free as a bird color wise. Now, if I could only leap a little further from the naturalistic way I handle my subjects. My now defunct gallery used to carry all of my media and subject matter, which was nice. Currently, I just want to explore without the gallery chains and requests that keep one locked in a specific niche.
There are 2 comments for
Free from gallery chains
by Louise Francke
Push enough buttons
by Elizabeth Pudsey, Burlington, ON, Canada Robert is right. Galleries are only interested in what they can sell. It is the only business I know where merchandise is not purchased from the supplier. Consignment paintings are then sold (hopefully) and large commissions are taken. The artist is left with a small portion, and quite often a bill for the framing. I have been with many lovely dealers, who try to control what you produce, and were you can exhibit. As many former students keep in touch, I hear their stories over and over again. Your advice is good; artists should be true to themselves and grow in knowledge and creativity. Find other places and other ways to exhibit and work — artist-run and group shows and other town or out-of-country avenues. Push enough buttons and something will happen. The important thing is to be true to your own creative spirit.
Choose appropriate venue
by Diane Arenberg, Mequon, WI, /Santa Fe, NM, USA This is a subject that is near and dear to my heart. My major mediums are pastel, monotype printmaking, and jewelry. I have heard, "You should just do ______" so many times I would like to scream! Of course, the blank can be filled in by any of the three mediums depending upon who is doing the looking. I could no more do that than cut off my arm. I view working in several mediums akin to speaking different languages. For example, when the Cerro Grande fire hit Los Alamos in New Mexico, it affected me deeply because I had flown over the fire when it was raging. It was at once the most terrifying, awful, beautiful thing I have ever seen. There was no way to express myself in just one medium. Over a period of years, I ended up painting it, sculpting it in stone, wax, and then making a bronze sculpture. Finally after the third, I felt satisfied. Your advice to Jennifer is so wise. Know your audience. Some people have a difficult time understudying artists working in one medium, let alone three or more. Rather than cutting off a limb, I have opted to pick and choose appropriate venues for each medium. The gallery owners are not saying they disapprove of an artist working in multiple mediums, they are simply saying they don't know how to market your work that way. Vive La Renaissance!
There is 1 comment for
Choose appropriate venue
by Diane Arenberg
Same series, different media
by Karen Gillis Taylor, Niwot, CO, USA This topic is timely for me as I am just completing a fabric "quilt art" piece which is a media departure from my usual painting mode. What's keeping me on track is that the new fiber piece is in the same cityscape series as my current painting series. I won't feel like I'm shifting gears too far out of line if I show the piece to my gallery owner or others, as I think it's keeping the same spirit the paintings convey. What's more, the fabric patterns inject interesting abstract shapes and textures into the work, and I seem to be choosing the same colors I normally work with in paint, which is providing another form of consistency. Working in this second medium is giving me a new boldness which I'm excited to bring to my next acrylic piece! You can see the two media side by side here.
There are 5 comments for
Same series, different media
by Karen Gillis Taylor
Archived Comments
Enjoy the past comments below for Problems of the multi-media artist…
Featured Workshop: Gaye Adams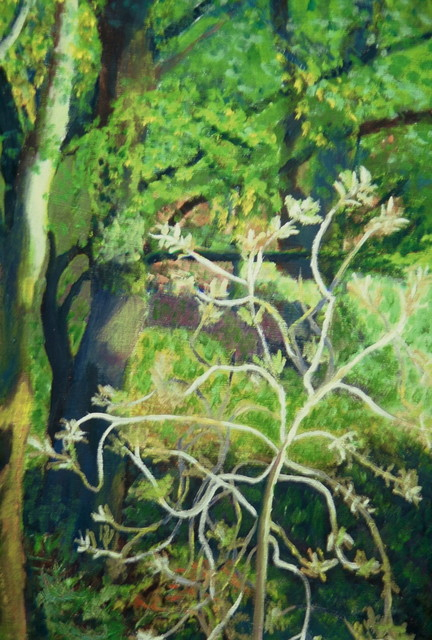 My Secret Trees

acrylic painting by Alice Larsen, Sebastopol, CA, USA

You may be interested to know that artists from every state in the USA, every province in Canada, and at least 115 countries worldwide have visited these pages since January 1, 2013. That includes Tatjana Mirkov-Popovicki of Port Moody, BC, Canada, who wrote, "My ex-dealer used to say things like, "You shouldn't mix long and short brushstrokes in one painting." My good dealer says, "Don't ever make decisions based on what I say, but I wouldn't be able to explain to clients why some of your paintings are done in oil and others in acrylic." And also Rosemarie Manson of Smithfield, RI, USA, who wrote, "Exploration feeds my soul and keeps the juices flowing. Although I keep my mind open to exploration, I see commonalities in my work. Harnessing that adventure keeps me grounded." And also Alex Nodopaka of Lake Forest, CA, USA, who wrote, "The whole 'business' about art is the lack of educated buyers. My suggestion is to present only one thematic portfolio at a time to a single 'dealer' while you, the artist, expand your mind and craft in many directions." And also Brenda Behr of North Carolina, USA, who wrote, "I consider myself a painter of high medium diversity. The subject, the light, the time of day and my mood tell me how something should be executed. I am not a Photoshop filter that wishes to impose my style on all that inspires me."