Dear Artist, With my weakness for studying creative people, asking trick questions, and listening to dreams and rants, I've decided that some artists are blessed with a sublime gift. It's not of talent (that's another issue) but of attitude. Further, I don't think many, if any, are born with the attitude I'm talking about. I think some simply adopt it, often by trial and error. To set the record straight, I've met lots of people who don't have the sublime gift at all and yet are highly realized and happy. You don't have to have the sublime gift to succeed, but it helps. My sublimely gifted person shows a steady, workmanlike curiosity for the uncovering of his or her self-anointed processes. While the outward appearance may be a simple case of smug self-satisfaction, a closer look reveals simple task absorption tempered with the humility that comes with studenthood. Many, I was surprised to find, show an innate understanding of the methodology behind the practice of meditation. Indeed, meditation is now being revalued as one of the great tools for clearing the mind for higher purposes and actions. Have you ever heard of "MBSR"? It means "Mindfulness Based Stress Reduction" and is currently enjoying a growing number of enthusiasts. According to recent research, this sort of meditation actually changes gray-matter density, setting it up for action in the "here and now" rather than in the historical past or the fantasized future. When worry dissipates, action begins. Lower stress means higher creativity. My sublimely gifted individual moves in a world of individualized, progressive exploration, divinely unimpressed by falling roof-beams. And while my sublimely gifted whiz-bang may be capable of multi-tasking, he's also a "one thing at a time" kind of guy. Perhaps it's the sensitively laid-back meditative state, whether from Buddhist teachings or plucked from the rich storehouse of need that gives steadiness and accomplishment to an otherwise sky-falling life. Task absorption and focus result in refreshed habits of perception. In my findings, limited and anecdotal though they may be, pretty well every winner in pretty well every field turns out to be what is known as a "good study." That quality, perhaps more than any other, brings on the sublimely gifted life. Best regards, Robert PS: "Mindfulness meditation helps to reduce stress by providing insight. It's often our habits of perception and attitude rather than the circumstances themselves." (Lucinda Sykes, Toronto physician and MBSR course leader) Esoterica: "Task saturation" is a term used in the airline industry. It's where a pilot (and often the co-pilot) suddenly have too many things going on and find it difficult to make wise decisions. Sadly, it's frequently mentioned as a cause in crashes. Pressure interferes with the ability to prioritize. Funnily, "too many things going on" is also a condition of the creative and inventive. It's a wise artist who learns to manage her own pressures.
Go inward for growth
by Chris Cantu, Seattle, WA, USA Brilliant summation of what artists, or anyone, must do in order to forge ahead. Being a perpetual student of one's own processes is ultimately the way to find one's own voice and strengths. In this over-wired world it is harder and harder to find that peaceful and contemplative zone required for growth to take place, but it is possible. Turn off the babble and go inward.
Meditation and art
by Linda Saccoccio, Santa Barbara, CA, USA This is a book worth noting in light of meditation and art:
True Perception: The Path of Dharma Art
 by Chogyam Trungpa. Meditation creates true alignment with all.
There is 1 comment for
Meditation and art
by Linda Saccoccio
Easy to be yourself
by Alan Soffer, Wallingford, PA, USA Yes, you can call it 'sublime.' I call it being self-motivated. Most are called to be followers and worker bees. Some are called to be leaders and directors. I think this ability to be in control of one's destiny is paramount for success in the arts. Those of us who are possessed and in quixotic pursuit of sublime visual expression don't really have a choice. We clearly and unequivocally structure our lives to find time, money, space, exhibitions, connections, etc to do our work. Others are waiting for someone to discover them, give them a grant, and request a commission. It's hard to be something you are not, and easy to be that which you are.
There are 4 comments for
Easy to be yourself
by Alan Soffer
Fascinated with the illusion
by Rick Rotante, Tujunga, CA, USA Art for me is a meditation. It's a form of self-discovery and relaxation. Mind you, while learning this craft, the opposite was true and caused me no end of stress and turmoil. Now that I have a handle on technique and methodology, painting has become my equalizer. What is wonderful about this process is each painting is a new challenge. You can't rely on what you've learned except as a catalyst to move forward and attempt something new. The joy and wonder of every painting keeps me painting. Many times I'm surprised at the results. No matter what my intentions at the outset, the end result is a wonder to me. I'm fascinated with what color will do while we create such amazing things: the illusion of dimensionality, depth and life from linseed oil and colored powder.
There are 2 comments for
Fascinated with the illusion
by Rick Rotante
Calm, steady and joyful
by Alice Larsen, Sebastopol, CA, USA This letter was particularly wonderful. I loved the meditation part especially as it's something I have been doing for many years and it seems to be the thing that keeps me going in a calm, steady and joyful place. My husband, Robert, and I practice Kriya Yoga. Not only do we find peace with the practice but we also get lots of health benefits from breathing deeply, as cancer doesn't like oxygen and our healthy cells do. Thanks again for a well thought out letter.
Conscious observation
by Tiit Raid, Fall Creek, Wisconsin, USA The "sublime gift" for an artist, and for anybody for that matter, is the ability to see the appearance of our everyday visual world on a more conscious level. From this accurate observation, sooner or later, everything we need to make our lives and work fuller, richer, and more complete will come. Without accurate observation – to see the world as it is, and, ourselves as we are – it is impossible to rise above our preconceptions, expectations, thinking and emotions. Most every art student and artist I know has had 'it' within them from an early age. What is that 'something'? My guess is that what separates them from others is their ability to see the appearance of the world. But, this is an ability that is not exclusive to the artist. Anybody can develop it through taking the time to observe what things actually look like. The visual world is wordless and silent – to see it we need to observe beyond names and labels and knowledge. Basically, as we take the time to observe the appearance of our everyday world, we begin to become more aware of the subtler details and relationships within shapes, tones, and colors. Gradually, through this meditation, the world becomes more real and actual. We wake up. But, this 'waking up' is not a permanent state; old habits are hard to break. It requires and needs constant 'meditation' and attention. We can never assume that we see well enough.
There is 1 comment for
Conscious observation
by Tiit Raid
Meditation helps everything
by John F. Burk, Timonium, MD, USA You are on a wise path, noticing the benefits of meditation and how it affects, well, everything. I was pointed to Dr. Herbert Benson of Boston, and his 'Meditation Response' as a way of dealing with hypertension years ago. Another doctor is dealing with it by the use of Lysinapril, but Dr. Benson's therapy has helped enormously in every other respect, and helped with the original problem. Attitude is everything. Meditation helps.
There are 9 comments for
Meditation helps everything
by John F. Burk
Intuition wiser than intellect
by Marney Ward, Victoria, BC, Canada It's not surprising that you find that artists with the "sublime gift" of self-awareness tend to be those who practice or have practiced meditation of one kind or another. I have practiced Transcendental Meditation daily for almost 40 years, a process that gradually unfolds the more subtle levels of consciousness, allowing the individual to become familiar with the most intimate levels of his own mind, particularly those sub-conscious levels we understand vaguely as intuition or gut-feelings. Over years, one who meditates becomes more tuned into the subtle signals his or her body is sending out, the red flags that we might previously have ignored or discounted, perhaps an increased tension in the voice or muscles that suggest it's time for a change of pace or a change of scenery. We learn to trust our intuition; it knows more than the intellect can ever know. Time and again I have overridden my intuition with some logical rationale, only to discover that my intuition was right, because it's based on a more profound level of knowledge deep within the consciousness, not on the more limited knowledge available to the more superficial intellect. An artist paints from these more subtle levels of consciousness. The experience of painting is in itself a kind of meditation, which is one reason time passes so quickly when we are engrossed in painting and why it often feels so blissful. Meditation helps bring about a state of wholeness, and so does the artistic life, if we can survive the superficial hardships that often keep us company on the creative path. Meditation helps us put it all into perspective, to realize what is really important and what is a small obstacle along the path. Meditation also hones all the senses, gradually unfolding a completely different way of seeing. It really does cleanse the doors of perception, to slightly misquote my old friend William Blake. Not only to see the world more clearly, but to see ourselves.
There are 2 comments for
Intuition wiser than intellect
by Marney Ward
Meditating with graphite
by Tatjana Mirkov-Popovicki, Port Moody, BC, Canada The label "sublimely gifted persons" didn't sit well with me today. Sometimes we get sublime, and sometimes we are awful. Are there really people who are able to always walk on clouds? If there were, I wouldn't trust them. I'd rather pick a genuine occasionally grumpy person made from flesh and blood, laughs and curses any day. I know a few "happy go lucky" people, but they usually have a "worrier" in their life who makes sure that the problems get solved. When I have a problem, I attack it and I am happy when it's solved. I would resort to meditation or other sources of help, only in situations with unsolvable problems. I think I can see what you are getting at — bad attitudes causing difficult lives, and I agree with that when bad attitude becomes a default, but the way you went about it, I didn't find digestible. I think that there is nothing wrong with a little bit of a tactical bad attitude applied sparsely — it may even help you get a better service at times. Incidentally, I had a sublime January, but now I am going through a very stressful few weeks. I think that I will spend more time doing my meditative graphite compositions and mull over the problems until I find solutions.
There is 1 comment for
Meditating with graphite
by Tatjana Mirkov-Popovicki
Art is his lifeline
by Bill Skuce, Sooke, BC, Canada Uncanny… you have described my close friend, 74-year-old Keith Johnson. Deeply in love with nature and grounded in Zen Buddhism, Keith lauds the merits of meditation and has lavishly imbued his thinking with the tenets of Zen. Having become close friends with him over the past two years I have grown to admire his artistic practice relating to both painting and drawing. He has filled dozens of hardcover sketch books with drawing studies, sketches, plus copious and fastidiously written notes. He loves painting plein aire but has a large, detached dream studio, wood-burning fireplace, sky-lights and all, where he has devoted many hours of his retirement years to painting. Keith's attitude toward himself and his work has been a mix of passionate quest, humility, self-doubt, and total dedication. Last year, when his health began to fail, art was his lifeline. Months of chemo weakened him but when he could he would draw. Last summer, with the encouragement of some artist friends, he painted almost daily in his semi-rural back yard; six weeks and a dozen paintings later, Keith, having taken his process to a new level, had produced a suite of his best paintings ever. When told in September he had 12 to 18 months left to live he was clearly shaken. For a few months anxiety didn't allow him to paint or meditate but, when he was able to, he would draw. Last week when we visited, I was thrilled and impressed to see he had regained the high ground and that his "sublime attitude" had returned. Along with it was a revitalized security in his drawing process, a return to meditation, renewed vision of what he may yet achieve and fresh resolve to press on despite his weakness and pain. Keith is my hero.
There are 7 comments for
Art is his lifeline
by Bill Skuce
Archived Comments
Enjoy the past comments below for The sublime gift…
 Featured Workshop: Gaye Adams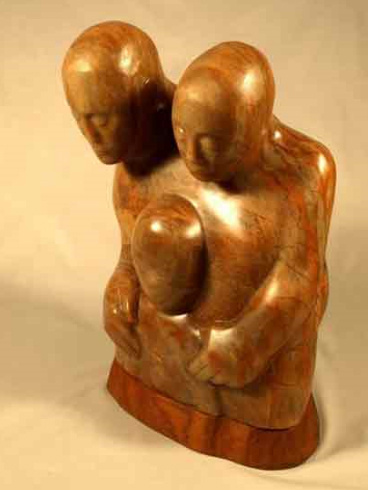 Family Connections
alabaster by Betsy Evans-Banks, Tucson, AZ, USA
You may be interested to know that artists from every state in the USA, every province in Canada, and at least 115 countries worldwide have visited these pages since January 1, 2013. That includes Hope Cunningham of Tucson, AZ, USA, who wrote, "Thank you, Robert, for pointing out that the inability or refusal to multi-task and always be in a hurry is a virtue, not a weakness!" And also Loren Mohler of Eugene, OR, USA, who wrote, "My yoga studies always help but I have shied away from actual meditation. Maybe it's time to dive in and see what pearls I come up with." And also Kathleen Sauerbrei of Crossfield, AB, Canada, who wrote, "As a Buddhist, I can agree so much with this missive. As an artist, I recognize myself in it, as well. I am always at peace when I paint." And also Jack Adams of Sun City, AZ, USA, who wrote, "
ZEN and the Art of Archery
 is a must-read for all artists attempting a 2-minute gesture pose sketch of the live model."