Dear Artist,
Travellers along Florida highways in the 1950s and '60s might remember odd characters standing along the road selling paintings. In those days African-American artists, particularly in the South, had trouble getting work into galleries. Self-taught Alfred Hair, James Gibson, Al Black, Willie Daniels, Robert Lewis, Mary Ann Carroll, and others typically sold their work for $25. The group came to be known as The Highwaymen and their work now demands big bucks from serious collectors.
In my less palmy days I hung my paintings along the iron fence on Bayswater Road in London, England. Carol and I were returning from Spain with a Volkswagen bus-full. On several Sundays we stood in the rain, made friends and sold a few. Nothing like the guy who was set up beside us. He had hundreds of unimaginative front views of pussy-cats painted on odd-shaped barn-boards. People were lining up for them. At the end of the day he announced the number of cats he had "flogged." That's when I learned that selling on the road has charm but no class.
Some years later I was painting for joy in a Picardy town when a passing Brit took pity on me and offered to buy the painting. A thoroughly decent chap, he looked at my clothes and used words like "struggle" and "poverty." I turned him down. I think he was a bit miffed when later he saw me roaring through town in my Alfa. That's when I learned that if you happen to be on the road, people will have attitudes.
The road is not ideal for flogging. The best flogging these days is done under another name in a proper gallery. My London dealer used to refer to it as "placing." "We placed a fine oil with Lord So-and-so," he told me. The Lord sent his Rolls to pick it up — I watched his driver come into the gallery and fetch it. The Lord's excellent shoes never touched the road.
No, the road is a place you wander along to look for stuff. For many artists the automobile is its magic carpet. In our family we call it "mosey driving." It's golden. We're privileged. But it wasn't always that way. Alfred Hair and his friends had no choice. They loved to paint and they needed to sell. In those days The Highwaymen didn't own cars. Many do now. Artists will do what they have to do.
Best regards,
Robert
PS: "The stomach is the teacher of the arts and the dispenser of invention." (Persius 34-62) "Let your mind wander." (Alfred Hair, 1941-1970)
Esoterica: In The Highwaymen, author Gary Monroe tells the story of 26 painters from Ft. Pierce, Florida — their collective enterprise, unschooled abilities and cultural heritage. While Hair died young, some of the originals are still painting the Royal Poinciana Trees and the sunsets. Lawren Harris once said, "Art must take to the road and risk all for the glory of adventure." It struck me that it might be fun to gather some "road" stories from our readers. If you have one and you'd like to share it, please send it in.
(RG note) Thanks to everyone who sent "On the road" material. There were fun anecdotes, road tips, wilderness adventures, sales techniques and lessons learned. Not a few were enthusiasts for art fairs and critical of my endorsement of the gallery route. We will continue to include a selection of your road stories in the next few clickbacks.

Paint fast, sell quickly
by Teresa Hitch

Recently, I had the pleasure of seeing a show of the Highwaymen's paintings in the Old Courthouse Heritage Museum, Inverness, Florida. What struck me was the strength of the human spirit shown through art. Alfred Hair was determined to rise above the low-paying, back-breaking options he was offered. Not only did it provide Alfred Hair a living, he thrived. So much so, that he was able to achieve one of his goals in life — a new Cadillac — before he was shot to death (over a romantic triangle) at age 29.
Hair's philosophy was "Paint fast, sell quickly." Sometimes he set his work up in an assembly-line fashion, and had assistants do some of the under-painting. His financial success did not go unnoticed by his friends, who were laboring in the orange groves, and wanted to make "easy money" too. Hair encouraged them and even loaned them his cars.
Hair had studied for two years with Beanie Backus who served as mentor to the group. Backus was a white Southerner. Backus was inducted into the Florida Artists' Hall of Fame in 1993. The work of the Highwaymen was formally acknowledged when they were also inducted into the Hall of Fame on March 24, 2004.
(RG note) Thanks, Teresa. One of our readers is a bit wealthier because of that letter. Norman Ford sent us an image of a 24″ x 36″ Alfred Hair. He wrote, "I obtained it in Florida in the late sixties. I was visiting some friends and she liked a seascape I had painted and offered to trade me "even" for the one she had bought from Hair."

Roadside experience
by Norman Ford, Waynesboro, PA, USA

For 14 years I and my wife traveled the eastern seaboard ministering to small churches by speaking as I painted a scene from nature to illustrate the sermon. Weather permitting, every Saturday I would take my paintings and set up along a road somewhere and sell paintings to help us financially. One experience that I remember was at Key West Florida. I had set up along Route 1 and was selling a few when an official showed up. He said that some of the businesses in town had filed a complaint against me selling paintings and that I had to shut down. I said I would be glad to comply and would start to pack up. As he was about to leave, he stopped and studied one of my seascapes. Then he turned to me and said, "Don't pack up yet, wait until I bring my wife to see these seascapes!"
About an hour later he showed up with his wife and ended up buying three of my scapes! When he came to leave he said, "I think it would be alright if you want to wait until this evening to pack up. If anyone asks I will tell them you have agreed to shut down." As I remember I sold quite a few more that afternoon. Seascapes were very popular in that area.

Bayswater Road paid off
by Alice Saltiel, Canmore, AB, Canada

John Branch was not an artist himself, but rather a clever, smooth entrepreneur who made a killing selling art on Bayswater Road, London, every Sunday. Not only did he represent a dozen or more painters he was the guy who arrived on the street at 5 a.m. to save spots for another dozen or so exhibitors and collected one pound from each of us for the service. He often had to pack up or rough up insurgents. If it wasn't for the fact that the artist with the pussycats was a man who did them on barn boards it could have been me you were talking about. Sold out of them every week. Other popular images in my eclectic collection were uniformed Palace Guards, Beefeaters and such. Bill and I were able to quit our real jobs and spend the weeks preparing for Bayswater Sundays, which enabled us to save enough money to return to Canada.

Proper flogging
by Nick Farbacher, Pittsburgh, PA, USA

America has become the land of "flogging." The cheap, the no-brainer — people love to buy. The positioning of what you paint is as important as how you paint, boy you better believe it. The business of "offering a work" or "placing" a series of works in the correct gallery is the "white stone." Get your name in the right spot and your life changes. The person who reps you is golden. You can be in your painter's overalls or straw hat all you like or even on the road. Just don't try to sell that way. The wonder is that artists can stimulate other artists. The musical "Chorus Line" had a number called "I can do that." So you pick up the brush and make something that someone else will flog — but with proper grammar.

Plein air painter not starving
by Sandra Nunes, Rio de Janeiro, Brazil

I'm basically a plein air painter so I'm almost always "on the road." I notice people like to buy paintings they saw to be created. The process is for some people an important part of the work they take home. They like to hear stories about the painting and all. Although I am represented by some galleries, it is not unusual for me to sell a work as soon as I finish my last brushstroke or to come to my studio with the unfinished painting already booked by a passerby. What's wrong with it? However I notice there's a prejudice against the artist who sells his own paintings — the image of a starving painter is frequently associated to him.

Angel came to him twice
by David Wayne Wilson, White Rock, BC, Canada

In 1977 I was stranded in Montreal with my box of drawings and writing. I was a 'homeless person.' Wind and 'box breakdown' threatened to 'publish.' willy-nilly, everything I had, beneath a threatening sky. A lady saw my dilemma and retrieved fresh brown paper bags from her bank. We briefly spoke and I was blessed and heartened. Over twenty years passed and I was at a customer's house on the West Coast, having her correct the data on a cheque she had sent me. Talking, I mentioned that day in Montreal. She, and then I, realized our original encounter. This same Angel had saved me from awful misery thousands of miles and hundreds of months away! I offer this as a roadside tale that simply took longer to become fulfilled. I cannot regret that, for her, I had reduced the price by more than a third even before we'd come to recognize each other.

Joined an exclusive fraternity
by Bill Sanford, Austin, TX, USA

Twenty years ago I was sitting on a bridge in Paris one morning, doing a small watercolor sketch of the Pont Neuf. I was approached by three young men who turned out to be Israeli soldiers. They showed interest in the sketch; but they didn't speak English, and I didn't speak Israeli. We all stumbled along in broken-French, and I ended up selling them the sketch. I only made the equivalent of about $10, but I wasn't about to miss the opportunity to be a "Professional Paris Street Artist."

Pushed stuff off a bridge
by James Johnston, Beaverton, OR, USA

I was returning from an "Art Gone Wild" show in Portland, Oregon to my studio in southern Oregon. It was rainy, late at night, and windy. The art was inside my Toyota Tercel and the 8 Display Panels were all tied to the roof rack. As I crossed the McKensey River Bridge in Eugene, a great gust of wind caught the panels on the car. The entire front of the car jerked and lifted from the road. The panels, and the roof rack, were torn from the car and lay in the highway behind me. By some miracle, there was no traffic on the highway. I stopped at the far end of the bridge and ran back to get the displays off the road. All bundled together with the twisted roof rack, they were far too heavy to lift, so I could only drag them to the side of the bridge. Still a danger at the side of the bridge, I had to push them over. Lost to the river and the night. The damage to the Tercel, and the lost display panels, took a huge chunk out of the profits I had made from the show. Next spring I bought a bigger vehicle.

Flogged through mud
by Mark A. Brennan, Westville, NS, Canada

One of the wildest places would have to be the Cape Breton Highlands National Park in the northern part of Nova Scotia. It is a vast tundra-like area with high plateaus that have seldom seen an artist let alone hikers. Last year I hiked the 45 km across this 'no man's land' in search of seldom seen landscapes. I wanted to seek out those special places that reach into the very depths of our souls and cause us to wonder in amazement at the incredible beauty the true wilderness can offer. It was a trip that stretched us to our limits. We flogged through thigh-deep mud and were poked and punctured by ancient spruce that were no more than 2 meters tall. We were to seek cover from the insects and were always on the lookout for bears and angry moose. We did not see another human for 3 days, so it was hardly a road trip, but a trip of the artist's senses. I learned a great deal as a painter from this experience, most importantly that as a landscape painter it is so very important to experience the places we choose to paint first hand.

Bring on the chickadees
by Larry Seiler, Laona, WI, USA

I think of those years I used to buy booth space at art shows. There were those artists that would get together after the show to talk about their hot items. If it was the songbird known as a chickadee sitting on a snowy branch, well, then there would be a dozen more artists doing chickadees for the next few shows. They'd put one framed chickadee out appearing as an original. If it sold… they'd watch the buyer disappear after about four booth spaces down, then reach back and pull up another and set it out.

Preparations for the road
by Janet Toney, Greeneville, TN, USA

My friend and I went on the road all day yesterday. We drove up and down a couple of the Bald Mountains of Eastern Tennessee / Western North Carolina. We live on one of them as well, and we drove a couple miles up our own road as well. Our mission — photographs, for their own sakes and to paint from later. A joyous mission! We learned some things about such trips:
1. Take a cooler for water, and the chocolate you might need.
2. Take tons of film or large disc cards, and tons of batteries for your camera! Those little display screens on the digital cameras only give a hint as to what has been "captured," so it's impossible to tell if deleting one is a good idea.
3. Prepare yourself for the "wild" adventure. Whatever you need to feel comfortable in such a situation, take it with you, just in case.
4. Don't plan too many places for one day trip, that is if you want to get home in time to have dinner with your husband or energy left to tell him where you went and what you did or the strength to handle seeing that irritated look he may give you when you do get home.
5. Always take a sense of humor along with your sense of adventure.

Elaborate scam?
by Jo Tuck, London, UK

Two of my paintings turned up in a stall in Nottingate, UK, and the buyer wanted me to sign authenticity certificates in turn for getting me a show somewhere. I have no knowledge of sales of these two and we have had building work done. Anyway I was advised to just say that as far as I could tell they were mine. It could be an elaborate scam, what do you think? He asked if I would like to buy them!
(RG note) Thanks, Jo. I too have had a similar opportunity to buy my own work under dubious circumstances. You could say that as far as you can tell they are not yours. Especially if they're not so hot.

Wood flogging cleared room for studio
by Tom Disch, Barryville, NY, USA

I had half of a double garage piled with firewood, and was told that my wood stove in the kitchen, to which the firewood had been destined, was a firetrap. So every weekend for the one full summer I sold boxes of firewood at $5 a box to campers on their way up to the campgrounds (where the wood was much pricier). When I'd cleared out the wood, I was able to make the half-garage my studio. I miss trawling for happy campers but not so much that I'd try selling my paintings at the same venue.

Surprised while trying to flog
by Anne Swannell, Victoria, BC, Canada

Ten years ago, I was "flogging" my stuff at a Mother's Day Event in one of the parks in my home town. Well, I say "flogging." I mean "trying to flog." Families were strolling and gawking, muttering "Lovely work" as they smiled and passed by: They were not buyers. No-one was going to lash out a couple of hundred bucks on some piece of work propped up on a table on the grass. I could see that. I vowed I would never again be a part of the community's plan to provide free entertainment for lookie-loo Moms and Grandmas and their ice-cream-licking children. But 5 minutes before I packed up, two young women came by, arm in arm. They bought a one-off print I'd made from a collage… a young girl kicking her legs up, jumping for joy. I have broken my vow of non-cooperation with selling-on-the-road many times since that day.

Road dangerous for marriages
by Jo B. Williams, Cumming, GA, USA

Many years ago my husband, an amateur photographer, and I, an amateur painter, got the chance to exhibit some of our works together in a gallery. The night before the show, I finished painting an acrylic on canvas, done in mainly blues and purples. While delivering our works to the gallery, it began to rain, and we had to rush our works inside quickly. My husband's photos were matted and framed but not under glass, and some raindrops hit the photos. Inside, he was horrified to find what looked like dabs of blue and purple paint on his photos, and he accused me of somehow getting my paints on them. Even though my paints had completely dried the night before, he didn't believe me. As soon as the raindrops dried on his photos, they returned to normal. It seems that the film's emulsion when wet with water, created the complementary colors of the photo (his were in yellows and oranges), thus appearing as purple and blue splotches. The morals to this story: always put glass over your photos and don't try to show together as a husband and wife team — the egos really get in the way!

Anybody seen this car?
by Reuben Sorensen, Redway, CA, USA

In the late '70s I was living in Taos, New Mexico. Nearly broke and no job. I had my paintings in two galleries but they weren't selling very fast. So I'd sit out on the street painting and have ten or so paintings with me for sale. I sold more this way than I did via the galleries, but that's not what this story is about. At that time I also had a few paintings on consignment with The Dorothy Bradley Gallery in Milwaukee, Wisconsin. Dorothy was part of the Bradley family that in 1969 had donated their multimillion dollar art collection to the Milwaukee Art Center. This more than doubled the value of that museum's collection and made it the third most valuable in the country. Dorothy's own gallery on the upper-east-side was perhaps the most prestigious in town. So when she invited me to show in her 'Mini-Show' which would include the work of the best painters of miniatures in the area and also the work of several Haitian artists, I was very excited to be included — especially since I had for many years been a big fan of Haitian art.
I had four months to prepare for the show. I set to work diligently working on and completing twelve very highly detailed 8 x 10 inch paintings — acrylic on illustration board. I packed them into a cardboard box, put the box under my arm, and began hitchhiking to Milwaukee. At dusk, near the end of the second day of the journey, I was standing in a small town somewhere in the middle of Nebraska — or was it Kansas? A car stopped and offered me a ride. "We're not goin' far," said a construction worker leaning out of the passenger seat window, "but we can getcha to the outskirts of town. You'll have a better chance catching a long ride out there." "Right on," I said crawling into the back seat.
They took me about three miles and dropped me off. I jumped out and looked down at my hands. I had my sleeping bag, but something was missing — the box! Oh no! I looked up and saw the car's tail lights disappearing into the sunset. I screamed, "Wait!" I waved my arms furiously. They were still close enough to see me in the rear-view mirror. No such luck. Helpless, I stood there watching the results of four months of hard work disappear into the Midwestern night. There was an address on the box. Perhaps they'd mail it to me. But they didn't. I never saw my paintings again.

Revive the old tradition
by Susan Canavarro, Florence, OR, USA

Painting on location and selling "on the road" is an old tradition we should bring back to life. When I was growing up on the Monterey Peninsula during the fifties we saw many painters sitting on the beach in front of their easels, by the side of the road near their cars, or on the ocean rocks at low tide. They displayed their paintings on the side of their cars and sold them to passersby. I loved tip-toeing up behind an artist and getting a sneak preview. Many of these artists were members of the Carmel Art Association, and are now well known. Today, I think we need to be open to all possible ways of earning a living with our art, and selling alongside the road is one way to do it. No overhead, no restrictions, no framing costs, no middle person, gallery or agent. If it works and puts food on the table and buys more art supplies, more power to it!

Can't tell a book by its cover
by Sue Martin, Mount Dandenong, Australia

We used to own a small gallery. A young girl brought in some lovely full sheet pastel drawings nicely framed. We exhibited about twenty and on opening night, much to her disappointment, didn't sell any. A week later a rather dirty looking man came in and asked me to walk him round the gallery. With much suspicion but with the order book in hand I proceeded to mark down about ten pictures that he wanted to buy and he indicated that there may be a few more and that he would phone me to confirm. Asking him for a substantial deposit he unrolled this really filthy wad of big notes and paid. The next day he rang to confirm that he wanted five extra and could my husband deliver them. We were still very skeptical but we delivered. It turned out to be a very busy and obviously prosperous organic fruit and vegetable shop, hence the grubby hands. He had come into an inheritance and wanted to repay friends with artwork that he obviously loved. When I told the young artist, her joy was such a delight. She has since gone on to great achievement. Just shows that you can't tell a book by its cover and you never know where your first successes will lead.

Relative values
by Dick Marvin, Rockwood, ON, Canada

William Roberts was sitting in the ditch north of Guelph, Ontario, one Spring day back in the '60s doing one of his exquisite little watercolours when one of the local farmers rolled up on his tractor. Looking down at Bill from his perch he asked him how much the painting would go for. Bill replied, "About two fifty." The farmer asked, "Can you change a five?"

Sly system for the road
by Ron Ukrainetz, Great Falls, MT, USA

A recently deceased fellow artist and good friend literally starved as an artist for several of his early years. Six kids, a wife, a dog, and a beat up old van traveled many roads. One summer, during a trip through Yellowstone on route to a show in Arizona, he stopped to let his overworked engine cool down. He set up his easel and began a painting. A small crowd soon surrounded him, and bidding started on his unfinished piece. The sale came and provided him with both money and an idea. He started several more pieces of the same scene, quickly filing the unfinished ones in his van. When a sufficient crowd gathered, he would continue painting until the current one would sell and the crowd would disperse. Then he would bring out another one of the unfinished canvases, and begin to finish that one, sometimes selling as many as a dozen from one location. This cycle worked throughout the western US, put his kids through college and eventually gave him a huge motor home and a new Caddie. His wisdom is still 'revisited' each year at the CM Russell show in Great Falls, Montana, where many of his good friends still attend.

Plain Jane gets thumbs up
by Jane Coulombe, Granada Hills, CA, USA

A couple of years ago I spent a weekend vacation with my friend of many years. She doesn't paint, so amused herself sightseeing during the hours I spent painting on the pier at Santa Barbara. I was in full painting attire, hat, baggy clothes, and my rolling khaki bag that transports my easel and supplies. After I finished painting, I folded up my gear to ready myself for lunch with my friend. As I was walking the length of the pier, off to the side I noticed several men who were obviously itinerants. As I passed them by with my rolling bag clattering along, they gave me the "thumbs up" sign. I've tried to dress a little better since then!

Whispering heard from inside tent
by Vae Hamilton, Conover, NC, USA

Early in my artistic career I used to do "Arts in the Parks" and arts festivals on the road and built up a respectable following for the representational work I was doing at the time. Later as I progressed and my work became more sophisticated and fulfilling for me and more attractive to galleries, I left some of my clients behind. Often people do not realize that from the inside of the tent you can hear about everything. I'll never forget when a patron of mine, and big collector, whispered to her companion, "I really liked her when she was good." It only hurt for an instant because I realized that I had moved on to a different level. Sometimes I miss those days on the road "when I was good," but it is hard work and often humbling.

Anatomy of a red sticker
by Kelly Borsheim, Cedar Creek, TX, USA

A red sticker on a price tag means that the item has sold. Letting people see that a work has sold adds to the feeling that they should act quickly if they want to buy your next piece of art. It effectively displays "the fish that got away" and helps people anticipate your next artwork. It is a way of saying, "Look, someone else liked this artist enough to buy" — people always want to be associated with success. A selling artist is perceived as a successful artist and human nature ensures that we take a great pleasure in acquiring "bragging rights," such as owning a piece of art from an artist who is "going places" or has gone (or was "somebody enough" to be written about in a newspaper or magazine). It may be part of the hype, but the best of it is not false. If you tell people you rarely sell (no matter what stage of your career, some will wonder what other people see as wrong with your art (that makes it un-sellable). Many people simply do not trust their own taste. Having someone else (other than the artist) tell them the work is good often gives them "permission to buy."
(RG note) Thanks, Kelly. This explanation was part of a letter that Kelly sent to another subscriber who needed to know about the reference to a red sticker. Apparently not everyone knows what red stickers are good for. I also realize that there is a small industry out there explaining things to others. For those who do, thank you, thank you, thank you.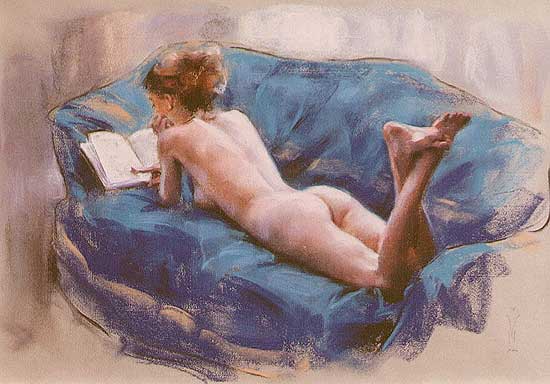 Blue couch
pastel drawing
by Miles Williams Mathis, Bruges, Belgium
You may be interested to know that artists from every state in the USA, every province in Canada, and at least 105 countries worldwide have visited these pages since January 1, 2005.
That includes Myrle who wrote, "Your letter caused me to remember Loreena McKennett's tales about busking and needing to get up at four a.m. to get the best spot."
And also Ann Rutherford Pass who wrote, "I borrowed one of the Highwaymen's 'come ons': "Madam, you have such excellent taste, you have picked the most expensive painting of the lot."
And also Cindy Revell who wrote, "I had just began taking oil painting classes for pleasure and had not yet finished my first painting when a relative came into my studio asking if he could have a painting to hang in his travel trailer because as he said, 'You must have tons of them laying around.'"
And also Merv Richardson who wrote, "I was painting on a rural roadway when a young boy sauntered up with his puppy and pet rooster. I showed him my sketch and he asked if he could see some of my other sketches. After a few minutes he looked up and said, 'Boy, you must have been all around the world.' "
And also Walt Evans who wrote, "Your site seems to be thousands of gifted souls who create small Valhallas of joy and style. Not only do they share their art, they share the wisdom of their hearts and beings."
And also Bill Abel, Falls Church, Virginia who wrote, "Trivia: Robert Lewis, one of the Highwaymen, was my 8th grade Art teacher at Roosevelt Middle School (Cocoa Beach) back in 1977-78. He got me painting acrylics and loving art."
And also Gretchen Little who wrote, "Oh for heaven's sake! You know what Red said first when I told her about doing art in the park? She thought we should do it because she saw a lady by the side of the road when she was coming back from West Virginia doing art on doors and selling it. That was just yesterday when we were talking about it."
No Featured Workshop
No Featured Workshop