Dear Artist,
There's a one-room education to be had in St. Petersburg. It's the room in the Russian Museum dedicated to the large (4 meter by 9 meter) oil on canvas Formal Session of the State Council, 7 May, 1901. It was painted by Ilya Repin and some of his pupils. The painting shows the Russian Tsar Nicholas II and 83 of his councillors and advisors. The room also includes a dozen or so of Repin's largish preparatory portraits.
The first thing you notice is that colour masses are flashed in with little or no preliminary drawing. Strokes are big-brushed and cursory with no fear of laying down full whites or blacks. Red sashes joyfully punctuate the rhythm. The rough canvas grounds are slightly grayed, sometimes scraped, and allowed to make their contribution. There's lots of suggestive impasto and defocused highlights in high-key areas. Rich grays and umbers abound. The golden glow of candelabra, epaulets and medals are convincing enough with yellow ochre. I couldn't see any cad yellows. There appears to be no use of bitumen or other problematic pigments — the paintings show no cracking (as in earlier Repins) and indeed look as if they were recently painted. A limited palette would have been enforced — all were reading from the same script. While likenesses are thought to be excellent, facial features such as ears and beards are handled broadly and without detail. It's difficult to tell the hand of the student from that of the master. There are not many areas where anybody got into trouble, and where they did (hands, inkwells, etc.) there is evidence of scrape-off and fast recovery — perhaps by Repin himself. The tendency to tighten up was resisted at all costs.
All is "in the style of Repin," which is not a bad thing, and the consistent light source (a soft overhead skylight) would have been a calculated factor in giving unity to a complexity that could easily have gone wonky. One gets the sense of a managed and controlled order of application where confidence, bravura and energy carried the day. Viewing from a distance presents the most convincing realism–a sense of space and happenstance. The combination of sketches and the finished work is a curatorial triumph. Anyone who knows of the toil that it takes to make things appear to be casual is left simply breathless.
Best regards,
Robert
PS: "Every age has its style, motifs, tunes and rhythms — its special sense of space and time. Here you access the spiritual riches accumulated by our predecessors." (Vladimir Gusev, Director of the Russian Museum)
Esoterica: There are over a thousand open rooms of art in St. Petersburg. The Hermitage alone has 300 rooms with more of its 2,700,000 items in storage. Thanks to early and enthusiastic patrons like Peter and Catherine the Great we have what is now the world's largest theme-park of historical art. Since Perestroika, many of the brilliant pre-revolutionary works have again appeared, while the more recent Soviet realism has replaced them in the basements. And so it goes.
Ilya Repin Paintings (1844 – 1930) 

Portrait studies
by Gail Konantz, Vancouver, BC, Canada

Ilya Repin is one of my favourite artists. It was my understanding that he did each individual study of the faces for The Formal Session of the State Council with his left hand because his right hand had atrophied. Those are small portraits that line the walls of the room containing the large one. I love the sense of aching nostalgia and languid romance in Russian painting.

Lighthearted master
by Misha V. Stefanuk, Atlanta, GA, USA

My favourite story about Repin comes from Vladimir Gilyarovsky's book Moscow and Moskovites. Repin was walking with Gilyarovsky at Moscow's humongous market place and ran into the fake painting signed as Repin. Repin asked for a brush (you would be wondering where that came from…) and wrote, "This is not Repin. Repin" on the painting. Which, Gilyarovsky says, was immediately offered for sale for significantly more money, since now it had original signature of the master. Surprisingly enough, the story shows the same lightheartedness of the great Russian master that yours does.

Paintings in public spaces
by Tom Disch, Barryville, NY, USA

I read your One room letter quite early after waking, and St. Petersburg at first registered as the St. Petes of Florida, and set me to wondering, first, how such a big painting had traveled so far, and then, what a great idea to have art rooms, in the thousands, open to the public in one city. I recently had a story appear in the Magazine of Fantasy and SF, called The Wall of America in which the entire US/Canadian border is given over to a wall where any artist is free to hang his paintings, as at some immense Renaissance Fair. It's always seemed a great shame that the huge backlog of paintings unsold but worth seeing should be tucked away in attics and basements — even the attics and basements of big museums. Having visitable "art rooms" scattered about a city is a great idea. The rich might dedicate some part of their mansions to that purpose and entail their heirs to allow the public entrance. Artists might do the same for their own oeuvres. Maybe some already do. There's a Zane Grey museum near where I live, but I've never seen any paintings in public spaces.

St. Petersburg treasures
by Leslie A. Miller, Framingham, MA, USA

I have visited St. Petersburg twice and managed to get to the Hermitage for not enough time, both times. Each visit I tried to view the National Museum. Friends had told me it was a treasure. Both times the Folk Arts were closed off and I was devastated, but this forced me to look at what was there. The Repin pictures, and more, were eye-opening. I rather liked them. The council scene is not my cup of tea, but in the room were not the few studies you mention but more than 3 walls full of preparatory sketches of the characters. These were small, rather romantic-style paintings, which brought memory of Delacroix's painting of Chopin, and larger full body sketches. The small studies grabbed me. I felt for them more than the large finished work. The other rooms also had wonders in store. Who knew?
I won't even go into my first trip to the Hermitage, a pilgrimage to the Rembrandts. This first trip was with a guide, who raced us past the portraits to a large religious scene and would not let us spend time with the portraits I so loved from books. Our whole time spent in that museum, that first trip was less than 45 minutes! Two of us broke ranks the next day and went back with a lovely college student and spent the whole day there and in other galleries. St. Petersburg would be a yearly visit for me, were not money in the equation.

Loose is not loosely painted
by Lori Simons, Merrimack, NH, USA

Spontaneous strokes look as if they were done in a flash — as though the entire painting took an hour, but often, that is not the case. I have the honor of painting with Richard Schmid and a small group of painters in Putney, Vermont on a regular basis, so I get to watch Richard paint on occasion. The thing that amazes me most is the time he takes to think and look between each brushstroke. Literally, a full minute could go by before he mixes paint and then puts on one brushstroke and leaves it alone. If he doesn't like that stroke, he scrapes it off immediately and reapplies it. There's never any "daubing." Richard often says that loose paintings don't mean they were painted "loosely". As one who is trying to loosen up myself, I realize that it is more difficult to pull off a good painted impression of a subject than to paint it realistically. With realism, I have a clear road-map which I fully understand. I am also not saying realism is easy — it's all difficult!
For the month of May, an exhibit of half a dozen of Richard Schmid's and Nancy Guzik's original paintings are on display at Village Arts of Putney (Vermont). Included in this exhibit are the works of Richard's Putney Painters. Open to the public on weekends. Richard will also give a talk and slide presentation at the end of the month.

Art of War gallery
by Paul Constable, Saskatoon, SK, Canada

In March 2003, at the beginning of the war in Iraq, we felt we had a responsibility to offer our web site to artists to post their artwork on war. The word on the street "why we should go to war" left many artists with mixed feelings on this effort and it seemed very troubling to them. Enough work was submitted that it justified creating an Art of War gallery. With each image posted, we allowed an area for artists to add their comment on war or on the art submitted. The gallery is still available for people to view from our home page.

Powerful soft bombs
by Carla Sanders, Hope, ME, USA

Regarding Bee Hylinski's letter on the fiber art Security Quilt, I absolutely love the soft bombs and the humor in the title. How wonderful that this work is so powerful that the Army Corps of Engineers, hosts of the exhibit, want it removed! The A.C.E. is troubled by knitting? Who would think knitting would be controversial? It is inspiring! Let us all make subversive art!
Beside my painting and sculpture, I am building a Peace Chamber on my land. It is a sacred space that holds a vibration of Peace. It will accommodate a few dozen people for chanting and praying. I envision it as an amazing sculpture, decorated with the artwork of many of my friends and neighbors.
There are many Peace Chambers throughout the world. One of my challenges has been to help people visualize peace in a compelling way. The images of war and violence are so very compelling. Lions and lambs and rainbows can't compete.
What inspires you all to make images of Peace… or not?

Art and Artists in war conditions
by Claire Bannerman, Santa Rosa Beach, FL, USA

I have lived in various war zones over the last 25 years and observed war from the offices of the U.S. Embassy not in military combat. Phnom Penh, Cambodia, Vientiane, Laos, Tehran, Iran (this revolution was called a "civil disturbance" by our State Dept.). Our tour in Nairobi, Kenya although beautiful and filled with safaris involved us in a "poverty war". Artists continue to paint the wildlife and skies no matter what the conditions are it seems.
In Tehran, hanging on the walls of the Contemporary Museum were a series of Warhol's silkscreens featuring the Empress of Iran, Farah Diba. I have often wondered what became of them — were they destroyed too along with the other debris of Western life?
Artists of all kinds struggle in these countries and many are able to get their goods to market. There is beauty in the cannon balls, the swords, the military uniforms, the hillsides in the battlefields. Cambodia was particularly brutal and our departure abrupt. Protecting art is a goal.

Smaller world
by Karen Phinney, Halifax, NS, Canada

The clickbacks are always interesting, but I was especially delighted by the in Crimea, referring to the winter temperature there, in response to your letter about the Crimean War. I was struck once again at the reach of the twice-weekly letter, and the feeling of "closeness" with all these other people, all these artists, out there. Wow. The world has indeed become smaller. How can we not see our interests have more in common than not, that we are far more alike in our humanity than different? We are all one, that's certain. I just wish we would all "get it," at least those in power who are so distracted with the differences, or in reality, their agenda which emphasizes those differences. I agree with Ernst Lurker who says we won't learn it in this lifetime. However, I remain hopeful. The Internet has brought the world much closer to us and has made it so easy to see our similar interests. Thanks for contributing to this positive use of the Internet.

Pretty cool stuff
by Mary Madsen, Henderson, NV, USA

In response to Bee Hylinski's question about the First Amendment, and when it should be applied to works of art, the answer is a resounding: Never! As disgusting as some people's expression is, their right to that expression is fundamental to the fiber of our country. Speak it, paint it, sing it, stage it, weave it, sculpt it, but just make sure you're ready to take the consequences, because the other guy has the same freedom of expression as you do, and he can say it to your face under the protection of the First Amendment. Pretty cool stuff.
Unfortunately, too often we call on our government, not to protect our sensibilities, but rather to enforce them on others. Whenever censorship is applied in any way, to any situation or expression, it is an act of the government telling us we're too stupid to think for ourselves, act for ourselves, or too weak and lazy to parent our own children. Personally, I think a cross in a toilet is an interesting expression of what I'd consider a Dark Night of the Soul. I'd pay the price of admission to stand in front of it and know I'm not alone in sometimes feeling horribly lost and abandoned by the gods, and how it feels as if my faith should go down the crapper, right along with the cruel and capricious events of life. That porcelain bowl will fill up again with pristine water, and I can start anew.

The know-nothing zones
by Mary Jo Sinner, Bismarck, ND, USA

What a fascinating, unexplored realm to explore — the absent-minded places our minds go! I love your verbal exploration of them, and think of the times that has happened to me… like driving somewhere, losing myself in thoughts so deep that when I come to, I wonder, where am I going? …then realize I missed a turn a half mile before. Or being in an involved telephone conversation while I have pen and paper in hand, and after I hang up, I see a small, ornate piece of artwork in front of me and wonder, where did that come from?
Best, though, is what happens in the cases you describe — going absent while doing artwork. One of the best drawings I've ever done was in the 1970s — a simple pencil of an old water pump. I started the drawing at maybe 11 p.m. or midnight, and for the next few hours was so absorbed — or absent? — in the work that when I finished at 3 a.m., I looked at it and caught myself wondering who drew it, for surely it wasn't me. I was almost in awe that I had drawn it. It's not all that great, but for me, at that time, it seemed to be. Perhaps it's due to the surreal world that comes alive in the middle of the night, who knows, but I recall feeling that some divine presence must have been there. Or could it have been the other way around? Perhaps that's when our minds reach out (or in) and touch the divine!

Canvas Choice
by Dale Ducillo, CT, USA

As a relative newby to painting, I have only painted on what I guess are "standard" store-bought canvases. I recently went to order some from a large art supply company and was overwhelmed by all the choices. So what's the difference? Why would I choose linen over cotton or vice versa? Russian over North American made? I primarily paint with acrylics and watercolours. I noticed that they now make watercolour canvases as well. Your thoughts on this would be appreciated.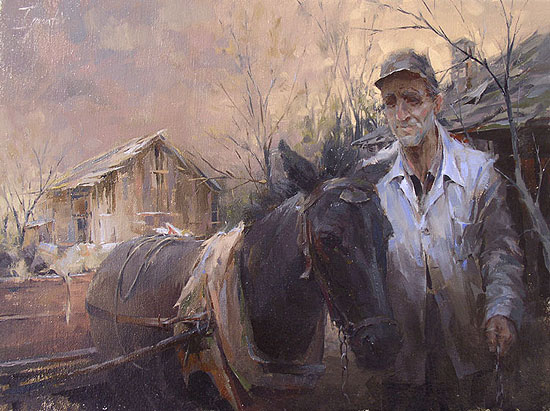 Peasant from Rodopite
oil painting
by Ignat Ignatov, Sevlievo, Bulgaria
You may be interested to know that artists from every state in the USA, every province in Canada, and at least 105 countries worldwide have visited these pages since January 1, 2005.
That includes Paul Kane, who wrote, "It's not just that toil allows the appearance of spontaneity. It allows the actuality of spontaneity."

No Featured Workshop
No Featured Workshop