Dear Artist,
Beneath a cloud of awareness that people are suffering because of COVID-19, artists remain buoyed by their studio lives, as a wider tidal wave of stay-at-homers turns to creativity in order to look after themselves and others. Art is a simple form of innovation that carries with it all the vital components of world-changing action. Consider the process of transformation and how art challenges convention in order to advance ideas, signifying and interpreting our human experience. While it soothes, baking bread is also offering answers.
My childhood friend, who is a nurse and midwife, told me about the turning-on-a-dime that healthcare professionals have implemented in a matter of weeks in order to care for their patients. For example, the minute Telehealth became truly essential, she said the industry found a way to make it happen, seemingly overnight. Turns out, it's also more efficient, more accessible for the elderly and disabled and even more profitable. "Wouldn't it be wonderful if this could occur in all areas where an urgency for innovation is needed in order to save us?" A mother of three, she said that education, for example, is perfect for disruption. "Pay attention to the places where you are not getting your needs met right now," she said to her kids. "You are the future architects of the transformation."
Psychologists Richard Tedeschi and Lawrence Calhoun, as part of their University of North Carolina, Charlotte, Post-traumatic Growth Research Group, have identified seven areas of growth that spring from adversity:
A greater appreciation of life
A greater appreciation and strengthening of close relationships
An increased sense of compassion and altruism
The identification of new possibilities or a purpose in life
A greater awareness and utilization of personal strengths
Enhanced spiritual development
Creative growth
Because our collective global challenge has shaken up the old system and made the status quo impossible, our equilibrium has been disrupted, forcing us to adopt new habits more readily — practices that have a good chance of being better than the old. The stuff, the protocols and the pace we've become accustomed to may not, in fact, be superior. "The Glimpse," as we've come to call it around here, has given us the gift of re-evaluation, not to mention evidence of a natural world waiting in the shadows to re-establish itself. By re-balancing our priorities, we can regenerate the environment and renew our lives.
Sincerely,
Sara
PS: "In some ways suffering ceases to be suffering at the moment it finds a meaning." (Viktor Frankl, Man's Search for Meaning)
Esoterica: Historians will no doubt report what happened to us in 2020, but artists will be the ones to tell us how it felt. As part of the 50th anniversary of Earth Day, artist Jenny Holzer unveiled on Wednesday a print project that revises one of her original Truisms, with proceeds supporting the conservation group Art for Acres and the World Health Organization's COVID-19 Solidarity Response Fund. "Artists are good at reflecting what's around," she says, "and this is a time for reflection and reflecting if there ever was one."
I wish each and every one of you well during this global health crisis and encourage you to flatten the curve by staying at home with your creative materials. I hope our Painter's Keys community can be a source of friendship and creative inspiration during this time and always.
In friendship, Sara 
Have you considered a Premium Artist Listing?  With each letter, an artist is featured at the bottom of this page. The Premium Artist Listings are a means of connecting artist subscribers through their work. Proceeds from each listing contribute to the production of The Painter's Keys. 
"When we are no longer able to change a situation, we are challenged to change ourselves." (Viktor Frankl)
Featured Workshop
August 14, 2020 to August 16, 2020
A 3 day Non-Objective Painting Workshop with Cat Tesla and Julie Schumer
in Santa Fe, New Mexico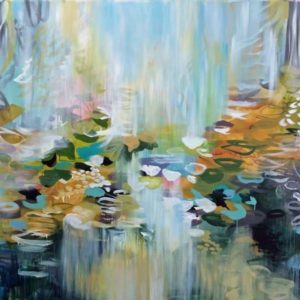 Explore and develop your personal voice in the inspirational environment of Santa Fe.   We will explore composition, color, value and how to work on multiples at the same time.  Find your own signature with different mark making tools and learn how your marks enliven your paintings.   Learn how to harmonize any palette, move from analysis paralysis to painting success and to trust your artistic choices. This intensive 3 day workshop is perfect for the beginning artist who has some experience using acrylic paint.
August 14, 15, and 16
9 am to 4:30 pm
$950  Bring a friend and save $50 each
https://artbycat.com/page/1-Workshops-Prints.html
Featured Artist
We live in a fractured world. Wars, famine and power games are forcing people to abandon their homes and their way of life in hopes of finding peace. For lack of education or specialized skills, the poor are not accepted into our northern communities. They stay in the camps on the borders of turmoil, separated from local community. Animals are caught in the crossfire. Even the trees and the rocks suffer the agony of imbalance. This chaos is evident in my work. In between the rivulets of paint and the textural accidents I choose colours and forms to suggest a landscape where beauty continues to reign. We can still change the tide and build a new world harmony. Certainly, contemporary will focuses on gold instead of beauty. Yet, beauty is essential to the wellbeing of the planet. She is essential to the survival of humanity.