Dear Artist, "Darwin was an idiot," wrote subscriber Daniel Ashbeck. "All of his ideas have been completely discredited." This was in response to the term "Creative Darwinism," which I had so casually tossed into the rich ooze of our subscriber list. Not being able to get Charles Darwin over for dinner, I was rereading him. It was no great leap of faith to think he had something to say about creative evolution. Before someone discloses my monkey ancestors, I'd better explain. You and your art need to combine into a distinct species — a different bird than all the others. This unique creature will be a product of nature and nurture both. Nature in the sense that the artist has some degree of innate talent — as well as a focused mind, curiosity and half-decent health. Nurture in the sense that the artist has gathered a range of techniques, processes, work habits, strategies and skills. This new hybrid may just be fit for the job and have a fighting chance of survival. In our case it begins at the easel. Further, survival doesn't waste time. To survive in your work you must go hard to work and aim to thrive in it. In the natural world, survival of the fittest has two main principles: One is natural selection, the other artificial selection. The first is where change happens more or less automatically by fortuitous accident, the second is where change is calculated and induced. In creative survival, the artist has to continually look around in his work for evidence of effective mutation. Mutants are those things we do in our work that defy the ordinary patterns of "ho hum" and "same old same old." They are often anti-academic. Divergence in style is easy to spot because it's different than everything else in the jungle. This divergent stuff tends to thrive in what biologists call an "ecological niche." Sound familiar? We all have the raw materials at hand. Not all of us are able to see how elements need to be assembled. Needed is an evolved understanding that is a step further than just making art. This epiphany is the very key to artistic survival. Best regards, Robert PS: "A man who dares to waste one hour of life has not discovered the value of life." (
Charles Darwin
) Esoterica: The jungle paths are miraculous and often difficult to follow. On some occasions new paths are gladly cut. Here's a five part survival guide that would certainly appeal to Charles, and perhaps even Daniel: Keep gathering. Go to your room. Produce a lot of work. Fall in love with your processes. Keep a keen eye open for something different, and then go, if only for a while, in that direction. Don't be afraid of change or surprise. "Surviving," said
Erica Jong
, "means being born over and over again." "God," said
Franz Kafka
, "gives us the nuts, but he does not crack them."
I did my best
by Rick Rotante, Tujunga, CA, USA Were I as wise as Erica Jong or Franz Kafka! Not to mention Darwin. Natural selection is a given for me. A "bird of a different feather" to quote natural selection, is another matter. To those who scoff Darwin and his theories, let's see you come up with a better plan! I believe that we have a certain amount of control over our destiny. After all, we have opposable thumbs, and brains that can reason and raise us to higher ideals. We can sit on our duff and bemoan our fate or we can get up and attempt to change it. You may not be born a genius but you can acquire sufficient skills to accomplish a great deal. History has shown us examples of this. I only hope that I can be content with the level of expertise I achieve over my life even if what I do doesn't move mountains or make news or get recorded in significant journals. Being able to say, at the end of the day, I did my best, is okay with me. As for natural selection, I guess I just made my selection.
There are 3 comments for
I did my best
by Rick Rotante
Intelligent design?
by Donald Cavin, Sutton, ON, Canada I must ask Mr. Ashbeck if "Intelligent Design" is responsible instead. If it is, then I fear I could go on almost indefinitely but intelligently. I trust, about how my experience and "evolution" as a painter have given me the tools to design what others have told me is a unique and powerful way of making art.
There are 2 comments for
Intelligent design?
by Donald Cavin
Survival by paper cutting
by Ursula Kirchner, Stuttgart, Germany I am now 80 years old and, being a German, you can imagine that we had a hard time during and after the war. I was glad to be allowed to finish school. After that I went to England (1950) to work as a maid in a London hospital, which was the best thing I could do. After that I had good friends in England. They even invited us to spend our holidays there with our three boys. I didn't have the opportunity to study fine arts, which I would have loved to do. Our house was bombed and I was the eldest of four children. There was no money. I have now been married for 57 years. But the first time of our married life was hard. We suffered from TBC. And we had a very small apartment and little room for the children. We had a family table on which everything took place. Dinner, my husband's studies and the homework of the children. I just had a chair for my work, which I could do without a table — paper cutting with a scissors. I had done this as a child, and I did it all my life. Of course, later on I also painted, which was fun. However I was average. But I am a successful paper cutter. At first, I used black paper. But now I am using all sorts of paper, photographs from newspapers or magazines, handwritten copybooks, flyers etc. I see images in these pictures and make cutouts. I also like to make paper from remnants of mats (passé-partout), which my husband cuts for me. I can use this for my newspaper cutouts. I put them on the wet tissue and press the water out between newspapers; this is something I taught children to do. They love it. It is my principle to use things I find. Thus I am quite successful. We have founded a guild of paper cutters in Stuttgart 15 years ago. We have about 350 members in Germany and other countries (USA, England, Netherlands, Russia, Poland, Switzerland, Italy). I am keeping contact with all of them, preferably with the American Guild of Paper-cutters. We were invited to take part in a collection in Asilomar, CA. They are wonderful friends now and I enjoy taking part in a monthly paper cutter's trade. We also like to have guests in our home in Stuttgart. Until last Sunday we had a very interesting Russian guest. I enjoy meeting people. We have an archive with heaps of books of paper cutters, and we have a good collection of old and new paper cuts. (Goethe used to say, "Collectors are happy people.")
There are 7 comments for
Survival by paper cutting
by Ursula Kirchner
Blind faith
by Ron Stacy, Victoria, BC, Canada The first thing that hit me when I opened your latest letter was Daniel Ashbeck calling Darwin an idiot, and asserting that all his ideas have been completely discredited. I was amazed at seeing this, and I wonder where he gets his information and why you give him credibility by giving him space in your letter. That's like giving Glen Beck a platform. (Notice that I didn't call Beck an idiot or assert that he's insane?) As Darwin himself said, "Ignorance more frequently begets confidence than does knowledge," and he wasn't completely certain that his ideas were the final word on the subject. I think the only people that completely discredit Darwin are those who have blind faith in Creationism, which has even less evidence to show validity. As Darwin also said, "We can allow satellites, planets, suns, universe, nay whole systems of universes, to be governed by laws, but the smallest insect, we wish to be created at once by special act."
There are 7 comments for
Blind faith
by Ron Stacy
Artists need marketing skills to survive
by Paul deMarrais, TN, USA While natural selection is simple and straightforward, marketing is not. Your technique might evolve into a unique style, but then this style must be sent into the marketing blender for analysis. There, it will be examined against a host of other factors which will determine its commercial potential. Artists used to avoid this perplexing field but now are wading in to attack this inexact science. We can no longer avoid marketing, no matter how well we have mastered the skills of painting. We can no longer simply pass on marketing concerns to a gallery, while we live in peace in our happy studios. This is inherent conflict in worrying about both painting and marketing. You can't remain a virgin while visiting the brothel. Survival stretches you in many ways. It's a good thing for artists. Survival induces greater production, guards you against narcissism and egomania, connects you to other humans and increases your skills in many unseen ways. One of the hardest things about being an artist is that you have to face criticism on a daily basis. Self-doubt is the far more dangerous adversary than the words of others. How well you manage your reactions to your own criticism and the critiques of other people will affect your ability to survive in the long run. We must become tough and sensitive, malleable yet principled, stubborn yet yielding. We must be able to accept these dueling parts of our nature, enjoy the ride, and reflect on the absurdities with humor and wisdom. There are no guarantees and most ideas found in systems like Darwin's are found to be at least partially flawed. Artists are like other people in that we seek perfection and so are doomed to failure. We must redefine success so we can achieve it! (RG note) Thanks, Paul. Many of the "artist survival guides" that are out there, and there are lots of them, deal with survival through marketing. I was trying to point out that in my view, genuine and permanent survival starts somewhere else. At the easel.
There are 3 comments for
Artists need marketing skills to survive
by Paul deMarrais
Dwindling confidence
by Lillian Tetreau, Pender Island, BC, Canada I've taken a two year hiatus from painting due to my mother's and my own poor health, as well as the arrival of my first grandchild. After participating in about 5 art shows a year, and immersing myself in producing and sharing art experiences as a member of several art clubs, I put away my brushes and shut the business. Occasional yearning to paint and pangs of guilt were ignored partly through necessity and frequently due to inconvenience. These past few months, I've reorganized my priorities renewing my commitment to art. Sales (never a good indicator of quality) have resumed, thankfully, but recapturing the ease and joy at the easel is painfully slow returning. The confidence I once had has dwindled and almost completely disappeared. My range of techniques, strategies, skills and work habits need to be deliberately rebuilt. How frustrating! Studying, viewing and producing art had been a joyful adventure since the age of 7 and continued throughout childrearing, my teaching career and supporting my family after a divorce. Perhaps the only positive way to view this setback is as an opportunity. Your videos are most encouraging. The struggle is humbling; instilling a greater empathy toward newcomers and crumbling the last shreds of arrogance regarding my innate talent. I trust the confidence will return. This time it will be hard earned and not taken for granted. In the meantime, I work, and enjoy the evolving magic and beauty of art in the making watching you at work.
There is 1 comment for
Dwindling confidence
by Lillian Tetreau
Destructive comment?
by Neil Taylor Daniel Ashbeck's comments are pure hit-and-run Troll. Toss a piece of destructive comment with no backup and run away from the consequences. Even a vague familiarity with the facts will show that Darwin was far from an "idiot" and that his conclusions from pure scientific process have a rational inevitability that can only be shaken by the blindness of faith. Personally I prefer my observed reality to form my faith rather than vice-versa — that's what being a landscape painter does for you. (RG note) Thanks, Neil. I have to say contentious input like Daniel's can be valuable. It gives us a chance to get into the mindset of others and is often a springboard for further thinking. FYI, here is Daniel's letter in its entirety: Daniel Ashbeck (dja_jma@charter.net) Robert-Uhh, huh? "Like it or not, we are all small actors on the great stage of Creative Darwinism." Uhhhh, huh? What is that? Creative Darwinism? Capital C & D even? What is this, a new religion? Darwin was an idiot, and
all
of his ideas have been
completely
discredited with the invention of the electron microscope and DNA. Get with it man! Creative Darwinism? Creative Ignorance? Darwin was just a bit actor on the stage of life that's been overshadowed by modern inventions — why do people still cling to him?
There is 1 comment for
Destructive comment?
by Neil Taylor
Be ready to soar
by Ayanna U'Dongo, Oakland, CA, USA You paint with pigment, I paint with electronic signals. As a struggling video artist who has been "dwelling-challenged" for the last three and a half years and unemployed for the last year, I have been living the law of fitness to survive. I've lost everything I acquired and had to learn start over from a place of appreciation and not anxiety. I've learned how to reach out and ask for help in many forms — friends, family, governmental and social community groups. For an independent, strong-willed woman this has been a tremendous feat. There were days I was ready to throw in the towel, give up art and just hang on and survive life. It has been 10 years since I've been able to make serious video art, but I never stopped calling myself a video artist. Recently, the universe gave me a gift and I knew that I couldn't give up. I was able to acquire a video camera (8mm), tripod and high quality headphones from the same Goodwill store within a ten day period, all for under $30.00 (thirty dollars)! The creative flow has returned and I am making some amazing imagery with this quirky little camera. I'm happy again. I'm just saying this to thank you and to keep others uplifted, encouraged and in survival mode; and most of all to tell anyone aspiring toward a dream to never, never, never give up. It will come in its time and in the most unexpected ways. Be patient, keep creating and be ready to soar.
There are 2 comments for
Be ready to soar
by Ayanna U'Dongo
Jiffy trouble
by Colin Bell, Calgary, AB, Canada Yesterday, I sketched in a composition on the canvas with a felt pen. Lovely gestural stuff. Today, when the acrylic was drying, I noticed my felt pen lines coming through the paint. I realized I should have used some sort of clear sealer on the sketch prior to painting. Is there a sealer I can apply at this stage, or should I abandon ship? (RG note) Thanks, Colin. First, I don't trust any of those Sharpies, Jiffy-markers or other felt pens on the front side of my work. Second, I don't know any guaranteed sealer. Stuff happens. This is one of the most frequently asked questions. There's hardly a painter I know who hasn't played with laying down a drawing with a felt pen, and I agree, it feels lovely. But two coats of acrylic medium will not prevent it from creeping. Further, while it creeps at the beginning, give it a little time and some sunshine, and it will disappear. "Permanent markers" are notably not permanent, and in my experience, even water-based felt pen inks can be fugitive. On a few misguided occasions I've hurriedly signed a going-out-the-door painting with a felt pen, only to have it come back a few years later with no signature. Bad. That's just between you and me, okay? Best to lay in your drawing with the same media you are going to end up with. An oil or acrylic drawing on canvas to start with can be pretty nice. A big sumi brush fully loaded can get you some great gestural thick-and-thins. Ordinary brights or flats make excellent sketchers as well. That being said, there's always charcoal or other dry media. For certain types of work a dry line can be attractive. Norman Rockwell used a Conte crayon or Conte pencil, which left a nice granulated edge. He held with varnish and finished in oils. Nowadays, spray cans are handy, but often toxic.
There is 1 comment for
Jiffy trouble
by Colin Bell
Archived Comments
Enjoy the past comments below for Survival of the fittest…
Featured Workshop: Scott Burdick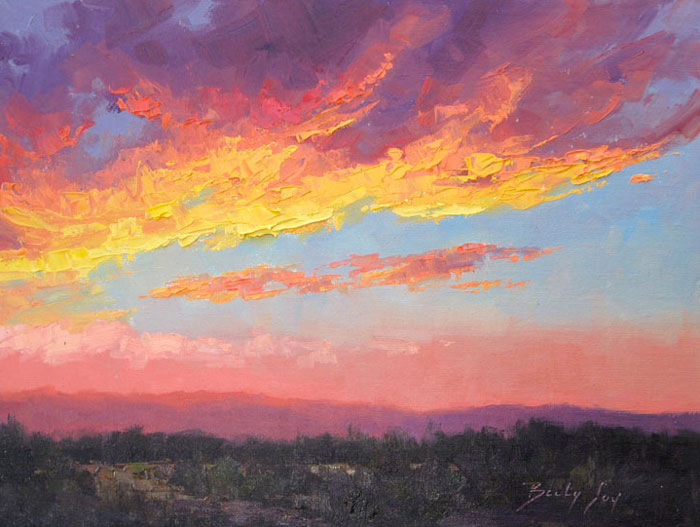 Last light
oil painting, 11 x 14 inches by Becky Joy, Phoenix, AZ, USA
You may be interested to know that artists from every state in the USA, every province in Canada, and at least 115 countries worldwide have visited these pages since January 1, 2013. That includes Gail Shepley who wrote, "I was watching 'the Dr.'s' show on the television. (I am always gleaning health tips.) However, they were saying that creativity may be a mental disorder…hmmm, smart crazies?" And also Beth Pollock of Harrisville, NH, USA, who wrote, "I love these twice-weekly letters and the excellent input from others. Lots to learn, new techniques etc. and I couldn't agree with you more on the evolution of the combined innate talent as well as accumulated skills.