Dear Artist,
In ceramics, there is always the kiln. Half-baked and half-made, the objects enter the kiln in slips of brown and grey. Later, after the Gods of Fire have had their way, they emerge ultramarine, ruby, golden. They appear as a miracle, seemingly unbidden, like some sort of magic or alchemy. "There is nothing in a caterpillar," said Buckminster Fuller, "that tells you it's going to be a butterfly."
Most art goes through such a transformation. Even a symphony lies flat on the plainest of pages until it is sent out onto the air by an orchestra. On the other hand, unless we plan for it, a lot of visual art doesn't benefit from this sort of process. The painter, in one sitting or ten, may merely unfold a vision without the crucible of becoming. Creative failure and visual boredom are the frequent result. For visual artists, directing the torch of our imagination is our main art. Art happens when alchemy is found. One, two and multi-step systems modify reality and create what has come to be called "style." Art without style is yesterday's laundry. Here's how to direct (or redirect) the torch:
You need to see your art as a state of becoming. Vigilance and attentive observation during work-in-progress provides the opportunity. The process takes place with individual works, and over a lifetime of trial and error. We are the clever inventors of ourselves. Opportunities include nuances, conscious and unconscious mannerisms, evidence of unexplainable magic, flinty zips and happenstance gradations, strokes, splodges, slubs, bumps, bubbles and colour changelings. They may be gentle or violent. They may be planned or accidental. They may be lines or they may be patterns. They can be fat or lean, thick or thin. You need to look out for elements that change in front of your eyes, things that become something other than that which they just were. The artist lives by awaiting these events; and they are expected. "Becoming," said Paul Klee, "is superior to being."
Best regards,
Robert
PS: "The labor of the alchemists, who were called artists in their day, is a befitting comparison for a deliberate change of style." (William Butler Yeats)
Esoterica: Last summer I was out and about painting in my '26 Austin "Chummy." On the way home I had the dogs in the back seat and a half-finished painting blew out from beside me. Still wet, I saw it miraculously land face up. My joy was immediately diminished when somebody's motor home ran over it. Going back to get it, I realized my ordinary sketch now had cubist tendencies. After replacing a smashed stretcher, I decided to keep it more or less as it was.
This letter was originally published as "The art of becoming" on February 16, 2010.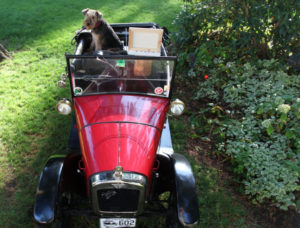 Have you considered a Premium Artist Listing?  With each letter, an artist is featured at the bottom of this page. The Premium Artist Listings are a means of connecting artist subscribers through their work. Proceeds from each listing contribute to the production of The Painter's Keys. 
"I see painting as an evocative magic, and there must always be a random factor in magic, one which must be constantly changed and renewed." (William S. Burroughs)
No Featured Workshop
Featured Artist
I am a painter. I am delighted to be a painter.