Dear Artist,
A recent study has determined that status-quo bias – the type of cognitive bias that keeps people preferring that things stay the same so as to reduce uncertainty – makes it harder to encourage or even recognize creativity. The conundrum, say scholars, is that it's during times of uncertainty that we most need creative solutions. Dr. Jack Goncalo, professor of business at the University of Illinois at Urbana-Champaign has spent a decade studying implicit bias – our pre-reflective attributions of values and qualities – and its effect on our appreciation of imagination, inventiveness and problem-solving. According to Dr. Goncalo and his colleagues, thinking about God, an example of implicit bias, can activate a mindset of passive followership, which "inhibits the creativity of believers."
The irony is that regardless of where we sit on the believer scale, what we say we think about creativity, and how we really feel about it are not the same. "We have an implicit belief the status quo is safe," says researcher Jennifer Mueller, professor of management at the University of San Diego. She surveyed groups to get a baseline on their explicit thoughts on creativity. Then, tapped into their subconscious feelings with an implicit association test. This test placed words attributed to creativity (and its opposites) next to positive and negative words. Turns out, we're all a bit hard-wired to be threatened by new ideas, even if we say we want them. It's why established organizations struggle to adapt to change. "Novel ideas have almost no upside for a middle manager — almost none," says Dr. Mueller. "The goal of a middle manager is meeting metrics of an existing paradigm."
I've noticed in art – at least when witnessing audiences discover it, and in discovering it myself – that wonder blossoms from experiencing a magic something that straddles what is simultaneously new and deeply familiar. As human beings, we live in a language of connection and context. In art, we look for threads, and insert ourselves in its narratives and meaning. What we recognize has value to us – it's why the composer gives us an overture – a taste of themes and motifs to come – before laying on us, the symphony. It's why in advertising, frequency and reach are the insidious Trojan horses of compliance and consumerism. It's why all but the most dare-devil collector must often experience your work in three or four different contexts – online, in a magazine review at the doctor's office, in a gallery show, in a friend's dining room at a dinner party – before they're convinced to bite the bullet. It's why we're chronically yoked to a pernicious implicit bias against the foreign; our tribalism siloing us into cultural cannons, writing histories that mirror our own unthreatening reflections.
Sincerely,
Sara
PS: "People actually have strong associations between the concept of creativity and other negative associations like vomit and poison." (Jack Goncalo, professor of business at the University of Illinois at Urbana-Champaign)
Esoterica: If your duty as a creative person were not challenging enough as a venture in uncertainty, know now that you are also wing-walking against your own personal implicit bias towards the familiar, plus the world at large's hard-wired aversion to your presentation of the unknown. There is a reason why almost everything created today is considered, in some way, simply derivative. It is not just that there is so much to draw from and be inspired by. We are fighting against, and working within the irresistible attraction to our own aesthetic histories. But we are also all part of a collective inquiry into the mysteries of being alive. I consider myself and my explorations, — a grain of sand in an ocean floor of human wonder and curiosity. I also release myself from the fool's errand of the slog of chasing novelty. Novelty for its own sake is a distraction from the pursuit of a connected human wonder. "The basic project of art is always to make the world whole and comprehensible," wrote Robert Hughes in his 1980 overview of Modern Art, The Shock of the New. "To restore it to us in all its glory and its occasional nastiness, not through argument but through feeling, and then to close the gap between you and everything that is not you, and in this way pass from feeling to meaning."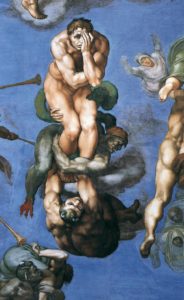 Have you considered a Premium Artist Listing?  With each letter, an artist is featured at the bottom of this page. The Premium Artist Listings are a means of connecting artist subscribers through their work. Proceeds from each listing contribute to the production of The Painter's Keys. 
"[Art is] not something that committees can do. It's not a task achieved by groups or by movements. It's done by individuals, each person mediating in some way between a sense of history and an experience of the world." (Robert Hughes)
Featured Workshop
June 27, 2022 to June 30, 2022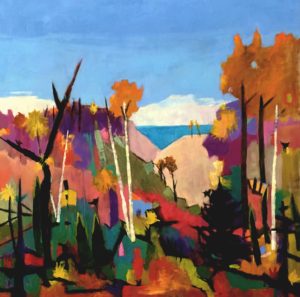 Permission to Paint Expressively Series   Session 1     
June 27-30, 2022
Join Ellie Harold for "Expressive Painting: Color from the Inside Out."  Do you struggle with color? For chromophobics or anyone who would like greater freedom in their use of color, this workshop focuses on activating and applying your innate color sense. Content, process and lightly structured exercises allow you access to a wider range of color expression in the safe space of Ellie's studio, located only 3 blocks from Lake Michigan near Sleeping Bear Dunes. "Expressive Painting: Color from the Inside Out" has the potential to transform not only your art but your life! Details and registration at www.EllieHarold.com.
Featured Artist
As I examine my subject, I pull the colors out and reduce the lines. I take from the most interesting areas, placing sections into a cohesive composition of lines and areas of visual interest. I am currently working on a tree bark series examining the details of diseased areas, breaks, patterns, and scars. My goal is to create an interpretation of the way I respond emotionally to my subjects through the use of color and line. The tree bark series is an autobiographical metaphor to express the experience of childhood abuse, recovery, and victory.