Dear Artist,
This is a risky, time-consuming maneuver that involves pulling out a bunch of staples with the dream that I can do it again, only incrementally better. I used to beat myself up for this neurosis, thinking of it as a kind of character flaw manifested as perfectionism or a sisyphean make-work project to tamp down a galloping imposter syndrome. After years of this merry-go-round, I recently noticed that a painter I admire — one who seems, from a distance, to have it all together — repaints almost everything he makes. In fact, the other day, he posted a perfectly excellent example of his work and teased with the blurb, "thinking of repainting this, unless you tell me not to." Was this senior artist really taunting his followers about whether to repaint his latest?
Years ago, while fine-tuning a series of somewhat messy but organized colourfield paintings, I cultivated a little system that I'd appreciate if we kept just between us. The One-Percent Gambit, or T.O.P.G involves stepping into your studio each day with the idea that you will improve the quality of your work by just one percent. One percent better idea, one percent more original, one percent deeper vibe, one percent stronger drawing, one percent more authentic, one percent tighter corner stretching, one percent more graphically sound, one percent more luminescent colour, one percent neater edges, one percent crazier vibration, one percent more poetic title, one percent greater totemic power, one percent more ineffable magic. I worked on The Gambit for many months, until one day, a collector whom I surmised to be of some consequence climbed the five flights of stairs to my West Village studio, stood at the foot of my bed and told me that, in her opinion, my work was of "museum quality." I gave T.O.P.G the night off, and picked it up again the following morning.
These days, T.O.P.G. still rages in the form of staple removing and enough cross-examination to contort any person's working eyeballs. Still, there's something perversely satisfying about The Gambit. Day after day, hour after hour, the studio is a place where the pursuit of my own standard of excellence retreats coyly into the distance like a desert moonrise. I see it, and as I get closer, it ripples out there like a glowing and mysterious beacon. While I chase it, I get better, one percent at a time.
Sincerely,
Sara
PS: "Quality is never an accident; it is always the result of intelligent effort." (John Ruskin)
Esoterica: As a person who well and truly removes staples for a living, I now, after almost three decades, have some authority with regards to T.O.P.G. It started in the early days, when my Dad told me that I should be able to look at my paintings and know if they're creating the magic I need them to. "Does it sing?" he'd ask. "When it doesn't quite make it," he said, "it's up to you to be the master and definer of the quality of your work. Quality," he said, "is always in style."
Have you considered a Premium Artist Listing?  With each letter, an artist is featured at the bottom of this page. The Premium Artist Listings are a means of connecting artist subscribers through their work. Proceeds from each listing contribute to the production of The Painter's Keys. 
"I look at my paintings for a very long time before letting them out of my studio. I like to get on the treadmill and look around at all of my paintings while I exercise. I try to stare them down to make them reveal their weaknesses. If they reveal weaknesses, they get repainted." (Sean Scully)
Featured Workshop
January 23, 2022 to January 30, 2022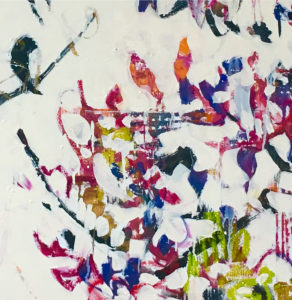 Join Ellie Harold for "Intuitive Painting: Permission to Paint Expressively," designed especially for mature women artists of all skill levels who wish to explore this medium for soulful exploration. The retreat provides attractive accommodations (your own room!) along with lightly structured activities for centering, relaxation and low stress art-making. You'll have plenty of free time to muse, paint, write and reflect while enjoying the colors, textures and flavors of San Miguel. This Retreat has the potential to transform not only your art but your life! You'll return home with a specific art "care plan" to assure support for further creating. Details at www.EllieHarold.com.
Featured Artist
I am inspired by the drama of light as it moves along forms, the rhythms and nuances of shapes, and the colours that change from subtle to vivid at any give moment. My expressive compositions, in oils, acrylics or watercolours, are a contemplative and heartfelt response to my experiences, representing the "visual music" I feel. Each brush-stroke is like a colour note or chord playing out the scene offering a connection with the viewer through dynamic movements and vibrant colour.