Dear Artist,
Something I've learned from the sending and receiving of letters is the defiant individuality and uniqueness of creative people. Beginners and seasoned professionals: each and every one of us is a sovereign unit. Intuitively, we tend to guard against unwanted influences, and yet we are curious about others in the sisterhood and brotherhood. I flatter myself to think this is why this letter has found its niche. It gives, I think, a glimmer of insight and yet preserves anonymity and the privacy of each of our chosen paths.
This morning I was conscious again of doing something wrong, something that my better judgment has told me before not to do. It had to do with going into the higher tones early in the rendering of a face — but that's not the point. "A poor thing, but my own," I said to myself. When I looked at it on the secondary easel it began to have a resonance that I liked. "Damn it," I said, "It looks okay, and it looks like it's mine." I claimed that methodology for myself. I even gave it a secret name. Academically it was off the mark. Inconsequential as it all might seem to an outsider, this is the sort of epiphany I think we are all looking for. It's what makes us happy. It sets us apart. It gives us that shot of uniqueness which we call style.
Our gardener came into the studio to get the extension cord for the weed-eater. He is a man of few words. "That's different," he said, looking at the same thing I was looking at. I had a little flush of joy.
Best regards,
Robert
PS: "My wish is that we might progressively lose confidence in what we believe and the things we consider stable and secure, in order to remind ourselves of the infinite number of things still waiting to be discovered." (Antoni Tapies)
Esoterica: Isolation. I've often thought about an artist I met high in the Peruvian Andes – a chap from Illinois who called himself "Cosmos." He didn't communicate with anyone in the outside world. He told me he was "doing the most important art being done in the world right now."
This letter was originally published as "Uniqueness" on August 8, 2000.
[fbcomments url="http://clicks.robertgenn.com/uniqueness.php"]
Featured Workshop: Mel Stabin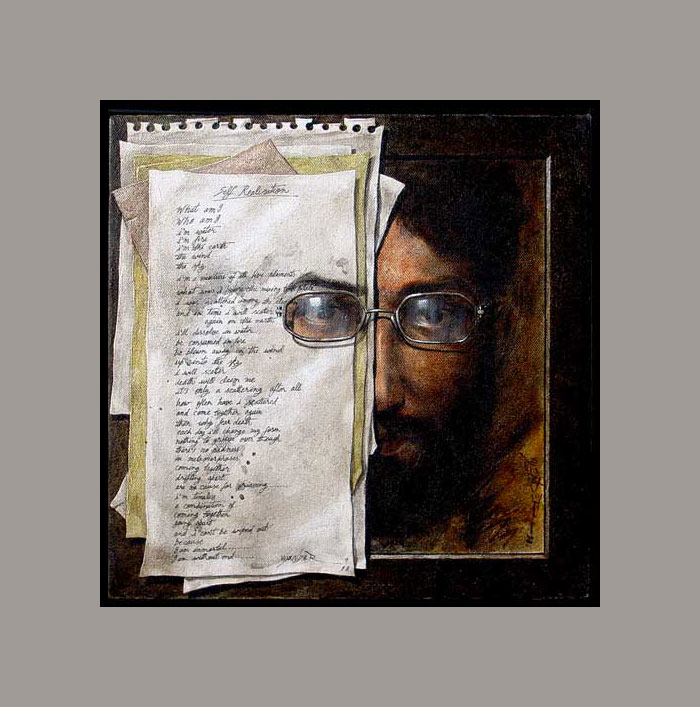 Self-Portrait
oil on canvas, 12 x 12 inches
by Vijender Sharma, India
You may be interested to know that artists from every state in the USA, every province in Canada, and at least 115 countries worldwide have visited these pages since January 1, 2013.