Dear Artist,
A new friend recently invited me to her weekly Melbourne life-drawing group — "Roar Draw" — (antipodean-pronounced "raw draw.") "I'm so excited," she said. "One minute and two minute poses, and I love to use my left hand. I can literally feel the divide between my right and left hemispheres dissolving away." A previous incarnation as a bank executive is dissolving for her, too — replaced by a spreading smile of wonder.
And so, right-handed Carin Lavery peels off miracles with her left hand — her temporary handicap a secret source of virtuosity. A fistful of charcoal, some butcher paper, a group of fellow travellers. Set the timer, prepare for joy. When asked why he sometimes wrote within the confines of iambic pentameter, Robert Frost replied, "I play better tennis because the court is there.""The beginner's humility and openness lead to exploration," wrote Julia Cameron. "Exploration leads to accomplishment."
The beginner's joy leads to exhilaration. What keeps us exploring is the marvel of discovery — we find out who we are. We escape from a life lacking in surprises by creating new courts — even temporary ones. Accomplishments are an unexpected bonus.On the other side of the planet in North Ogden, Utah, an artist dreams. Holly Fuller recently took part in "Mystery Build." A box with unknown contents is mailed to the recipient. When it arrives, the goal is to build something with only what's inside. The contest is open to anyone, and there's a theme and time limit. "If you dream the proper dreams," said Ray Bradbury, "and share the myths with people, they will want to grow up to be like you.""The very essence of playfulness is an openness to anything that may happen," said John Cleese. "The feeling that whatever happens, it's okay. You're either free to play, or you're not." American poet Mary Oliver wrote, "Someone I loved once gave me a box full of darkness. It took me years to understand that this, too, was a gift."
Sincerely,
Sara
PS: "I tell you, we are here on earth to fart around, and don't let anybody tell you different." (Kurt Vonnegut, Jr. )
"Let the breeze wash over you Let the sun do its work Let your eyes feast on the beauty Let the pain subside Let your friends envelope you Let your laughter out Let your lightness come and shine Let your beauty show Let yourself be content Let this time heal your wounds Let it happen Let it go." (Carin Lavery)
Esoterica: Besides being an artist, Holly Fuller has raised three children, teaches art at the local senior centre and volunteers at the North Ogden Historical Museum. She keeps a small studio downtown and hangs out with her husband, five cats and one "goofy" dog. Alongside the serious judging at "Mystery Build," anyone can vote for the People's Choice. See Holly's submission video here.
The Dream of Being an Artist by Holly Fuller
Holly Fuller's 'Mystery Build' submission is described as 'creating a moment in Robert Genn's life' and includes Airedale Dorothy, the 1926 Austin Chummy and Robert's painting Hollyhocks at Hollyhock II, Cortes Island. You can see a video of Holly's creation here and cast a vote for People's Choice here. Holly's entry number is 157.
[fbcomments url="http://clicks.robertgenn.com/in-the-box.php"]

Featured Workshop: Aline Ordman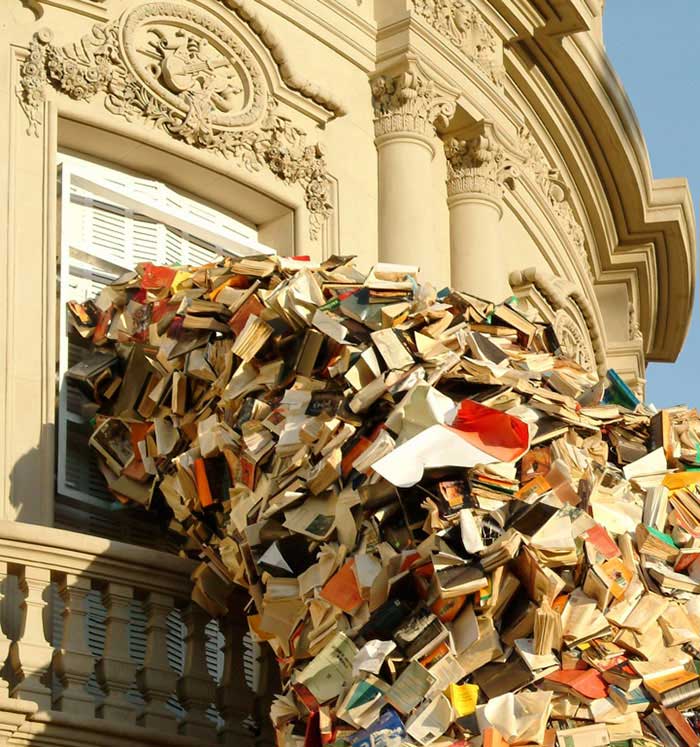 Biografias (Biographies)
sculptural installation art
by Alicia Martin, Spain
You may be interested to know that artists from every state in the USA, every province in Canada, and at least 115 countries worldwide have visited these pages since January 1, 2013.
No Featured Workshop
No Featured Workshop