Dear Artist,
Over the past months there have been a few letters from artists with remarks about the situation in the Middle East. My first instinct was to leave the political stuff out of these letters and our Painter's Keys service. As you may have noticed we have published a few and then gathered representative letters and published them into two separate response sections. If we include "one liners" there were about 20 who were "pro-war" and 300 who were "anti-war." In another 10 it was difficult to tell. The heartfelt anguish of artists has brought both eloquence and rancor to our pages. The percentages are interesting.
On this dawn of another war most artists of our community are against it. Our "anti-wars" are higher than in international polls. Despite the silent majority, it looks to me as if many artists see war as a failure of creativity. As well as honouring beauty and goodness, art is a process that thrives in times of peace. Peace and the wish for it are in the hearts of artists. In spite of elements of shock, ugliness and deconstruction that are currently evident in some art, creativity is generally a builder. Creativity does not normally destroy or kill. Furthermore, creativity implies dialogue. Mankind enters a wasteland when dialogue breaks down. Dialogue is reduced to rhetoric and posturing. Simplistic "good and evil" visions get promoted. Both sides claim God to be on their side. But artists have an eye for truth. I believe that the nature of our work and our creative philosophies give some of us a kind of historical perspective. What's disappointing to many is hearing "the same old stuff."
One of the more striking letters that we included in our responses was entitled "Art knows." It described the recent cover-up of Picasso's Guernica, in the foyer of the U.N. when Colin Powell was to go on camera. The painting depicts the horrific results of the Nazi bombing of a Spanish town during the Spanish Civil War. "Not appropriate," was the reason given. There were instances of similar cover-ups, silencing of poets, denials of the freedom of information. But there, under that shroud, lost to sight, was everything that we artists honour. To let our great and our humble speak. To be seen. To make our contribution. That day, and others, there was a realization of another type of death. We do not like that. Art knows.
Best regards,
Robert
PS:"Nothing beside remains. Round the decay
Of that colossal wreck, boundless and bare,
The lone and level sands stretch far away."
(Ozymandias, King of Kings, by P.B. Shelley)
Esoterica: Artists are reporting distraction and lack of concentration. Some are stuck on the tube. These are sad times. We have a number of war letters in reserve — both pro and con. If you would care to add your voice, please do.
This letter was originally published as "Artists' Requiem" on March 21, 2003.
(SG note) There were many reader responses to the original letter. (In 2003, when this letter was first written, the collective sharing of opinions and also the spreading of misinformation on social media was in its infancy — it would be another year before Facebook was launched, in 2004.) Of the responses my Dad received, he wrote, "My studio assistant Carol Ann Prokop worked practically all day on Friday assembling the material seen here. My sincere apologies if your correspondence was left out. Part of the reason for this is that when ideas are similarly expressed we often take an earlier correspondence. All letters are carefully archived. In no way were anonymous letters discriminated against. Some letters, I'm afraid, were hugely long, and had to be cut down. Thanks for writing."  You can read your 2003 responses to war, here.
Guernica
by Glen/Pam Knowles
Guernica, 1937, 12′ x 25′ ft. is considered one of Picasso's greatest paintings, and one of the most important paintings of the 20th Century. It was originally commissioned for the wall of the (Republican) Spanish Republic's Pavilion at the Paris World Fair. As Picasso was considering various themes, Franco's planes, displaying German swastikas, wiped out the Basque town of Guernica and over 2000 people died. Spurred to action, Picasso completed the project in two months. The terror and fear of these abstract symbols are among the most dramatic ever created by Picasso. Several years after the work was painted, a Nazi general was visiting Picasso's studio and noticed a sketch for Guernica on his wall. The general remarked, "Oh! So you are the one who did that!" Picasso shot back, "No, you are." 
Have you considered a Premium Artist Listing?  With each letter, an artist is featured at the bottom of this page. The Premium Artist Listings are a means of connecting artist subscribers through their work. Proceeds from each listing contribute to the production of The Painter's Keys. 
Featured Workshop
June 27, 2022 to June 30, 2022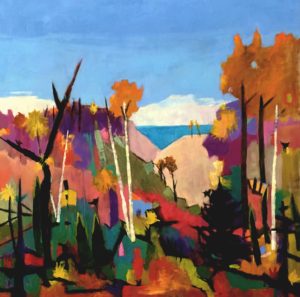 Permission to Paint Expressively Series   Session 1     
June 27-30, 2022
Join Ellie Harold for "Expressive Painting: Color from the Inside Out."  Do you struggle with color? For chromophobics or anyone who would like greater freedom in their use of color, this workshop focuses on activating and applying your innate color sense. Content, process and lightly structured exercises allow you access to a wider range of color expression in the safe space of Ellie's studio, located only 3 blocks from Lake Michigan near Sleeping Bear Dunes. "Expressive Painting: Color from the Inside Out" has the potential to transform not only your art but your life! Details and registration at www.EllieHarold.com.
Featured Artist
Coming late to the wonderful life of an artist, Art found me through great instruction from Nancy Lynne Hughes,  and extending workshops from such International figures as Jean Pedersen, Frank Moir,  Mike Svob and Gerald Brommer. Each of these fine artists have left their stamp on my work for which I am eternally grateful.
There are two elements in my  artistic development that contribute to my work daily:
–   I fell in love with water medium early,  and will continue to learn from it for as long as I paint. No one really masters watercolour; it remains a thing apart, and therein lies its beauty.
–   About six years into painting, I discovered alternative watercolour surfaces (canvas, board and collage), with the result that I rarely paint on paper any more. Each surface presents different challenges and different rewards, and I find myself shifting from one to another according to the mood and subject of each piece.