Dear Artist,
When Paul McCartney was a boy, his Dad's big catchphrase was, "Do It Now." "You know, you would sort of say, "No, well, I'll do it later", wrote Paul. "And he would say, 'No, do it now.'" He called it 'DIN'. "That was just his particular little catchphrase."
Here's an idea. Apply a system whereby for a period of, say, a week, every time you have a creative idea, no matter how small or ambitious, dumb, impractical or off-course, prioritize it immediately and make some physical something that honours it. Change your values, if only temporarily, regarding what is actually urgent. I mean, do it now. I woke up recently after having dreamt clearly of a painting I had not yet made. Without the usual planning, choring, contemplation or attempts at bettering it, I instead rose from bed, went to my studio and painted it. I can personally verify that this system can work wonders for a funk, creative anxiety and other doldrums. It can also advance an entire practice. DIN is a shortcut to reassuring us, in the ineffable way that making something can, of the value of motion.
And while it is not necessary to try to exhibit or monetize this creative system by Making a Delivery (my own Dad's tried-and-true catchphrase), when I sent my DIN to my gallery, my dealer asked me how she might pitch it to a prospective client. "I dreamt it," I said. It almost felt silly – after 30 years of intellectual justifications, to reply in such a way. She sold the painting, which was a feat, because it was a new idea, and it was large and unwieldy. I asked myself what it could all mean; for something to be so simple and straightforward, in a process I had always been convinced to be anything but.
Do It Now challenges not just our impulses to delay and procrastinate, but also why we do so. Perhaps we believe that our ideas need to be worthy of executing; that some steps must be taken before the wonderful thing gets to exist. I re-evaluated how I determined the worthiness of my ideas and my own output altogether; how difficult things needed to be and how I earn the joy of the actual activity of painting. "If you do not act on a suggestion at first," wrote Robert Henri, "you grow dull to its message." When forced to face the power and effectiveness of DIN, self-sabotaging habits become a little harder to ignore. Perhaps time and experience, a great collaborator, flow and other magic elements were also on my side that day. But still, even when in the river rapids, where work and ideas rush in the downstream, there is an ocean of creative plenty, ever closer, in doing it now. "A writer who waits for ideal conditions under which to work," wrote E. B. White, "will die without putting a word to paper."
Sincerely,
Sara
PS: "The shortest answer is doing the thing." (Ernest Hemingway)
Esoterica: By doing it now, you risk creating immediately, more beauty, more communication, helping someone, and nourishing others and yourself. In 2018, after hundreds of songs, Paul finally wrote one about the early instruction that informed one of the most important and impactful creative lives in history – his. "This has always been in my mind, this 'Do it now' thing," he said. "I'm on a journey, I've been invited to go somewhere, so if I'm going in my imagination somewhere, and the idea is that if I don't do it now, I may never get to this place. Basically it's a song, an imaginary journey suggested by the fact that my Dad would have said, "Go on that journey now, don't leave it till it's too late."
"Got the time, the inclination
I have answered your invitation
I'll be leaving in the morning
Watch me go
I don't know where the wind is blowing
Got directions to where I'm going
Nothing's certain
That's the only thing I know

Do it now, do it now
While the vision is clear
Do it now
While the feeling is here
If you leave it too late
It could all disappear
Do it now
While your vision is clear

I don't regret the steps I'm taking
The decision that I'm making
Is the right one
Or I'm never gonna know
Got the time, the inclination
I have answered your invitation
I'll be leaving in the morning
Watch me go

So do it now, do it now
While your vision is clear
Do it now
While the feeling is here
If you leave it too late
It could all disappear
So do it now
While your vision is clear" (Paul McCartney, Do it Now, 2018)
Featured Workshop
August 22, 2022 to August 25, 2022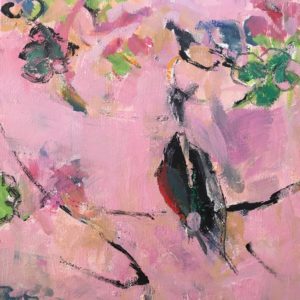 Permission to Paint Expressively Series   Session 2 
August 22-25, 2022 
Join Ellie Harold for "Expressive Painting: Making Your  Marks."  With a focus on intuitive mark-making, this workshop is designed to facilitate a fuller expression of your deepest and most essential artist Self. Content, process and lightly structured exercises give you permission to create the art that wants to be made by you in the safe space of Ellie's studio and the fresh air and cool light of northern Michigan near Sleeping Bear Dunes. You'll return home with a specific art "care plan" to assure support for "Making Your  Marks" in the world. Details and registration at www.EllieHarold.com.
Featured Artist
Creativity has always been my calling however I didn't realize that it would be primarily art related, until later in my life. Passing on knowledge is also a natural aspect of who I am. For me teaching skills to others is both a continuous joy and a personal education.
I love to draw and to paint with watercolor, pastel and mixed media, but I am also intrigued by the process and challenges of printmaking.
To me, figures and busts in clay just seem to come alive by themselves, in their own three dimensional world.
My subject matter is quite varied overall, but my personal favorites are always faces and figures of all types.