Dear Artist,
I recently returned from travelling to find a pile of mail gems, many from readers of these letters. One was a gift of a small paperback postmarked Crescent Pond, New Hampshire. I crawled into bed and into a list of timeless painting tips ordered by importance, the essentials highlighted and supported with first-hand insights from old and modern masters.
Painters of classical realism employ this list as the backbone of good painting. However, what could be mistaken for the techniques of a niche are in fact the foundation of all visual art, and while these basics have been almost completely edged out of the art school circuit, an aspiring painter can still independently mine golden nuggets from classical painting to produce work of deeper knowledge and skill, regardless of style or stripes.
When I sat down at my first potter's wheel at age twelve, my teacher said, "You are putting on your first pair of skis, and you do not yet know how to ski." And so tonight I started again at the beginning. There are two fundamental approaches to realistic painting, the book began: An academic renders each item in detail, inserting her knowledge of anatomy, colour, religion, myth, and history as an enhancement to what she sees with her own eyes. While this idealism delivers the details of nature with accuracy, it isn't necessarily the truth. An impressionist, by comparison, grabs the whole subject at once and paints a broad, visual experience of it. She honours the poetry of the human eye and its cherry-picking of colour, nuance and focus. The impressionist forgets what she knows in order to paint what she sees.
The notebook then broke into sections to clarify the academic principles of drawing and composition. Design, proportion, visual unity, spotting, simplification, rhythm, eye control, edgemanship and carrying power, plus light and reflected light, shadows, highlights and accuracy of values and shapes were laid out like a set of life-saving lug nuts. Then began an item-by-item exploration of what makes a painting a visual "impression," and why. "The artist sees objects as smudges of warm and cool colours of different shapes and values and having only a suggestion of detail. He sees the edges of objects fuse in places to form broader and simpler masses of light and shadow." (Richard Whitney, Painting the Visual Impression)
Sincerely,
Sara
PS: "I must make myself fully aware that I know nothing. It is the only way to get ahead." (Edgar Degas)
Esoterica: Richard Whitney graduated from the University of New Hampshire in 1968 and studied with classical realist R.H. Ives Gammell before building a lifelong career in portraiture and landscape painting. In 2014, Whitney compiled his notes on the teachings of his mentor, Gammell, who had himself been given the knowledge by his early-twentieth century mentors from the Boston School of American Impressionists. Whitney sees these notes as ideas handed down from Master to student, from generation to generation, now compacted for memorization and understanding. "Learning to paint involves learning to see, and guidance from a master craftsman is necessary," wrote Whitney. "This book should be used as a supplement to studio instruction. It can easily fit in a paint box."
You can reach Richard Whitney here.
Download the new audio book, The Letters: Vol. 1 and 2, narrated by Dave Genn, here. Proceeds of sales contribute to the production of The Painter's Keys.
"The secret is to follow the advice the masters give you in their works while doing something different from them." (Edgar Degas)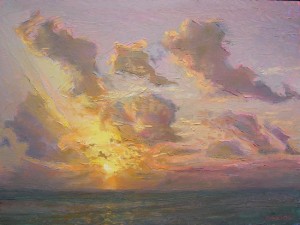 Shining Through
oil 12 x 16 inches
Featured Artist
Capturing the beauty of nature and expressing those impressions in oil paint is a joy. Every hour of the day presents new possibilities and keeps even the same landscape location, same composition, an ongoing and beckoning challenge. For this reason, I love painting series: it is exploration made visual.