Dear Artist,
Near Sydney's Circular Quay, a set of stone steps wanders through the historic foundations of Australia's first European settlers. Here, convicts and pioneers of 1788 erected new lives amid gum trees and sandstone. "The Rocks" or "Tallawoladah," as the Aboriginal Cadigal people called it, swirls today with ice cream lickers and city slickers, though its colonial past still pokes from behind the doorways of its remaining terrace houses. Across from the cutting-edge Museum of Contemporary Art and its Aboriginal masterworks nods the dusty entrance to the Julian Ashton Art School. Established in 1890 by an English-born Australian plein-airist, the school remains a champion of academic teaching of drawing and anatomy and references its hand in creating Australian Impressionism.
In 1935, seven-year-old John Olsen moved with his family from the industrial city of Newcastle, New South Wales to Sydney's Bondi Beach, where John became enchanted with the wildlife, sunshine and comings and goings of Sydney Harbour. By 22, he'd enrolled at the Julian Ashton School to expand on his love of drawing and dig into a routine of work, cleaning offices in the mornings before beginning a course load of life drawing and painting during the day and at night.
After art school, John worked as an illustrator, ran his own classes, then travelled overseas to paint and fall in love with the blocky magic, meandering line and philosophies of Paul Klee. He returned to Sydney at 32 to get to know the Australian landscape with his brush. Breaking from the rules of academic composition, John enlivened his drawing élan into a distinctive, storytelling calligraphy, energizing the land into a spontaneous, living organism. Aerial, pictographic and colourblocked, his paintings read as abstract and poetic riffs on city life and the outback. But John resisted; "I have never painted an abstract painting in my life," he said, instead describing his work and life as "an exploration of the totality of landscape."
Sincerely,
Sara
PS: "There it is and there it isn't. It's a place of contradiction. It's like witnessing a nervous system. It displaces itself. Because there's a hill there, the water has to go around that way, and so on. It's a magic thing, because you're looking at nature as a process. It's making itself. There is a life in the landscape." (John Olsen)
Esoterica: Australia's museums, galleries, concert halls, opera house and other public spaces are defined in part by John Olsen's lifetime of paintings, not yet over. In 2005 at age 77, his painting of that year, "Janus Faced," won The Archibald Prize, Australia's oldest and highest award for portraiture. First established in 1921 as the bequest of a Sydney magazine editor, and now managed by the Art Gallery of New South Wales, the Archibald is awarded annually as $100,000 for the best portrait of a person distinguished in art, letters, science or politics, and is open to artist residents of Australia. "Janus Faced" is John's self-portrait painted as the two-headed Janus, the Roman god of time, transitions, doorways, passages and bridges, one who looks in both directions, towards the future and the past. For his artist statement, he submitted his own poem. "When you get to my age," said John, "you have a hell of a lot to think about."
Janus Faced
Sitting this afternoon in the studio,
Summer's gone.
Now's the time of freckled leaves
& longer shadows.
Men & women after sixty
In slippered feet,
Pause on the stairs,
Janus faced.
Self delights in well worn brush
On an ancient palette.
Time trickles & avoids defeat.
Janus Faced
Download the new audio book, The Letters: Vol. 1 and 2, narrated by Dave Genn, here. Proceeds of sales contribute to the production of The Painter's Keys.
"Painting is a means of self-enlightenment." (John Olsen)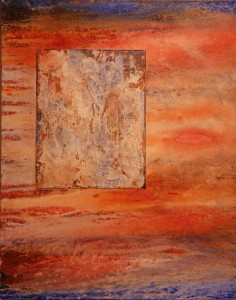 Transition
Featured Artist