Dear Artist,
A young Canadian artist wrote, "I had meant to ask your dad about those mahogany wood panels. I have been looking for a wood panel that is cheap in cost so that I can paint more and is time tested and archival, and something I can trust. I tried to look into it myself, but can't seem to find them. I would also use the wood panels to glue canvas onto for oils and acrylics. Are these mahogany wood panels still a professional choice to sell the work compared to a stretched canvas, or are they only good for studies? Does it matter?"
What my dad always called, "mahogany door skin" can be found at the local lumber supplier and cut down into preferred sizes on site. Luan or Honduras mahogany skins have a gorgeous grain and colour that can be kept intact by priming with clear gesso or acrylic medium (both sides and the edges, for critter-free longevity). A quick Google search brings up a 1/8" 3 x 7-foot sheet for about twelve dollars.
As for whether wood panels are professional, the answer is they were the support of choice for Tom Thomson. Along with painting about 50 large canvases, Thomson produced over 400 oil sketches on small wood panels between 1912 and his death on Canoe Lake in 1917, when he was just 39. A lifelong outdoorsman, Thompson's fresh, intimate and painterly panels signalled the birth of a distinctly Canadian identity in landscape painting and suddenly provided a physical embodiment of our collective, national connection to the wilderness. Your wood panels, too, can reveal the sensuality and story of the forest. Simple and real, they smell wonderful, they're light and thin, fit perfectly in a wet-box or backpack, ship and slip into a gallery frame and remind us of the material truth of our painting traditions.
Sincerely,
Sara
PS: "I've seen no darkening or foxing on any of my panels over the forty-odd years I've been using them. Carried in a wet-box, they're the cat's pyjamas. You don't want to go too big with them — 16″ x 20″ is about the limit without cradling (reinforcing the back). Every few years I get a large selection of sizes cut on a proper table saw by a local woodworker. I also find these handy as gifts for friends or for folks who need to try something new." (Robert Genn)
Esoterica: Also mentioned in the note was our 2014 letter about cropping and relining. Dad wrote in 2008, "More than one of my disasters has been saved for posterity by a little effort and a recropping panel." A simple slice with a box-cutter can resurrect compositional strengths amongst boo boos on canvas, which can then be glued onto a wood panel with an archival PVA. Dorothy the Airedale (2000-2014) and I go into the details in the letter, Cropping and relining, here.
Sara Genn: New Paintings runs until November 2, 2018 at Voltz Clarke Gallery, 141 East 62nd Street, New York City. If you're in the neighbourhood, we would love to see you there.
https://voltzclarke.com/exhibitions/sara-genn-exhibition/
"Every master knows that the material teaches the artist." (Ilya Ehrenberg)
Featured Workshop
April 10, 2019 to April 17, 2019
Location: between Puerto Vallarta & Mazatlan, Mexico
Week-long workshop in gorgeous paradise retreat for beginning and intermediate students in oils (or acrylics with experience). You will learn how to create a painting with beautiful light that captures viewers' attention and keeps them fascinated. Small group size guarantees personal attention.
While you're busy creating art and exploring, your friendly hosts at Casa Buena will ensure that your stay is memorable. Outstanding accommodations, food, and field trips will satisfy your desire for both comfort and adventure. Spouses are welcome!
For more info, visit: http://www.casabuenaartretreat.com/Retreat_Carol.htm or contact Carole at: cpeirson@earthlink.net or call: 001-757-678-3340 (EST).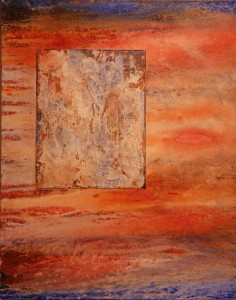 Transition
Featured Artist
Painting is my passion and joy.  My process is intuitive, though informed by good composition and design principles.  I paint what I remember, or think about, or feel, or just what comes off my hands to the brush to the canvas.  Texture and color are of primary importance to me.  I typically choose my support, texture it, select my palette, and go.  There is nothing more satisfying to me than watching paint run and move.  I love the surprises. I experiment and learn constantly.  It is a remarkable journey.  One I am pleased to share with you.