Dear Artist,
The way I look at it, a work of art requires the presence of two spirits. The first is the spirit of the subject matter — the object or thing that the work is based on — Nature's spirit. The second is the spirit or interpretation the artist brings to the object — the unique style or manner that only the individual artist can give. Subject matter alone — the slavish copying of nature — does not make art. But art also falls short, in my opinion, when it doesn't lean to some degree on the stimuli of place or subject.
Up here in the mountains I'm realizing that the dual spirit methodology is no better exemplified than in the work of Lawren Harris (1885-1970). He was a founding member of Canada's Group of Seven and a life-long student of art and the world of self-discovery. By the time he came west to the Rockies he was into spiritualism and drifting toward Theosophy. Influenced by the Nordic school, art deco and symbolism, Harris's mountain paintings honour and monumentalize his feelings about Nature. Dual spirit requires that the artist see and feel the environment.
In Harris's case, his location pencil sketches began to redesign and simplify basic elements and forms. Back in the studio there was to be another step in his creative process: His paintings developed in a realistic manner, but were often quite unlike any particular view that might be seen in the outdoors. Attempts to find some of Harris's actual mountain locations have been futile, and so they should be. Art is not what is seen, but what is to be seen.
For Harris, abstraction was just around the corner. Indeed, during the last ten years of his life when I knew him, he struggled daily with shapes and designs that bore no resemblance to reality. But they were enigmatic of the spirit he felt for wind, tumult, energy, elevation, placidity and his lifelong concern, spiritual awakening.
Best regards,
Robert
PS: "The primary function of art is not to imitate or represent or interpret, but to create a living thing; It is the reduction of all life to a perfectly composed and dynamic miniature — a microcosm where there is perfect balance of emotion and intellect, stress and strain resolving itself, form rhythmically poised in three dimensions. So long as painting deals with objective nature, it is an impure art, for recognizability precludes the highest aesthetic emotion. All painting, ancient or modern, moves us aesthetically only insofar as it possesses a force over and beyond its aspect." (Lawren Harris)
Esoterica: An excellent book that describes and illustrates his thought and methodology is A Hikers Guide to the Rocky Mountain Art of Lawren Harris, by Lisa Christensen.
This letter was originally published as "Two spirits" on July 23, 2002.
Download the new audio book, The Letters: Vol. 1 and 2, narrated by Dave Genn, here. Proceeds of sales contribute to the production of The Painter's Keys.
"Visible nature is but a distorted reflection of a more perfect world and the creative individual viewing her is inspired to perceive within and behind her many garments, that which is timeless and entirely beautiful." (Lawren Harris)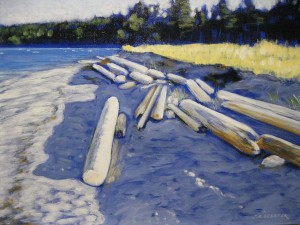 The late afternoon sun on the tip of Savary Island's Indian Point highlights the design elements of the logs and the summer surroundings of the island.
Featured Artist
My enjoyment in representing the beauty of our world with strong design and bold colours is what drives my passion for my landscape painting of Savary Island and other parts of our amazing planet.