Dear Artist,
Yesterday, Jonathan Kwegyir Aggrey of Ghana wrote, "In my society there is no single word for 'art.' We have no distinction between 'art' and 'craft.' All are creative activities requiring skills and a sense of aesthetics. The aesthetic qualities of arts are not only determined by the language of art (i.e., rhythms, balance, shapes, lines, texture, etc.) but by the ethics or values of the people. Several art forms can be combined for a purpose. For example, music, sculpture, pottery, painting, textiles and dance may be used simultaneously. (A man may dance to a drum while wearing a mask and a special costume with his body partially painted — while carrying a ceremonial pot.) Art is a necessity, an integral force and a part of living — an essential role in everyday lives of Ghanaian communities. A particular work of art may be destroyed after use, no matter how beautiful or expensive it may be. We also have taboos: A blacksmith should not strike a person with his bare hands. A carver should not work when annoyed. Tools and materials need respect. The arts are not the privilege of a few selected people."
Thanks, Jonathan. I've never actually been hit by a blacksmith, but it's handy to know that when I am, she's liable to do it with her ball-peen hammer. What is evident from Jonathan's information is just how universal and yet how particular are one's attitudes about art. Both relief and insight are here. By contrast, in Western cultures it's safe to say that art is often relegated to an elite activity — for the benefit of insiders. Broadening this base would mean inviting art into our human totality. In both cultures, art is a part of the way we understand things. In this sense we are brothers and sisters. We, the windows to our cultures, struggle daily with the same sorts of challenges — to understand, modify, and remake our worlds in our own way. Alone, but not always alone, we perform our dances.
Art need not be precious. Art's a doing thing that sometimes gets commercialized — even in Ghana. Investment in, speculation on, and the private coveting of art are not prerequisite in all places. One might conclude that the introduction of commerce adds an odd spin to the act of art. But it's still the ideas, tools, process and spirit that make art. For the people of this planet, art is as perennial as joy.
Best regards,
Robert
PS: "The visible universe is a storehouse of signs to which the imagination assigns a place and a relative value; it is a kind of nourishment that the imagination must digest and transform." (Charles Baudelaire)
Esoterica: Yesterday I also received a note from Duane Dorshimer of Raleigh, N.C. He asked, "What is your artistic mission? To express? To communicate? To decorate? To idealize? To profit?" Thanks, Duane. Writing these twice-weekly letters has helped me to realize that there's more than one reason to make art. In my case it's everything you mentioned, but that stuff came later. When I was a kid I saw shamans who danced to a different drummer. I wanted to be like them, to have their power. I admired what those magicians did — and the skill and craft required to do it. It seemed to me to be a good thing, a good life.
This letter was originally published as "Comparing notes" on October 4, 2005.
Have you considered a Premium Artist Listing?  With each letter, an artist is featured at the bottom of this page. The Premium Artist Listings are a means of connecting artist subscribers through their work. Proceeds from each listing contribute to the production of The Painter's Keys. 
"Everything that exists is the seed of that which will be." (Marcus Aurelius)
Featured Workshop
January 23, 2022 to January 30, 2022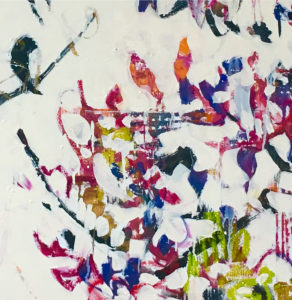 Join Ellie Harold for "Intuitive Painting: Permission to Paint Expressively," designed especially for mature women artists of all skill levels who wish to explore this medium for soulful exploration. The retreat provides attractive accommodations (your own room!) along with lightly structured activities for centering, relaxation and low stress art-making. You'll have plenty of free time to muse, paint, write and reflect while enjoying the colors, textures and flavors of San Miguel. This Retreat has the potential to transform not only your art but your life! You'll return home with a specific art "care plan" to assure support for further creating. Details at www.EllieHarold.com.
Featured Artist
I am inspired by the drama of light as it moves along forms, the rhythms and nuances of shapes, and the colours that change from subtle to vivid at any give moment. My expressive compositions, in oils, acrylics or watercolours, are a contemplative and heartfelt response to my experiences, representing the "visual music" I feel. Each brush-stroke is like a colour note or chord playing out the scene offering a connection with the viewer through dynamic movements and vibrant colour.