Dear Artist,
Termites, dormant over the winter, issue from a small hole in the corner of my studio ceiling. When I "Raid" them, they withdraw momentarily. Today, apart from the perennial easel-struggle, this is the main distraction. Rain streams on the windowpane and distant, silent lightning can be seen on the horizon. Here, all is quiet, save Mozart, and this studioscape is blessed with peace.
A friend, shaken by a personal disaster, phones to discuss "varnishing." We have an inventory of our blessings: The privilege of making with our hands. The joy of working things out for ourselves. The fun of winding one up. The anticipation of starting another. What else could be asked for in this short span? I don't think it's for gold that we do this. There's something else. Without being maudlin, I think it's love.
Love of the life, the challenge, the personal nature of it all. The feeling that you have it all in your hands. The beautiful finality of the signature in the lower right hand corner. And the difficulties? Like the termites in the wall, they are legion. The highly-realized artists that I know love the satisfaction of overcoming their difficulties. These artists have the knowledge that creative evils are beaten with the power of knowledge and understanding. By taking pains. By not tolerating mediocrity and mediocre thinking in ourselves. By treating ourselves to the exhilaration of our honest and elevated desires. By honoring craftsmanship and attention to detail. By patience and perseverance. By appreciating the prior and current light of others. By the realization of the responsibility of it all. And the epiphany that even through the act of art we can be our brother's keepers.
There is always something eating away at what we could be. But the real termites of our studios are the ones that eat away at the clarity of our love.
Best regards,
Robert
PS: "There is no greater joy than that of feeling oneself a creator. The triumph of life is expressed by creation." (Henri Bergson) "He who wishes to exert a useful influence must be careful to insult nothing. Let him not be troubled by what seems absurd, but concentrate his energies on the creation of what is good." (Johann Wolfgang von Goethe)
Esoterica: The final varnish in either oil or acrylic is your work's ultimate compliment. It says, "My work is permanent — mess with me at your peril." It's the shrink-wrap that protects from household damage, smoke and fly-specks, as well as ultraviolet light. It allows your work to march out and cast its spell on future generations. "I have touched with a sense of art some people — they felt the love and the life. Can you offer me anything to compare to that joy for an artist?" (Mary Cassatt)
If you find these letters beneficial, please share and encourage your friends to subscribe. The Painter's Keys is published primarily by a team of volunteers, with a goal to reach as many creative people as possible. Thanks for your friendship.  Subscribe here!
"Find a place where there's joy, and the joy will burn out the pain." (Joseph Campbell)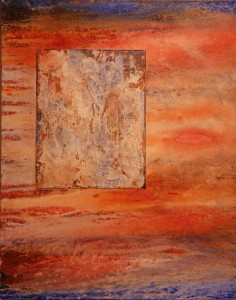 Transition
Featured Artist
Painting is my passion and joy.  My process is intuitive, though informed by good composition and design principles.  I paint what I remember, or think about, or feel, or just what comes off my hands to the brush to the canvas.  Texture and color are of primary importance to me.  I typically choose my support, texture it, select my palette, and go.  There is nothing more satisfying to me than watching paint run and move.  I love the surprises. I experiment and learn constantly.  It is a remarkable journey.  One I am pleased to share with you.