Dear Artist,
Denise Dupre of Port Moody, B.C., wrote, "I began in the arts around 1997 by taking evening art classes. I loved reconnecting with my artistic abilities and have moved along steadily with my work. In the early days I decided to replicate a number of the masters' works rather than attend art school, as my husband and I had three very young daughters then. My intent was to study their work and develop my sense of artistry of color, technique and composition. At the time, I found a great price on beautiful lengths of framing and a dear friend who worked in a framing shop at the time helped me build the frames. I have a collection of about 11 works which are completed in chalk or oil pastel, as well as varying masters' works of conte on paper. My question to you is what to do with this body of replicated works? It would be great to have a few options I'm hoping you may recommend."
Copying the masters as part of your art self-education has put you in good company, and clearly provided a lot of joy. "Take pains and pleasure in copying the best works by the hands of great masters," wrote Giotto disciple Cennino Cennini, in his 15th century handbook, Il libro dell'arte. Dalí, Picasso, Chagall, Degas and other greats did it as part of the Louvre's centuries-old policy of granting 250 three-month permits to amateur and professional artists for the privilege. As of 2017, there was a two-year waiting list. Amongst the ineffable sensations of connection, awe and examination that copying inspires, it's also a way for an earnest painter to reverse-engineer otherwise mysterious technical effects, build compositional muscle memory and better understand light and colour relationships. At the Louvre, certain paintings are favoured for their difficulty, and have been tackled by more than one future master. "It's like a free school," said Parisian photojournalist Ivan Guilbert, who recently documented the Louvre's modern-day copyists for the New York Times. Part mimicry, part disassemblage, part romantic, historical immersion and part soul-swap, copyists understand the power of learning by imitation.
But while copying is a skill, it isn't invention, imagination or creative executive function. After the vision of another has been replicated and the facsimile made satisfactory, the artist, with her newfound tools, meets the precipice of the abyss of her own unrealized ideas. It is here she must leap, because the painting she copied was not her idea, and if she is an artist, she is in the business of bringing forth her own. By this definition, her copy is not hers.
And so what to do with your collection of beautiful clones? Because copying produces an object neither yours nor the original creator's — a creation in limbo in the spirit of human expression and the ethos of creativity, it needs to be regarded explicitly as a duplicate. The market for these things — sales perhaps, in the courtyards of the great museums and definitely on the internet, now eclipsed by the deft, 6,000-workers-strong copy-painter villages of southern China, is ethically nebulous. When monetized, copies can feel closely related to forgeries. While a forger markets to deceive, a copyist borrows from the creative commons and makes it clear her work is a copy. Nevertheless, what she does next can morph into a fork in the road of her creative destiny. At the Louvre, the copyist, upon completion of her copy, must visit the director of the copy office. Madame Vieilleville checks that a canvas one-fifth smaller or larger than the original has been used, and for the absence of an imposter signature. She stamps it verso with a special Louvre seal, before signing it verso, herself. She then escorts the copyist, and her copy, to the exit.
Sincerely,
Sara
PS: "You have to copy and recopy the masters, and it's only after having proved oneself as a good copyist that you can reasonably try to do a still life of a radish." (Edgar Degas)
"After you've copied the work and learned from the experience, you need to honour the old guy by destroying your canvas." (Robert Genn)
Esoterica: It is okay to love your copies. Ask yourself what it is you love about them. Labour and learning aside, I wonder if part of it is the intimate proximity to the aesthetic qualities of the originals. I'm besotted by these qualities when I look at your duplicates. The originals are masterworks for a reason. If you're not yet ready to destroy your copies, title each work verso with the details of the original including the artist's name and title and specify that it is a copy. Leave the front of the work unsigned — it is not your work. If you identify as a professional artist of original paintings, share your copies non-commercially, enjoy them personally or use them as a teaching tool. Consider thanking them for their lessons and saying goodbye. Lastly, never, ever copy the work of a living artist or any historical work not included in the creative commons. "Be careful that you do not write or paint anything that is not your own," wrote Emily Carr, "that you don't know in your own soul."
Have you considered a Premium Artist Listing?  With each letter, an artist is featured at the bottom of this page. The Premium Artist Listings are a means of connecting artist subscribers through their work. Proceeds from each listing contribute to the production of The Painter's Keys. 
"When we were living in Spain, I spent a day in the Museo del Prado copying part of a Velásquez. It was a mind-bending, centuries-spanning high. Giddy as a Pyrenees goat, I learned a few things. Up close and personal, Velásquez is a mess of slashes and haphazard gestures. Back a few feet, he's a cohesive miracle. I found myself unable to copy stroke for stroke. Like a crazed sign painter, wielding well-thinned oils, I let my body do the painting. I've never had a frontal lobotomy, but I think my Velásquez day was pretty close. At four o'clock when they kicked us out, I sat down on the gravel on the Plaza de Neptuno to reacquaint myself with the ordinary." (Robert Genn, from his November 4, 2011 letter, Copying the masters)
Featured Workshop
January 23, 2022 to January 30, 2022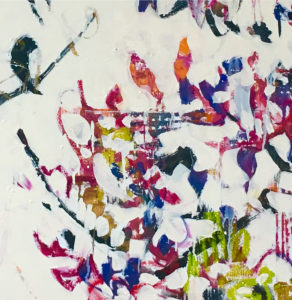 Join Ellie Harold for "Intuitive Painting: Permission to Paint Expressively," designed especially for mature women artists of all skill levels who wish to explore this medium for soulful exploration. The retreat provides attractive accommodations (your own room!) along with lightly structured activities for centering, relaxation and low stress art-making. You'll have plenty of free time to muse, paint, write and reflect while enjoying the colors, textures and flavors of San Miguel. This Retreat has the potential to transform not only your art but your life! You'll return home with a specific art "care plan" to assure support for further creating. Details at www.EllieHarold.com.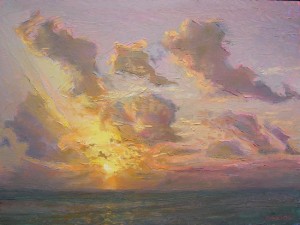 Shining Through
oil 12 x 16 inches
Featured Artist
Capturing the beauty of nature and expressing those impressions in oil paint is a joy. Every hour of the day presents new possibilities and keeps even the same landscape location, same composition, an ongoing and beckoning challenge. For this reason, I love painting series: it is exploration made visual.