Dear Artist,
While waiting for my annual mammogram yesterday, I thumbed through a back issue of The New Yorker magazine and found Ariel Levy's essay on the comparative religion of parenting. According to one sect, babies are like plants; they don't require instruction to develop as nature intended – including motor skills, walking, sleeping, speaking, eating, communicating and even managing their emotions. Apparently, they need only for us to get out of their way.
In 1946, Dr. Emmi Pikler, a Viennese pediatrician and author of the 1940 treatise, Peaceful Babies — Contented Mothers, was enlisted to set up an orphanage for children who'd lost their parents in the Second World War. There, she activated a child-rearing philosophy that favoured adult-level trust over invasive attention, authoritarianism, excessive coddling or hyper-efficiency. She fired the pedagogical nurses, hired local villagers and trained them to treat the babies with "ceremonious slowness." By 1957, Dr. Pikler's method of low interference and respectfulness was being disseminated by enthusiasts in California.
I wondered if Pikler's system, if applied to creativity, could produce more emotionally secure and self-sufficient artists. For example, strict boundaries, enforced with confidence, are what enable children to relax. I've noticed that deadlines, self-imposed or show-generated, can produce a dance floor where I'm free to dream up and exhaust the possibilities of current explorations. "I play better tennis because the court is there," wrote Robert Frost of his beloved metric pattern. Janet Lansbury, a contemporary California educator of the Pikler method, suggests to the nearly one million listeners of her parenting podcast, Unruffled, to "try, for just one day, to pretend that everything you say to your child, every decision you make, is absolutely perfect." I think it has something to do with not letting your kids smell your fear, lest they catch it. Similarly, when it comes to art, or what we dream for it, as the new-thought adage goes, "What would you attempt if you knew you could not fail?" Daily, I'm trying to grasp and harness a belief that there is no danger in what I am trying to attempt in life, if only just to understand what could be possible, creatively. If our child were our art – if our child were us – have we the courage to let her develop, free from the poison of our haggard ideas on how the world works, how love or acceptability are gained, what assistance or achievement look like, or what the system wants of her?
Sincerely,
Sara
PS: "Usually, if they can get there, they can get down from there." (Janet Lansbury, author, podcaster and parent educator of Dr. Emmi Pikler's Resources for Infant Educarers.)
Esoterica: Contemporary protégées of Dr. Pikler encourage parents to eschew the modern American tragedy of "helicoptering" – or worse, "bulldozering" – plowing away obstacles, rendering children gritless and devoid of problem-solving skills – and instead reframe their role as merely a "stable base" from which children can leave and return to. Trusting your child to climb a jungle gym and then get down from it on their own, for example, is an opportunity to truly see her as an individual of agency, managing risk and discovering solutions. "If you just believe in yourself, and believe in the method," says Lansbury, "then your child will believe in you, too, and everyone can relax." "All parenting is a faith-based initiative," wrote Ariel Levy. So too, is art.
Have you considered a Premium Artist Listing?  With each letter, an artist is featured at the bottom of this page. The Premium Artist Listings are a means of connecting artist subscribers through their work. Proceeds from each listing contribute to the production of The Painter's Keys. 
"Loving children doesn't give them a destination. It gives them sustenance for the journey." (Alison Gopnik)
Featured Workshop
August 22, 2022 to August 25, 2022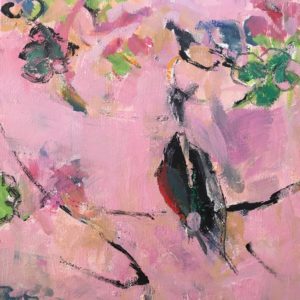 Permission to Paint Expressively Series   Session 2 
August 22-25, 2022 
Join Ellie Harold for "Expressive Painting: Making Your  Marks."  With a focus on intuitive mark-making, this workshop is designed to facilitate a fuller expression of your deepest and most essential artist Self. Content, process and lightly structured exercises give you permission to create the art that wants to be made by you in the safe space of Ellie's studio and the fresh air and cool light of northern Michigan near Sleeping Bear Dunes. You'll return home with a specific art "care plan" to assure support for "Making Your  Marks" in the world. Details and registration at www.EllieHarold.com.
Featured Artist
I am inspired by the drama of light as it moves along forms, the rhythms and nuances of shapes, and the colours that change from subtle to vivid at any give moment. My expressive compositions, in oils, acrylics or watercolours, are a contemplative and heartfelt response to my experiences, representing the "visual music" I feel. Each brush-stroke is like a colour note or chord playing out the scene offering a connection with the viewer through dynamic movements and vibrant colour.