Dear Artist,
A friend, I'll call him Cosmo, was a lifelong art collector and a generous museum benefactor. He loved to support artists young and old, and had even infected his kids with his collecting joy. Early in our friendship, Cosmo and I paddled the rapids of his beloved Northern river. There, he told me that his passion for business was like mine for art. Another time, he took me to the top of a skyscraper so I could see a banker's view.
Now, twenty-five years on, Cosmo has retired from banking and taken up painting. When I saw him last week, his old spark ignited when he told me about his fresh lens on the world and even a recent sale, his first. "Has painting made you more mellow?" I asked. He looked at me blankly. Cosmo, applying his personal intensity to his new calling, is learning his materials on the job, reaching for increasingly ambitious subjects and trying out new and innovative techniques. "You'd be amazed what you can do with frog tape," he said.
Cosmo's wife says he likes to be busy. He also brings a natural audacity and positive attitude to his art. He gets a kick out of completing the creative circle with a collector. Now, under the shade of a prolific Meyer lemon tree, Cosmo applies the same zeal he once reserved for the top floor of the skyscraper. "When I die and go to heaven," wrote Winston Churchill, "I want to spend the first million years painting – so I can get to the bottom of the subject."
Sincerely,
Sara
PS: "Be yourself, everyone else is already taken." (Oscar Wilde)
Esoterica: Second perhaps only to the spoon, the brush is one of the first tools given to us when we're small. As we grow, art takes on its other cloaks: commodity, cultural currency, pastime of the idle, outlet of the deranged. The universal, primal function of art as an early language fades from quotidian importance along with nursery rhymes and the playground. But even bankers need to play at something material. Like bashing through river rapids, unsure if we'll capsize, painting offers a timeless and tactile place to test our human resolve and spirit. Here, we register our soul and make visible the invisible.
"The beautiful lull
The dangerous tug
We get to feel small
From high up above
And after a glimpse
Over the top
The rest of the world
Becomes a gift shop" (Gord Downie, from The Gift Shop)
The Letters: Vol. 1 and 2, narrated by Dave Genn, are now available for download on Amazon, here. Proceeds of sales contribute to the production of The Painter's Keys.
"Every painter paints himself." (Cosimo de Medici)
Featured Workshop
August 19, 2019 to August 26, 2019
Discover the majestic island of Santorini with George Politis AWS, SDWS, RI. Small and large format, painting in watercolour and other watermedia like watercolour pencils, acrylic inks and collage, learning techniques and how to see and find a subject (often far from the obvious). Boost the creativity by new inspirational ideas, winning techniques for an once-in-a-lifetime experience. Pure watercolour to mixed watermedia, realistic to abstract painting. All inclusive (course, hotel, all 3 meals per day, transportation in Santorini during the workshop).  Up to 12 artists, all levels accepted. anliv28@yahoo.gr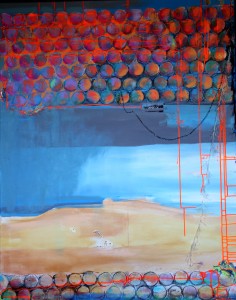 Hurricane
Featured Artist
I'm a contemporary painter who loves to travel the world over finding pictures to paint, and capture on photo…check out my website and travel with me on my blog "The Traveling Artist Blog."  http://www.meljosieart.com