Dear Artist,
At the easel yesterday I was listening to a stockbroker on the telephone headset at the same time as my assistant Carol Ann was holding some cheques for me to sign. Just then one of the city fathers came in the door. "When do you find time to paint?" he asked. I told him that sometimes it seems like I do my work in my coffee breaks. Then, inwardly, I had a little silent epiphany: "If you're having interruptions, you need them."
The idea of nice clear times of solitude when you can get deeply and privately into the joy of work for hours or days on end — maybe doesn't exist. Much of the time this studio is as busy as an advertising agency on deadline. Then I was realizing that many respectable artists run complex businesses, farms, even empires from their easels. Women (and men) run homes and families from the position. Is it a possibility, I wondered, that the proper balance of interruption and productivity is what is needed in order to keep the muse flowing and the hormones balanced? Maybe it's a foot in the real world that keeps us real. Life's total purpose is surely as important as art-making. I was remembering James Russell Lowell's remark: "Solitude is as needful to the imagination as society is wholesome for the character."
When I was first starting out as a painter I wondered if anything was ever going to happen. It seemed like I was blowing my clarinet into a big void. Gradually, mostly by working hard I think, I've proved my neurotic fear to be false. Now I'm addicted to the complexity I've set up. I can't claim to be victimized by it.
The city father was on charity duty. When it's a good cause, I'm just a guy who can't say "no." Watching my yellow ochre drying up, I told him that I'd work him in. Then Edwin (5) and Wilf (9), who happen to be staying with us, came in and asked politely if I might have a "very large piece of paper or cloth to make a flag of the world." I told them I'd be right with them.
Best regards,
Robert
PS: "Art has to do with the arrest of attention in the midst of distraction." (Saul Bellow)
Esoterica: Interruptions can be somewhat controlled by putting "Artist at work — do not disturb," on the door or "Go away," on the mat. Another system is to rudely keep on working while people are trying to organize you. Funnily, "I'm in the middle of a wash," seems to get respect, even if you're not. "Excuse me, I've gotta go, my easel's on fire," does the trick for the telephone. One rule I have for visitors is to never offer them a drink of any kind, hard or soft. And put books on your chairs.
This letter was originally published as "The interrupted life" on July 9, 2004.
The Letters: Vol. 1 and 2, narrated by Dave Genn, are available for download on Amazon, here. Proceeds of sales contribute to the production of The Painter's Keys.
"Purpose in the human being is a much more complex phenomenon than what used to be called willpower." (Rollo May)
Featured Workshop
August 1, 2019 to August 7, 2019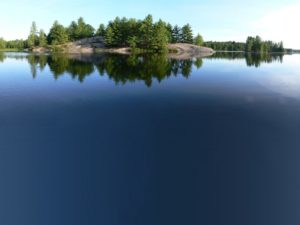 Six days in the Ontario backcountry. Locations accessible only by canoe. Canoe, camp, cook and paint like the early North American plein air artists. Every day we do a short paddle from our base camp to a painting location and spend the day capturing the scene. Workshop leader Keith Thirgood has been teaching adults to paint for 12 years and canoeing and camping for most of his life. Keith teaches a step by step approach to plein air, which makes capturing a scene easier than you ever thought possible. He also teaches Modern Colour Theory using his special, limited palette. This set of colours is useful not only en plein air but also in the studio.
The Kawartha Highlands is an amazing place to paint. Forest, bald rock faces, hundreds of islands, sparkling water. On day seven it's hard to leave.
For more information, visit www.wilsonstreetstudios.com.
Featured Artist
Monique Jarry is a Canadian and a graduate of the Ecole des Beaux-Arts de Montreal.