Dear Artist,
In the Spring when I was 12, I accompanied my father on a trip to Brittany, to find a house our family could rent for the summer. In Pont Aven, on Brittany's south shore, he would paint and write in the same unspoiled postcard, magic with the symbolism and technicolour light that transformed Paul Gauguin a hundred years earlier. In 1886, the 38 year-old Gauguin had recently left his career as a Paris stock broker to paint full-time; at first squaloring in a 3rd floor walk-up in the 15th Arrondissement until it became untenable, then moving, with his family to Rouen. Eventually his wife, Mette would return to Copenhagen with their five children, citing an irreconcilable diversion of values.
At the time, a place cheaper than Rouen was the artist colony at Pont Aven; a picturesque summering village favoured by American art students and French academic painters. Gauguin, tousled, found he was a better fit in the countryside. Joined by his painting buddies Émile Bernard and Paul Sérusier, they embarked in a new direction, inspired and riffing on the illustrative dancers and flattened planes of Edgar Degas and the easy, caricatured drawings of Randolph Caldecott, whose work was being used for a popular Breton guidebook. Caldecott had become something of a sensation amongst the increasingly avant-garde art colonists — his ubiquitous illustrations towering as a kind of jumping off point for anyone aching for painterly revolution.
After trips to Panama and Martinique, Gauguin rejected what he felt was the symbolic meaninglessness of Impressionism and the vapid, rejection-laden scene in Paris. He returned to Pont Aven under the influence of folk art, Japanese prints, and the Medieval enameling technique cloisonné — where areas of flat coloured glass are separated by the black outlines of their soldering wire. From all of this pictorial rebellion burbled a longing to try to convey, in paint, the essence of objects.
Representation gave way to streamlined expression. Brittany, in this moment, was a perfect microcosm of French civilization and village life that symbolized a wider paradigm of beliefs, humanity and our role in nature. Within ten years, Gauguin had committed permanently to the freedom he attributed to a life in French Polynesia, and emerged as the father of Synthetism — a whole-hearted rejection of Impressionism in favour of synthesizing objects based on the memory and one's feelings about them. Paul Gauguin died in Atuona, Marquesas Islands, in 1903. He was 54.
Sincerely,
Sara
PS: "Art = a mad search for individualism." (Paul Gauguin)
Esoterica: Creative influence is available everywhere. I remember the privacy and mystery of the Bois d'Amour, a forested walk along the bubbling Rive Aven in the solo and daydreaming imagination of my 12 year-old self. I remember the reproductions of the paintings made there, displayed in the village historical museum, alongside Breton lace and the wooden sabots clogs, now artifacts of the paintings; our collective record of another's creative revelation. The secret to influence is that you've got to draw upon it and then work it into something to call your own. "Art," wrote Gauguin, "is either plagiarism or revolution." A good route is to respectfully and selectively borrow while never asking for a recipe. Your job, to write your own, is performed daily at the altar of your elbow grease. Make a note of your influence; be it your back garden, or a lifetime of inquiry into a subject or theme, or your rejection of someone else's something, then remove your reference, and paint it from memory. "It is better to paint from memory, for thus your work will be your own," wrote Gauguin. "Seek art and abstraction in nature by dreaming in the presence of it."
Have you considered a Premium Artist Listing?  With each letter, an artist is featured at the bottom of this page. The Premium Artist Listings are a means of connecting artist subscribers through their work. Proceeds from each listing contribute to the production of The Painter's Keys. 
"Oh mysterious world of all light, thou hast made a light shine within me, and I have grown in admiration of thy antique beauty, which is the immemorial youth of nature." (Paul Gauguin)
Featured Workshop
January 23, 2022 to January 30, 2022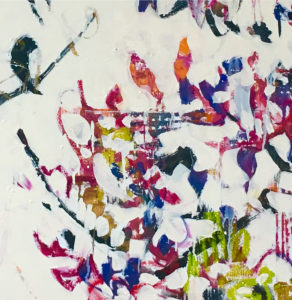 Join Ellie Harold for "Intuitive Painting: Permission to Paint Expressively," designed especially for mature women artists of all skill levels who wish to explore this medium for soulful exploration. The retreat provides attractive accommodations (your own room!) along with lightly structured activities for centering, relaxation and low stress art-making. You'll have plenty of free time to muse, paint, write and reflect while enjoying the colors, textures and flavors of San Miguel. This Retreat has the potential to transform not only your art but your life! You'll return home with a specific art "care plan" to assure support for further creating. Details at www.EllieHarold.com.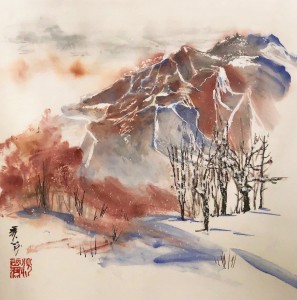 Midwinter Chill
Featured Artist
Los Angeles-based artist Lisa Chakrabarti works in a variety of media: oils, acrylics, pastels, watercolors, graphite and colored pencils. Focusing on a style she calls "romantic naturalism" – impressionism based largely on subjects in the natural world – her works have found their way into galleries in Los Angeles, Florida, Colorado and New York. In 1995, after being introduced to sumi-e and Chinese ink painting by Asian friends, Lisa became captivated by the apparent freedom and subtlety of this ancient medium.  This shift in focus has informed her work ever since.