Dear Artist,
Canadian novelist Margaret Atwood has invented the LongPen. With custom software and high-speed broadband, her device permits people like herself to do book signings without having to be there. At 66 she's getting tired of travelling. I have no problem with this. But apparently the book buyers do. They would rather look her in the eye, see her sly smile and hear her chuckle. In this day of marvelous machines, it's hardly worthwhile lining up to get to a marvelous machine.
Which brings me to the LongBrush. Invented by me, it permits a painter to hang out in Yellowknife and paint in Paris. Using some of Margaret's technology, stuff can be painted virtually anywhere without the hassle of shipping. Not only that, the customer gets the thrill of watching it happen. Last week I had my imperfect but workable machine installed at my Paris gallery. Today — a transatlantic first — I "remoted" a fairly reasonable abstract. Confined to a single brush and currently able to access only eight colours, the work I produced, with interruptions, took three hours. I charged my regular fee (by PayPal) for a 24″ x 30″, which made it a fairly lucrative day — considering there was no airfare involved.
As I sat in the warm and smoky comfort of my remote log cabin, happily working my remote brush, the idea of franchising crossed my mind. Terminals in significant galleries from Rio to Rome. Simultaneous generation. Limited editions in, say, a hundred galleries. (I don't do large editions.) International connoisseurs gathered 'round the terminals, drinking a select Burgundy, celebrating the shy Canadian recluse who hasn't spoken to anyone since 1998. "A one-way trip to the bank," I thought to myself as I took a few minutes to replace some of the mouse-eaten caulking that hangs from the walls of my cabin. Over there in Paris, at the receiving end of creativity, the collector must have been wondering what 'The Great One' was doing. Then, typically inconsiderate, I took a few more minutes to get started on this twice-weekly letter. And yes, a letter like this one — or even a novel — might be conceived in one place and written in another. As a matter of fact, this letter just got written onto your screen the moment you opened it up. You're over there and I'm over here. What's the world coming to? Happy April 1st!
Best regards,
Robert
PS: "'Curiouser and curiouser!' cried Alice. 'Now I'm opening out like the largest telescope that ever was! Good-bye, feet!'" (Lewis Carroll, from Alice's Adventures in Wonderland)
Esoterica: Margaret Atwood's for-real company is called Unotchit. Apparently, some tired writers are beating a path to her factory door. Funnily, some of my more respectable galleries have turned my LongBrush down. "We want you and your stuff here," said the Regina one. But that's Regina. I'm going to have to see if some of the folks who run the public galleries will take it. I bet they will.
This letter was originally published as "Remote thinking" on March 31, 2006.
Wishing a very happy birthday to Sara's Mum, Carol Genn, today — March 30. Happy Birthday, Carol!  
"There's a difference between describing and evoking something. You can describe something and be quite clinical about it. To evoke it, you call it up in the reader. That's what writers do when they're good." (Margaret Atwood)
"I'm working very hard to make things that are dignified but joyful." (Sheila Hicks) 
No Featured Workshop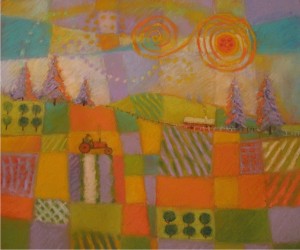 Sunrise Over the Farm #2
original pastel 15 x 15 inches
Featured Artist
Mary's interest in pastel painting began during her years at Whitworth College in Spokane, WA where she majored in art and elementary education. Though she has worked in watercolor and oil as well as calligraphy, her interest has consistently turned primarily to pastel because of the medium's potential for glowing, vibrant color and the harmony achieved in bringing together lights and shadows.